News
The Knee Looked Pretty Good To Me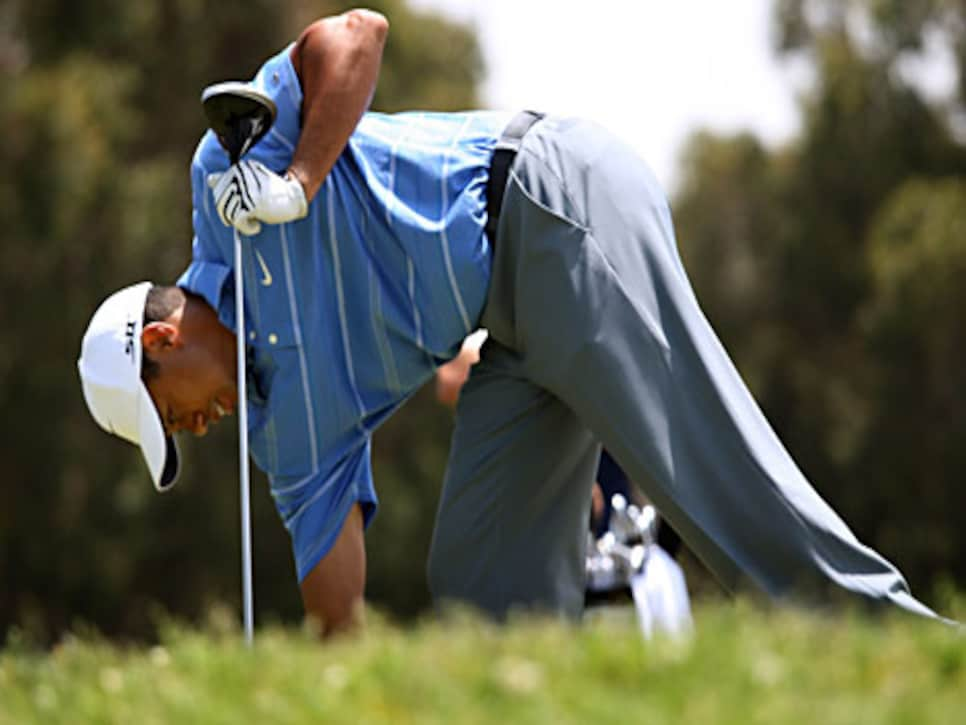 Woods winces after hitting his tee shot on the 18th hole.
LA JOLLA, Calif. -- So after all the speculation about how the surgically repaired cartilage in his left knee would respond, how did Tiger Woods look in the opening round of the U.S. Open, his first competitive round since Sunday at the Masters?
Short answer: pretty good.
Woods was very good in spots with his driver, irons and putter--holing three big par saves that kept his round flowing. But he showed rust when he bladed two relatively simple pitches. He also hit three drives in his least favorite direction--left--and three-putted the 18th for a par to end his one-over-par 72 on a sour note.
And in a moment that may or may not turn out to be significant, Woods also winced in pain on the follow-through of the 350-yard bomb he launched on the 550-yard par-5 18th, leaving only a 7-iron to the green.
Woods' start was worse than his finish. With tension high on Torrey Pines' first tee as he and Phil Mickelson readied for 36 holes of head-to-head play before some of the largest galleries in U.S. Open history, Woods pulled his opening shot into deep rough, was forced to pitch back into the fairway and then hit an over-adrenalinized sand wedge from 85 yards that went over the green and led to double bogey. It marked his worst start in a major since he triple bogeyed the opening hole of the 2003 British Open, and it evoked the 2005 U.S. Open at Winged Foot, where Woods also played after a long break (due to the death of his father), and shot 76-76 to miss the cut.
After Thursday's opening double, Woods stabilized. He missed a six-footer for birdie on the panoramic par-3 third, but then stiffed a 5-iron from the fairway bunker at the 488-yard fourth to set up his first birdie. He holed a couple of eight-footers for birdies at the 172-yard eighth and 612-yard ninth to turn in one-under 34.
Woods pulled his drive badly on the uphill 504-yard 12th, but seemed to answer questions about the strength and stability of his left knee when he muscled up on a 3-wood from a deep lie, powering the ball in front of the green. From there he pitched to 15 feet and made the putt, setting off a deep roar from the immense gallery.
Woods seemed to be poised for something special when he bombed his drive far down the fairway on the 539-yard par-5 13th, but that was actually when his round turned. With only a 6-iron to the green, Woods' approach ballooned, landing on the steep upslope fronting the green and rolling back a good 30 yards. From there he clanked a sand wedge, the ball skipping well over the green. Woods did well to pitch to 15 feet and hole the putt for a par.
After dodging that bullet, Woods walked in front of another one when he pulled his drive on the 14th into a fairway bunker, came out short of the green, bladed another wedge and took three from the edge for his second double bogey of the round.
Woods dealt with his roller-coaster ride with a determined stoicism. It was an attitude he maintained in answering post-round questions about his knee.
The grimace on 18? "Didn't feel very good, no."
Feeling anything now with it? "Um-hum."
How did the knee feel during the round? "It's a little sore."
Have you felt pain like that in your preparation? "Yes."
So you kind of knew what to expect coming in? "Yeah."
Did you have to hold back because of the knee? "I just go play. Just go play."
No one but Woods knows how he feels, but to borrow a phrase from Billy Crystal's Fernando, it is better to look good than to feel good, and after one round at a course where he has taken home six trophies as a professional, Woods looks pretty good.