News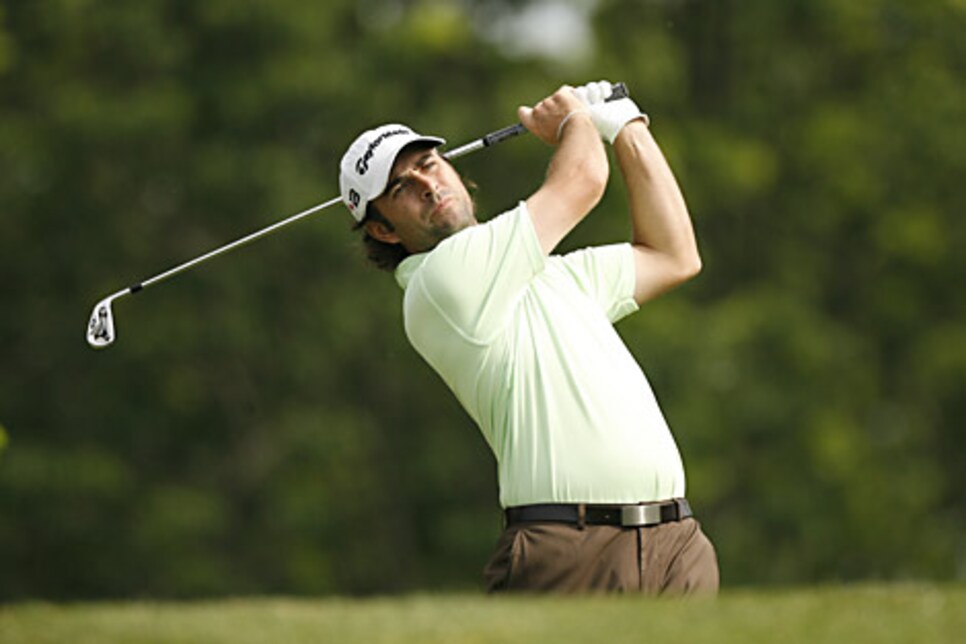 Goggin is in position to make The Memorial his first PGA Tour win.
DUBLIN, Ohio (AP) -- Mathew Goggin kept birdies and mistakes to a minimum on a long Saturday at the Memorial, shooting a 1-under 71 that was good enough to build a three-shot lead as he tries to win his first PGA Tour event.
Muirfield Village changed its character, but only slightly, thanks to a 2½-hour rain delay that led to long shadows late in the third round. What didn't change was the rough and difficult conditions, and Goggin didn't have to do much to keep his lead.
He was at 8-under 208, the highest 54-hole score at Jack Nicklaus' event since Greg Norman won a rain-shortened tournament in 1990 at even-par 216. The more significant number was his three-shot lead.
Goggin has said since opening with a 65 that a first- and second-round lead didn't mean too much. And now?
"Expectations are rising," he said. "Three shots in front, I expect to win."
But he doesn't expect it to be easy, not at a Muirfield Village course that resembles a U.S. Open from the 1990s, and not with five players stacked up behind him.
Former Masters champion Mike Weir matched the best round of the day, a bogey-free 68 that put him at 5-under 211 and in the final group with Goggin, who has never had a 54-hole lead on the PGA Tour.
Matt Kuchar was among those going backward until holing out with a wedge for eagle on the 15th, following that with a birdie on the 16th and posting a 71 to join the large group in a tie for second.
Also at 211 was Justin Rose (70), who captured the European Tour Order of Merit last year but has yet to win on this side of the Atlantic; Jerry Kelly, whose superb ball-striking was wasted by 34 putts in his round of 73; and Kenny Perry, whose spirits were lifted with an 18-foot birdie on the last hole for a 74.
Perry, a two-time champion at the Memorial who has squandered two good chance to win this month, missed six putts inside 10 feet on the back nine as he slid further away from Goggin. But the birdie on No. 18 kept him in the game.
"The guys at 3 under are in this golf tournament," Perry said. "If Mathew has an off day tomorrow, it brings the whole field in. It's definitely his tournament to win. If he shoots 75, then the door's wide open for everybody."
No one knows what to expect from Goggin, whose last victory came 10 years ago in the Australasian Tour Championship.
The 33-year-old Australian was tied with Perry to start the third round, and as usual, he got out of the blocks quickly with a 35-foot birdie on the opening hole and a wedge that steadied itself in the wind and landed 5 feet away on No. 3.
Perry got within one shot before he started missing greens and missing par putts, and Goggin kept at least a two-shot margin throughout the back nine, even as cheers were all around him.
"You can't press out here," he said. "You've got to let the birdies come to you."
His best plays might have been for par. Goggin got up-and-down from the back bunker on the par-3 12th, then faced a tough shot from a deep bunker right of the 17th green. His shot was running quickly until it struck the pin, rattled around to the other side and settled 2 feet away to keep his distance.
Weir, lost amid the Phil Mickelson-Sergio Garcia grouping the first two days, has steadily crept up the leaderboard and stayed out of trouble most of the day. He picked up a birdie on the par-5 fifth, and thought he was in trouble on the sixth when his tee shot caught a gust, leaving him 215 to a shallow green over the pond.
"I knifed a 3-iron in there about 8 feet," Weir said. "That's when I knew that things were going pretty good. I was hitting solid shots, and outside of that, I didn't have much trouble."
Weir didn't read too much into Goggin's inexperience with the lead.
Two years ago, he was tied with Arron Oberholser going into the final round of the AT&T Pebble Beach National Pro-Am, caught a few bad breaks with mud early in the round and staggered home to a 78 as Oberholser collected his first tour victory.
"You know what? You have to win some time," Weir said. "And sometimes a guy, when he hasn't won, is hungry and wants to do it. Inexperience or not, Mat's been around a long time and he's a good player."
Nick O'Hern (72) was at 4-under 212, while former U.S. Open champion Geoff Ogilvy was in the group at 213, five shots behind. That might seem like a lot, but it's the margin K.J. Choi made up a year ago.
Mickelson, meanwhile, never recovered from a double bogey on the 17th hole and shot 70, leaving him nine shots back.