News
Perry Joins Goggin On Top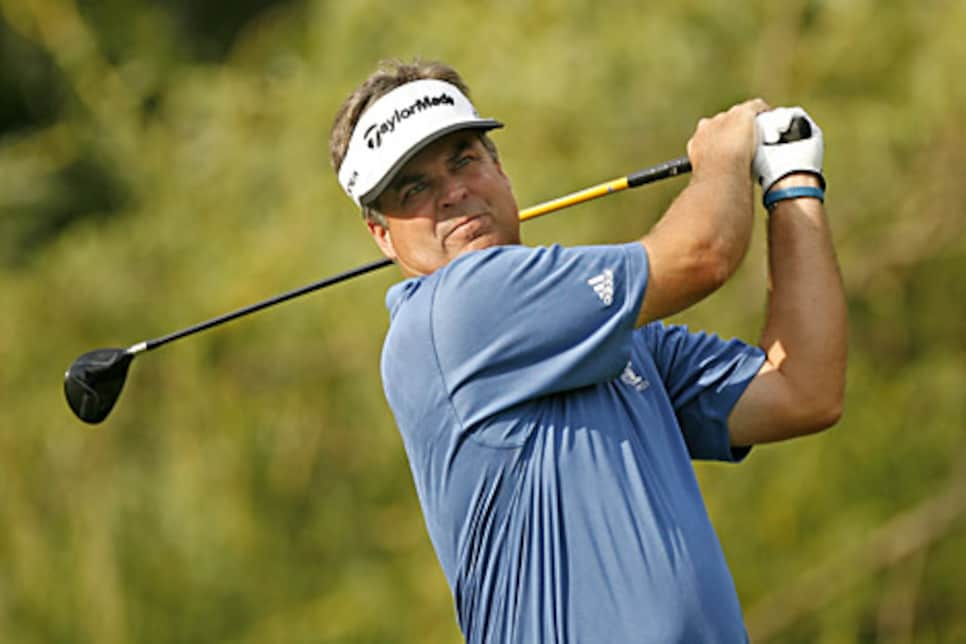 Perry's hot play of late continued on Firday. This week he hopes to close the deal.
DUBLIN, Ohio (AP) -- The first sign of hope at the Memorial came from the scoreboard, which showed Mathew Goggin coming back to the pack after a blazing start. The second sign came from a gray sky that promised relief from a brutal test of golf.
Goggin birdied four of the first five holes before strapping in for a wild ride of birdies and bogeys that ultimately added up to an even-par 72 that tied him for the lead with two-time champion Kenny Perry, who recovered from a rugged start for a 71.
They were at 7-under 137, one shot clear of Jerry Kelly.
All those scores seemed so much lower on a Muirfield Village course that felt like a major with its ankle-deep rough that swallowed up errant shots and greens as slick as glass.
Only three players broke 70 on Friday, with Johnson Wagner turning in a remarkable 67. Twenty players couldn't break 80.
The U.S. Open starts in two weeks in San Diego, but Joe Ogilvie came up with an environmentally friendly plan. He suggested the second major be contested at Muirfield, so players wouldn't have to travel as far in their private jets.
"You'd save millions of pounds of carbon dioxide in the air, and golf would be a green sport again," Ogilvie said after a 75. "All they have to do is change out the pins, replace the rakes and take away press parking."
Goggin is the 36-hole leader for the first time on the PGA Tour, and part of him wishes he had it alone. He was bogey-free through seven holes, but then made only two pars the rest of the way. Three straight bogeys preceded a birdie, and he followed that with a double bogey into the water at No. 12, then two more birdies.
"I had seven birdies today, so that was the same," Goggin said, alluding to his 65 in the opening round. "The five bogeys and a double, well, that was probably a negative."
Perry knows all about the latter. He faced the brunt of the wind, and it showed when he bogeyed three of his first five holes, slipping down the leaderboard with so many others. But on the par-5 15th, he hooked a 3-wood into the gallery -- a good place to miss because the pin was to the right -- then watched his chip from the hill tumble into the cup on its last turn for eagle.
"Hit the shot of my life to keep the ship from sinking," he said.
A birdie on the par-3 eighth allowed him to salvage a 71 and a share of the lead. But the 47-year-old Perry sure didn't look like he had just played a round of golf on a beautiful course.
"I'm tired," he said. "I'm mentally tired right now. That was a very stressful round to try to hang in there and keep it together. I hope that Saturday and Sunday, the weather will cooperate a little bit and not be as dicey out there."
Help might be on the way, with rain in the forecast. Tee times were pushed back for the third round because course officials expect to need extra time in the morning to get the course ready.
Phil Mickelson chopped his way to a 75 and was 10 shots behind. He was 35 feet behind the hole in two on the par-5 11th and rarely felt so hopeless with a wedge in his hand, given how badly his ball was buried. He hacked through the grass and watched his ball roll through the green into more rough, making him work for a par.
Someone asked him if he had a chance to win.
"Did you see I was 10 back?" he replied. "I don't know if you saw that. I need some rough weather so the scores don't go too low, and they've got to play a great round."
At least he has a chance.
Ernie Els waffled on his decision to come to Ohio, flying over at the last minute and leaving just as quickly. He shot a 43 on the front nine, made eight pars and a birdie on the back and shot 78 to miss the cut by one shot.
The cut was 6-over 150, the highest at the Memorial since 1989, the year 40 mph gusts were accompanied by temperatures in the 50s. It was pleasantly warm Friday, and the gusts were only about 20 mph, but that was more than enough to punish anyone slightly off his game.
Sergio Garcia, coming off his victory in The Players Championship, was going along nicely until he chunked a shot out of the rough and into the water on the 14th, missed a 4-foot putt and took double bogey. That was the start of him playing the final five holes in 5 over for a 77, leaving him a dozen shots behind.
Goggin took only nine putts on his final nine holes Thursday, and he kept right on going. He chipped in for birdie on the first hole, then holed a 35-footer on the second and a mere 10-footer on the third. That good start allowed him to keep some perspective when it got ugly.
"Having seven birdies and you shoot even par, you're probably disappointed," he said. "But the way the round went through the middle and coming back and then dropping back, it's still pretty satisfying. And you're still around the lead. So that's all you can ask for."
Luke Donald had a 71 in the afternoon and was at 5-under 139, while former U.S. Open champion Geoff Ogilvy had a 69 in the morning and was in the group at 140.
There was plenty of muttering about the thick rough, which might be as deep as it gets all year, and the slick greens, which might be as fast as players see all year. But those atop the leaderboard figured out a way to score.
"It tests your short game, tests your mental game," Justin Rose said after a 73 left him four behind. "That's what golf's all about."