News
Goggin's Down Under Attack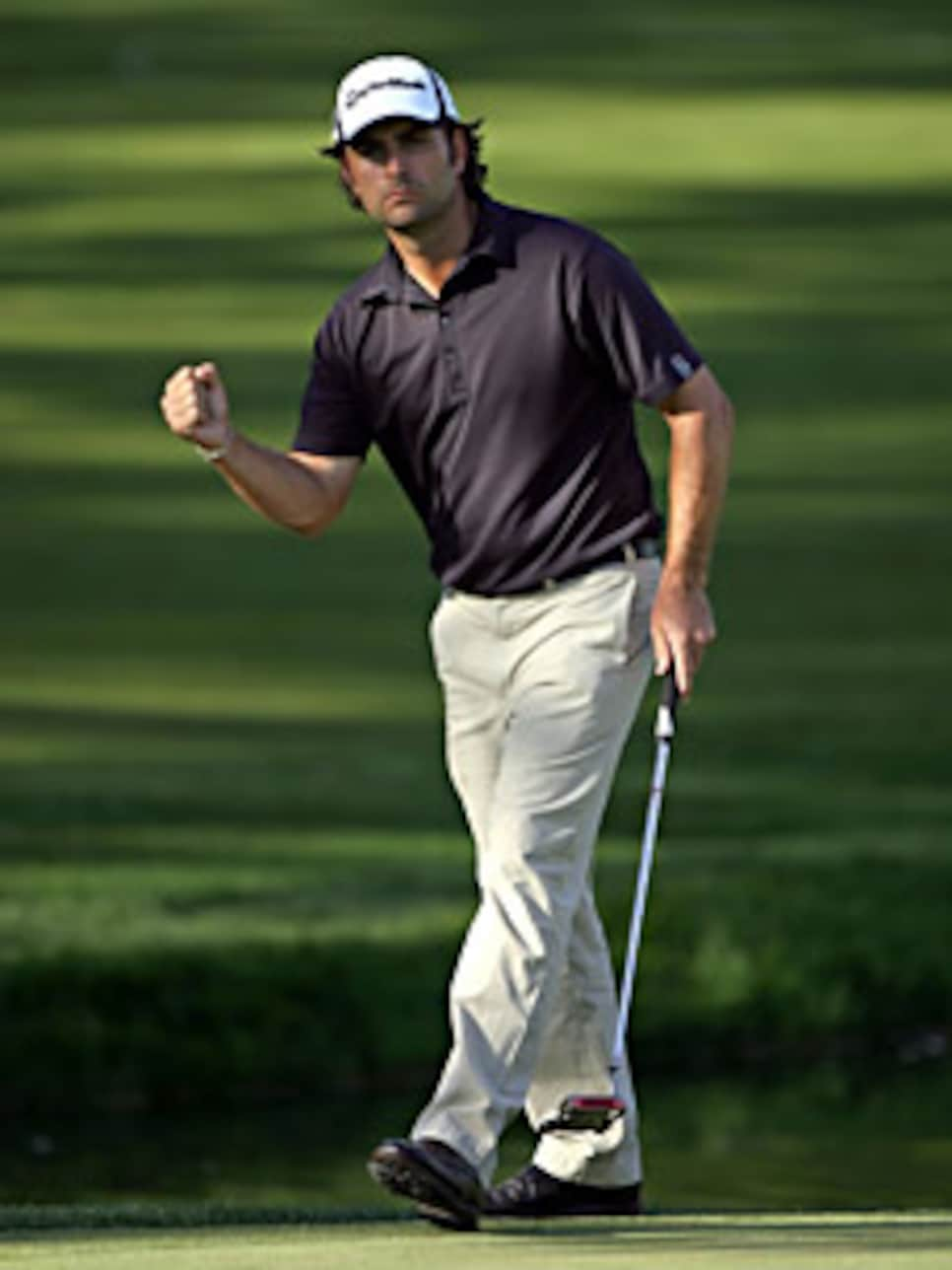 When told he only took nine putts on the back nine, Goggin said, "Is that possible?"
DUBLIN, Ohio (AP) -- Jack Nicklaus always envisioned the Memorial as a northern version of the Masters, from the superb course conditions to super slick greens, from caddies wearing white coveralls to grounds so immaculate that nary a cigarette butt is to be found.
He got his wish Thursday, at least with the greens.
Mathew Goggin spent as little time on them as possible, taking only nine putts over his final nine holes on his way to a 7-under 65 and a one-shot lead over Jerry Kelly and two-time Memorial champion Kenny Perry.
Goggin holed out a bunker shot for birdie on the par-3 fourth, then ended his round with a 12-footer for par from off the green, giving him only 22 putts for his round.
"Is that possible?" Goggin said when told he had nine putts on his back nine.
Strangely enough, he was 3 under playing his best golf, then hit some loose shots that produced four birdies over the final six holes.
"It was one of those bizarre days where I didn't drop any shots coming in with the poorly played holes," he said.
Perry found the right speed and ran off six straight birdies on his way to a 66, also taking 22 putts. Kelly birdied four of his last six holes. Ten other players also managed to break 70 on a day when the average score was 73.7.
Most everyone else hung on for dear life.
Shaun Micheel had a 55-foot birdie putt on the 18th hole that traveled 35 yards back into the fairway. Boo Weekley watched a wedge land near the hole at the par-5 11th, only to spin back to the front of the green, off the green and into the creek for a triple bogey.
"The greens are the best greens I've ever putted on anywhere in the world," Robert Allenby said after a 69. "You can take Royal Melbourne, you take Augusta ... these are the best."
Perry could not have agreed more.
The two-time Memorial champion, who twice has given himself a chance to win this month, knocked in an 8-foot birdie on No. 11, and his next five birdies were holed from 18 feet or longer, a streak that ended on No. 17.
"I was shocked when the one on 17 didn't go in," Perry said. "Awesome day, though."
The greens rolled as true as a billiards table, and some players said they were the fastest they have seen all year, including that tournament at Augusta National last month. That was largely a product of spectacular weather at Muirfield Village, a rarity.
"The greens are so fast, you can't believe it," Brett Quigley said after his 67, which included five straight birdies to close out his front nine. "The whole day, you're playing defensive, even on uphill putts."
Phil Mickelson, coming off a victory at the Colonial, had a 30-foot birdie putt on No. 9 that went 12 feet by an onto the fringe, leading to a final bogey and an even-par 72.
"The speed is quick, obviously," he said. "Some putts are very tough, obviously."
Mickelson got an early glimpse of the speed on his opening hole, when he faced a bunker shot left of the green. Sergio Garcia was marking his ball some 20 feet left of the flag when Mickelson motioned that he was aiming in that direction. He played at a 45-degree angle from the flag, ran the shot some 40 feet by to a ridge, then watched it roll back and graze the edge of the cup.
"We almost had another 'shot of the week' on consecutive holes," caddie Jim Mackay said, referring to Mickelson's wedge through the trees to 9 feet for birdie to win the Colonial on Sunday.
Garcia, playing for the first time since winning The Players Championship, ran off three straight birdies toward the conclusion of his round until twice trying to play out of the bank of the water on No. 9, only once successfully. He finished with a double bogey for a 72.
"Even though I played well, it felt like you couldn't -- you didn't," he said. "There were very little chances of giving yourself a putt you could go for. It's just not easy. Unfortunately that double on the last, after all the work I did, that didn't feel that good."
The greens were so fast that rules officials also were on the defensive, having to abandon several hole locations to keep it fair. One possibility was the front of the 11th green, because any putt above the hole could run off the green and into the creek.
One area that kept this from being anything like the Masters was the field.
It was tough enough for the Memorial to lose Tiger Woods (knee), Vijay Singh (ribs), Steve Stricker (elbow) and Adam Scott (fatigue). the field expanded to 120 players this year to keep all invitationals consistent in size, but several players didn't want to come.
Ten alternates got into the tournament, but the list went down 17 names because of alternates who withdrew. Tee times at the Memorial used to be cherished.
"It was the alternate who didn't want to come," Quigley said. "Maybe it was too far away or they had U.S. Open qualifying. But how can you skip coming here?"
Quigley got the call Tuesday while playing with Brad Faxon in Rhode Island, and when he got to Muirfield Village, all he heard on the range were horror stories about thick rough and lightning-quick greens.
"It was doomsday out there," Quigley said.
But as they showed Thursday, it wasn't that bad if the shots were hit in the right spot and the putts were on the right line.