News
Phil's Short Game's The Key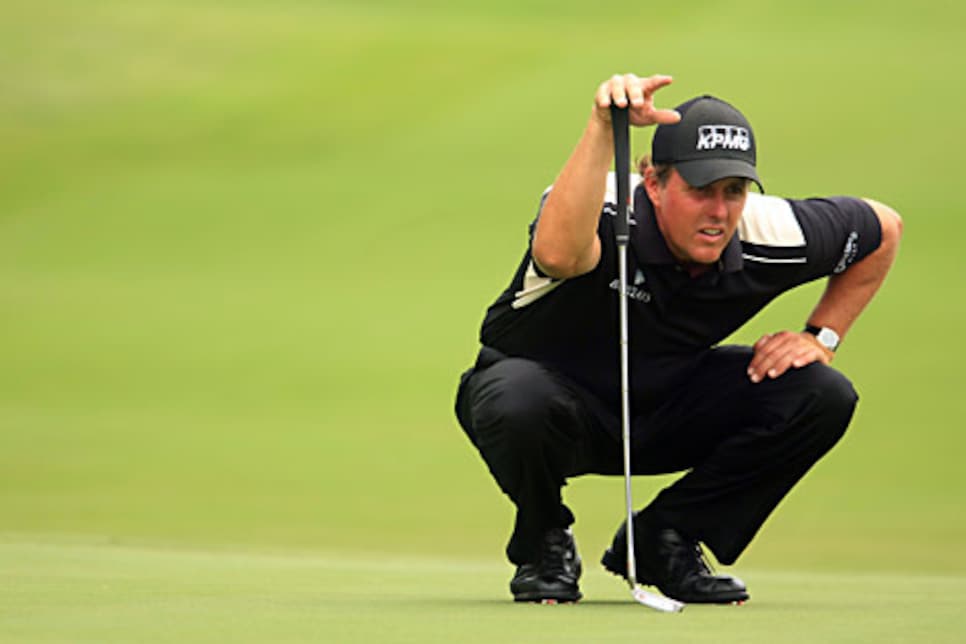 11 one-putts and six sand saves gave Mickelson the lead heading into the weekend.
FORT WORTH, Texas (AP) -- Phil Mickelson is carrying five different wedges in his bag at the Crowne Plaza Invitational. He's used every one of them -- very effectively.
Mickelson had 11 one-putts and converted all six sand saves in a 2-under 68 in the second round Friday to take the lead at 7-under 133. The world's No. 2-ranked player led Matt Kuchar (64), Brian Gay (65) and Johnson Wagner (71) by one stroke.
"It was probably the best putting round I've had all year," said Mickelson, who needed only 25 putts.
That's because Mickelson kept setting himself up with the short clubs. From the fairways, the rough and the bunkers.
Only four of his one-putts were 9 feet or longer (the longest was 18 feet). Three of those came at Nos. 3-5, the trio of holes known as Colonial's "horrible horseshoe" because of the difficulty and layout of that stretch, where he hit his approach into greenside bunkers each time and saved par. That was part of his final nine holes.
"Those putts kept the round going," Mickelson said. "When I got through those holes, I thought I could get a couple of birdies coming in. I had a couple of good chances."
Mickelson didn't lower his score after that, missing a 6-foot birdie on No. 7 before his short approach at No. 9 bounced over the hole and he slid an 8-footer just past. But the 2000 Colonial champion, here for the first time in three years, still stayed alone at the top of the leaderboard.
Wagner, the first-round leader by two strokes, got a birdie on his second hole, the 611-yard 11th. But he three-putted from 27 feet for bogey at the par-3 13th and had double bogey after hitting his approach at No. 15 into a water canal. There were no more miscues, but only one more birdie.
Gay had a bogey-free round, including a 46-foot blast out of the bunker at the 171-yard 13th that was the first of his three birdies over the last six holes.
Kuchar, whose only victory on the PGA Tour came in 2002, started his round with four straight birdies. He opened with a 25-foot putt before a pair of 31-footers.
"Seeing a putt go in on the first hole gets you off on the right foot," said Kuchar, who had 26 putts and only one bogey. "It's awfully fun to see the ball fall in the hole."
To make room for an extra wedge, Mickelson hasn't carried a 3-wood at tree-lined Hogan's Alley, the old-style 7,054-yard layout that is pretty much the same as it was when Ben Hogan won there five times from 1946-59.
"This is a tournament where I'll hit a lot of drives, a lot more drivers than I thought I was going to hit in an effort to get it down there and make some birdies," Mickelson said. "I've used every wedge in my bag each round. I think the decision is paying off because I've given myself more birdie opportunities."
Mickelson started with two bogeys his first seven holes, flubbing a short chip shot the 448-yard 14th before missing the green and two-putting from 22 feet at the par-3 16th. Three consecutive birdies preceded the "horseshoe."
The 18-foot birdie at the 433-yard 18th hole got the streak started. Mickelson went into the greenside bunker at the 563-yard, par-5 No. 1 hole, hitting that shot within 5 feet. Then after almost driving the green at No. 2, a 387-yard dogleg-right, he pitched over a bunker to about 5 feet for another birdie to get to 7 under.
Lefty hit from the rough to a greenside bunker at No. 3, setting up a 12-foot par saver that led him to pump his fist. There were more bunkers, and more fist pumps after saving par with a 9-foot putt at the 252-yard No. 4 and a 12-footer at No. 5.
"It wasn't anywhere near as tough as it was (Thursday), but my score didn't reflect it," said Mickelson, who opened with a 65. "I probably didn't strike it quite as well as I did (Thursday), but I made up for it with some good putting."
Geoff Ogilvy, ranked No. 7 in the world, had a stretch of five straight birdies -- from Nos. 17-3, all less than 12 feet -- on way to his 64 after an opening 72.
"They weren't crazy putts," said Ogilvy, whose only bogey came on his 16th hole. "Just the kind of putts guys hole when they shot a 6 under."
Divots:@ Defending champion Rory Sabbatini (144) missed the cut. ... Gay was born in Fort Worth, but lived their only as a baby. ... There were five top-10 players in the field, the most at Colonial since 2004. Only Mickelson and Ogilvy made the cut. Going home were K.J. Choi (143); Jim Furyk (144), who didn't have a birdie Friday; and Steve Stricker (147), who had consecutive double bogeys. ... Two-time Colonial champion Corey Pavin (1985, 1996) was 6 under before he bogeyed No. 4, his 13th hole, after missing the green. Pavin tossed his club to the bag as soon as he chipped 9 feet past the pin. He ended with another bogey and a 69, after an opening 67.