News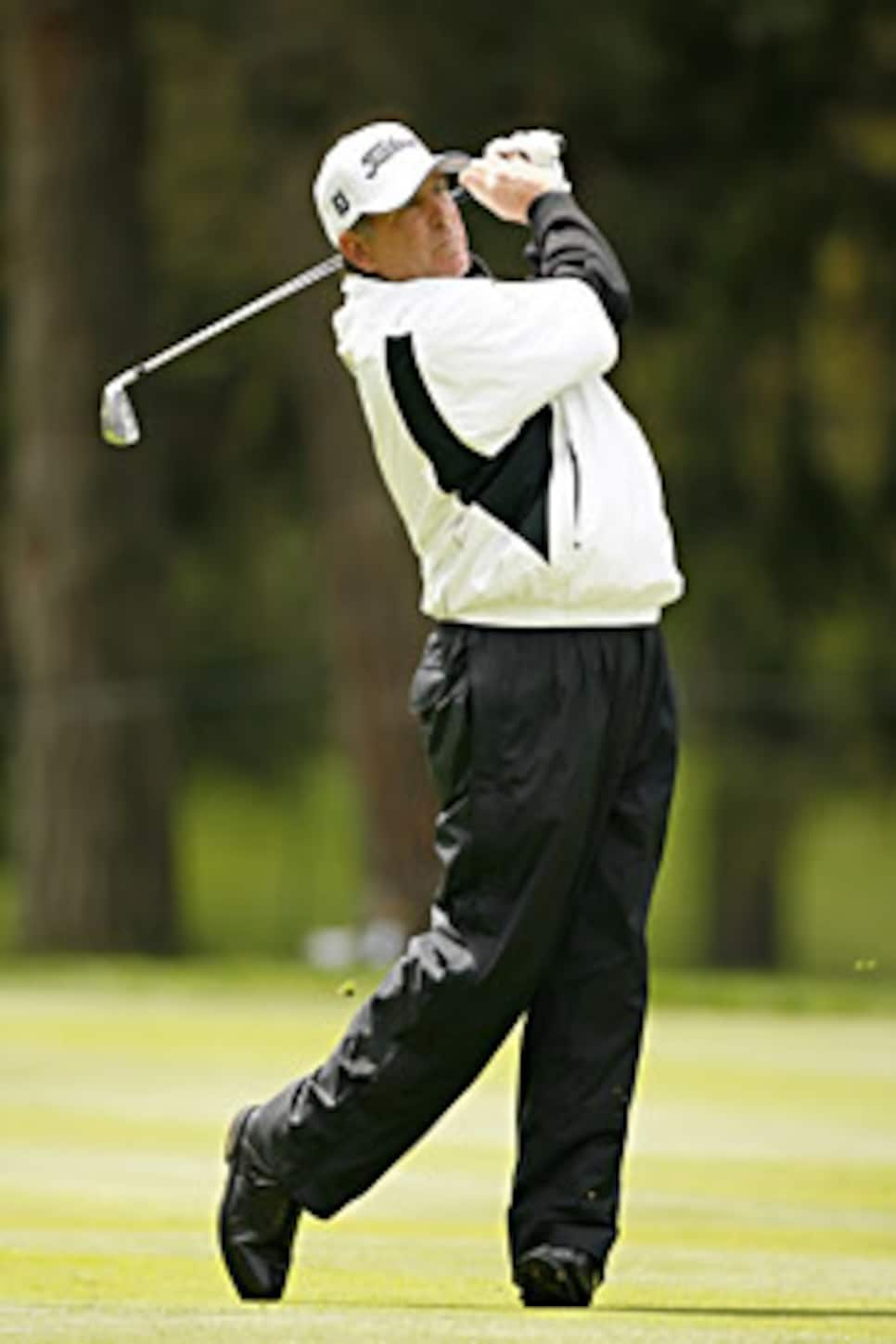 Temps in the 40s and low 50s with almost total cloud cover made it a day to remeber.
ROCHESTER, N.Y. (AP) -- Jay Haas made a crack about everyone being bundled up. Jeff Sluman kidded around, too, saying he bounced a shot off a snowbank.
On a day better suited for snowmen than birdies, the two veterans could laugh after braving wet, bone-chilling and eventually windy conditions to find themselves atop the leaderboard after the first round of the Senior PGA Championship at Oak Hill Country Club on Thursday.
"It was pretty miserable this morning, everybody's got long johns on and ski caps and wind-breakers," Haas said.
But at least Haas' day was over following a 1-under 69 that held up as the day's best, one shot better than Sluman, the local favorite, and New Jersey golf pro Bill Britton.
And there was the additional consolation for Haas, who noted he was heading straight to his warm hotel room to watch everyone else deal with the elements.
"I'm under the covers, maybe, I'll be happy about that," said Haas, attempting to win his second Senior PGA in three years.
There's a group of nine, including Bernhard Langer, Scott Hoch and Ian Woosnam, two shots off the lead at 71.
Greg Norman, setting aside his many business ventures to make a rare competitive appearance, shot 72 in only his fourth tournament this year to sit in a nine-way tie in a group that includes defending Senior PGA champion Denis Watson.
The hands-down, first-round winner was Oak Hill's East Course, which lived up to its stingy reputation with help from the elements once the $2 million tournament got under way. The course gave up only one eagle when Britton carded a 2 on the par 4 No. 16.
Haas was part of the morning groups that faced a light drizzle and temperatures in the low 40s. Things didn't improve much by noon, when temperatures shot into the relatively balmy 50s. Trouble was, once the sun poked through the gray clouds, the winds also followed, gusting above 20-mph to create additional havoc on the narrow fairways.
"Well, I survived. And that's what it is, a survival test," said Tim Simpson, who flirted with the lead before carding a 71 in the afternoon.
Sluman summed up the day when he recounted how he opened his round with a bogey: "Three-wood on 1 off the snow and into the left trees."
Haas took control early, getting to as low as 3-under with a 15-foot birdie putt at the par-5 No. 13. But he was undone by two bogeys that followed errant tee shots -- one that landed behind a tree on No. 16, and one into the lip of a fairway bunker on No. 18.
Haas has now shot 1-under in each of his past three rounds at Oak Hill, dating to the final two rounds of the 2003 PGA Championship in which he finished in a tie for fifth.
Britton made the best run in afternoon, getting to 2-under through 14, before being undone by a pair of bogeys when he three-putted No. 6 and then, on No. 8, landed his approach shot in the bunker.
"When I did get to 2-under, I kind of had a feeling that I was leading," Britton said. "So yeah, maybe a little nervous."
He's a former PGA Tour member, whose lone win came at the 1989 Centel Classic. In 1990, he finished fourth at the PGA Championship at Shoal Creek and seventh at The Masters.
Sluman, who grew up in suburban Rochester, played in a group with Norman and Fuzzy Zoeller, and attracted the largest galleries of the day.
Sluman blamed nerves for getting off to a poor start in which he posted three bogeys over the first 9 holes. But he found his composure to post three birdies to go a first-day best 3-under 32 over the back 9.
Norman, meanwhile, doesn't look like someone ready to give up golf altogether in favor of tennis now that he's taken up the sport following his engagement to former tennis star Chris Evert.
While Norman had few expectations entering the tournament, his presence was certainly welcome among his competitors.
"It looks like he's enjoying playing the game again," Sluman said. "You know he's so darn busy with everything ... but we would sure love to see him a little more because he brings excitement to the course."