News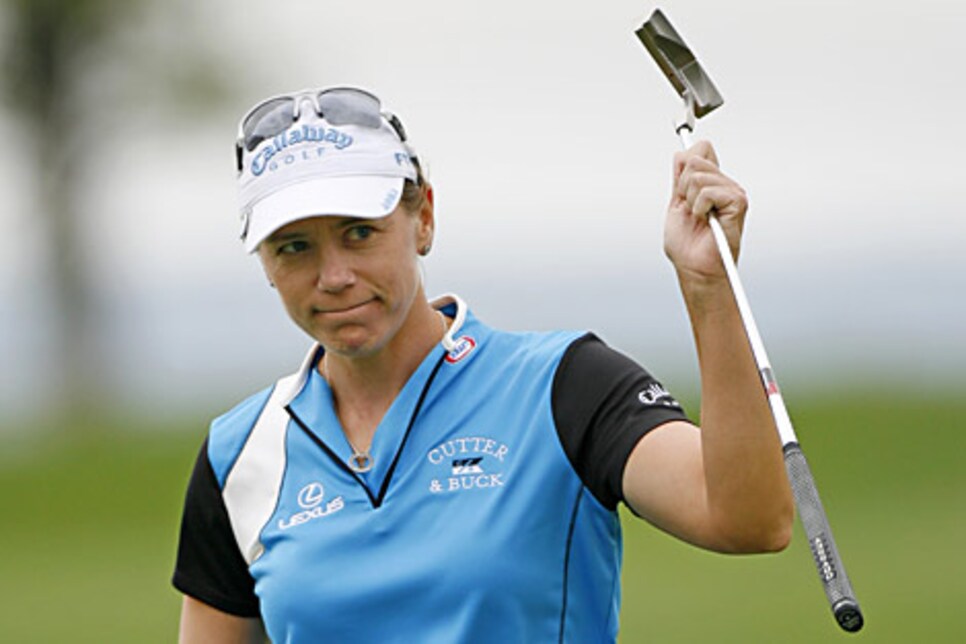 It wasn't Suzy Whaley or Michelle Wie that was the first woman to play in a PGA Tour event.
FORT WORTH, Texas -- Annika Sorenstam quietly returned to Colonial CC Wednesday, driving up to the storied home of Ben Hogan for the first time since her historic appearance here five years ago. As she stood on the lawn not far from Hogan's cast bronze statue, Sorenstam commented that she had never seen the front of the clubhouse during that high-stress, media-frenzied week in May 2003 when she crossed the pro golf's gender barrier. Security was so tight that week to protect her from the mania associated with being the first woman to play in a PGA Tour event in 58 years, she would arrive at the course through a side entrance, ducking down in the back of a van.
"I'm excited to come back," Sorenstam said under shady oak trees during pro-am day at the Crowne Plaza Colonial. "Obviously a lot of memories are surfacing, [but] there are a lot of things I didn't see when I was here before. I was so focused on what I had to do."
Sorenstam was back at Colonial as part of her association with Merrill Lynch, hanging out in a corporate suite not far from where that famous scene occurred on the 10th tee in '03, when she opened her first round with a 4-wood down the middle, a buckling in the knees and look to the skies. She went on to shoot 71-74, missing the cut by four strokes.
"I have no idea how I got it airborne," Sorenstam recalled said. "I was so nervous, I stood over there and told myself I'd hit thousands, if not millions, of 4-woods, it was just another golf shot. Luckily it went up in the air and went forward."
Suzy Whaley and Michelle Wie came after Sorenstam's groundbreaking achievement, but theirs weren't the same. Instead of being commercially driven, Sorenstam played Colonial as a one-time test because she wanted to win more tournaments, set more records, and by going up against the men, it would make her a better player in the women's majors.
Did she feel like she accomplished that? "Absolutely and lots more," she said. "I have so many wonderful memories, [about] the way I prepared for this event, the way I pushed myself, just the challenge that week gave me prepared me for so many things. It really changed my life."
After Colonial, Sorenstam won 29 times and six of her 10 majors. At one time, she pulled ahead of Tiger Woods in the major count and the two created a tradition of exchanging text messages, teasing each other about their achievements.
There were no text messages when Sorenstam announced her retirement last week, but there was a conversation -- and Woods didn't try to talk her out of her decision. But in a question and answer session, Sorenstam made it clear she never said the "R-word;" the "R" an abbreviation for retirement. She is leaving the door unlocked, if not cracked open.
"Nobody can talk me out of it. I've made up my mind, " she said. "But I did speak to Tiger. He was happy for me and said, 'It sounds like you have peace with the decision.' Then said, 'You beat me to it.' I said, 'That's one of the few things I'll ever beat you at.' "
Typical Tiger, she said. Has to compete at everything. Even retirement.