News
Sirak Says: The Soul Of A Champion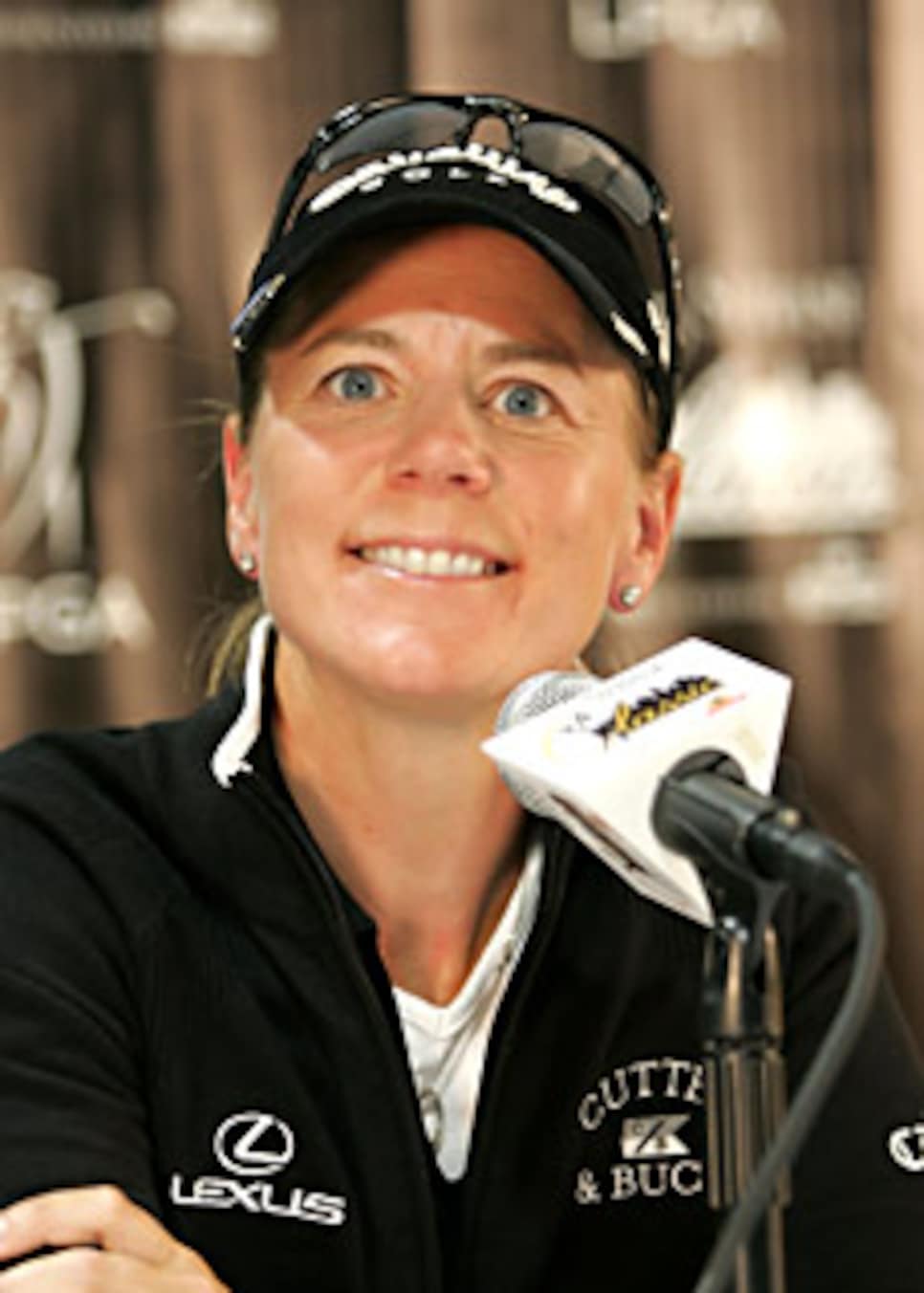 CLIFTON, N.J. -- The first time I interviewed Annika Sorenstam was in 1996 and she was such a dreadful quote I ended up talking to her caddie in a desperate effort to get a usable sentence for my story. It's not that she was rude or inarticulate, it's just that she was an extremely shy person not at all ready for the demands made of a player when they win the U.S. Women's Open for the second consecutive year. Time, my friend, changes everything -- especially for those who make time work for them.
The Annika Sorenstam who on Tuesday announced her retirement from competition, effective at the end of the season, at the Sybase Classic was a far different person from that reticent kid. She became a woman who dominated her sport and now had the confidence and poise to walk away while still possessing considerable skills and take on the challenges of the business world. There is no reason to think she will not be as successful there as she has been in winning 72 LPGA events, including 10 majors, with 16 more triumphs coming on other tours around the word.
Truly, one of the most compelling sports stories of the last decade and a half has been watching the development of Sorenstam as a player and as a person. She was a short hitter who, through hours in the workout room, became one of the longest on tour -- without losing any of her accuracy. She went from a scared kid to the determined woman who handled the most media attention ever directed at any LPGA player when she played at the Bank of America Colonial on the PGA Tour in 2003. For a stretch of five years she played golf as consistently well as anyone ever has.
She retired from competition Tuesday on her own terms and at the top of the game, having won three of eight tournaments this year and her last two in a row. In her farewell news conference she clearly articulated that she decided now was the right time to leave for a multitude of reasons: The LPGA is healthier than ever; the variety of business ventures she has now are the new focus of her extremely competitive nature; she is happy in her personal life, will marry Mike McGee in January and looks forward to having children. And, perhaps most importantly, after 14 years on tour the daily grind of doing the job at the highest level had grown wearisome.
The statement Sorenstam made last week when she won the Michelob Ultra Open at the Kingsmill Resort by seven strokes and shattered the tournament scoring record by five strokes was that she is still capable of being that kind of player. It is just that she has other priorities in life now. And don't look for her to be an occasional player.
"I hate to play bad golf," she told me Sunday night after wrapping up her win at Kingsmill. "I can't be happy if I am not playing to the full of my potential. I found that out last year when I was injured. I need to be at my best and I just don't have the desire to put in the work to play that way. I wish I did, but I don't."
When I think of "Annika moments" over the years I have followed her -- and I'm guessing the only person who has seen her hit more shots in competition over the last seven years is her caddie Terry McNamara -- one jumps out as a perfect explanation of what makes her. There was a tournament during that incredible five-year stretch from 2001 through 2005 when she won 43 of 104 LPGA events in which she came from four strokes behind on the back nine to win.
A reporter asked what she was thinking when she made the turn four down and her reply was: "I was thinking I had nine more birdie opportunities." That is what Sorenstam is all about. Everything ahead of her is not just a challenge but an opportunity to achieve greatness.
When she played at the Colonial in 2003 she risked not only her reputation as a golfer but the image of the entire LPGA Tour. What if she had shot an 85? But it was a risk she was willing to take. And it was her heartfelt articulation of her emotions, as well as her superb ball-striking, that earned her -- and women's golf -- a legion of new fans.
Make no mistake about it: Annika is not the ice princess some perceive her as. When she walked to the tee to hit her first shot at Colonial she was so nervous she could not make words come out when a friend wished her well. As she stood on the tee box waiting to be introduced you could see the muscle in her neck pulsing with tension. Then she ripped it right down the middle.
When I talked to her about the thoughts that got her through that day at Colonial she didn't reveal any great swing secret, but rather a secret of the soul, a glimpse at what makes her so special.
"I told myself two things," she said. "First, the worst thing that could happen to me was that I would learn something. And second, I told myself that no matter what happens, Nelson, my cat, would still love me. [Before the first drive] I told Terry [her caddie], 'Wherever this ball goes we're going to find it and hit it again.' "
For Sorenstam, it has always been about the challenge, not the glory, not the money. Meet the challenge and everything else will take care of itself.
There are other memories of Annika: When she made a 16-foot putt to halve the 17th hole in the 2003 Solheim Cup to keep her better-ball match all square and tossed her putter in the air in joy; when she cried after winning her third U.S. Women's Open in 2006 at Newport CC -- 10 years after winning her second; the 59 she shot in the 2001 Standard Register Ping tournament; finishing off the career Grand Slam at the Weetabix Women's British Open in 2003; being inducted into the World Golf Hall of Fame the same year.
But it just may be that one of the last memories will linger the longest. She played the Michelo Ultra Open last week knowing she was going to announce her retirement two days after the tournament was over. Imagine that pressure. Think of how she reached inside and willed out that victory. Now think about this: She is not done yet.
If you think Annika Sorenstam is going to mail in the rest of the LPGA season, you haven't been paying attention for the last 14 years. She is determined to win as many more LPGA events as she can. And she is determined to pick off at least one of the three majors left on the schedule.
As she finished off the last of her media obligations on Tuesday, Sorenstam seemed totally at peace with her decision. Jokingly, I said to her she should run the table and win the rest of the tournaments she plays.
"How close will that get me to Kathy Whitworth?" she said, referring to the Hall of Famer's all-time LPGA victory record of 88. And you know, deep down inside the soul of that champion there is a very large part of her that is thinking exactly that way. Even if she wins no more this year, she will be leaving on top. But one more burst of greatness would come as no surprise to this veteran observer. I'm thinking Sorenstam views retirement as a competitive sport.