News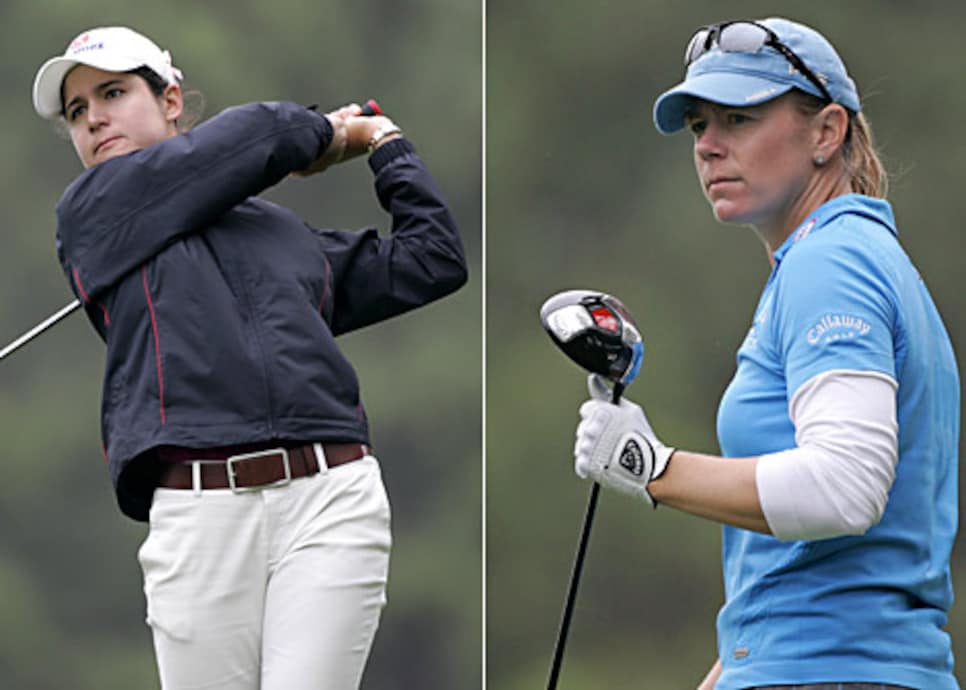 Annika versus Lorena is a match made in heaven. Will we see it this weekend?
WILLIAMSBURG, VA. -- Now this is what the LPGA has been looking for. The best player of her generation and one of the best of any generation going head-to-head. The one challenge Lorena Ochoa has yet to face as she has emerged as the best player in the women's game over the last two years is a final-round showdown with a healthy Annika Sorenstam. That test could come this weekend at the Michelob ULTRA Open at the Kingsmill Resort.
Playing in the same threesome with defending Michelob champion Suzann Pettersen, Ochoa and Sorenstam set the stage for Friday afternoon's second-round rematch with a sizzling 65 by the mercurial Mexican topped by the stoic Swede's 64, the lowest score she has posted since the first round of the 2006 John Q. Hammonds Hotel Classic--87 rounds ago.
Sorenstam was, well, Sorenstam on Thursday. She not only made no bogeys, except for an up-and-down par save on the second hole she never even sniffed a bogey. It was the type of display Sorenstam put on week after week during the five-year run from 2001 through 2005 when she won 43 of 104 LPGA events and finished in the top 10 a mind-boggling 86 times. She missed only two greens on Thursday and went as many as three consecutive holes without making a birdie only once.
Just as surely, Ochoa was Ochoa. While Sorenstam wears out opponents with a consistency produced by one of the most reliably repeating swings in the history of the game, Ochoa demoralizes the opposition with relentlessly aggressive play. There were two bogeys on her card in the opening round, but an eagle on the par-5 seventh hole offset them, as did six birdies, including three in a row beginning at No. 14.
The fun thing about this matchup--and a reason why anyone who loves the game of golf has to hope they remain paired together through the weekend--is that while Ochoa and Sorenstam genuinely like each other and share a mutual respect, they also are fiercely competitive people. That was clear when Ochoa reacted with uncharacteristic anger when she hit a fairway-bunker shot heavy on No. 10, slapping at the sand with the back of her iron, and when Sorenstam quick-walked a birdie into the cup on the same hole.
While Ochoa was winning eight times in 2007, Sorenstam was experiencing her first winless LPGA season since 1994, partially the result of a ruptured disk in her neck diagnosed in April of that year. Truly, it has been since the middle of the 2006 season that Sorenstam has played entirely pain-free and has been able to do her full workout program. Until now.
In her heart, Ochoa knows she has not wrestled the No. 1 crown from a fully healthy Sorenstam. Asked if it means more to play well when Sorenstam is playing well, the always-honest Ochoa replied: "Yes, you can say that."
And when Sorenstam was asked if she had made a statement by besting Ochoa by a stroke in their matchup, she was quick to point out that "to make a statement on a Thursday really doesn't matter." And, in a display of the mental discipline that has been the hallmark of her success, she added: "It's not about making a statement here. It's about playing good golf and one shot at a time and try to win a championship by Sunday."
You get the feeling that what both Ochoa and Sorenstam desire is a final-group pairing on Sunday. Sorenstam is realistic about the virtually impossibility of catching Ochoa in the Rolex Rankings this year. But Sornestam does believe she can win the 2008 LPGA money title and Player of the Year.
Yes, Ochoa has five wins this year and a major championship already in the bank, but Sorenstam has already won twice this year and has 10 majors in her career. There's a lot of golf left to play this season, including this week at Kingsmill in what is shaping up to be a very enticing collision between the past and present queens of the game.