News
Garcia's Putter Was His Best Friend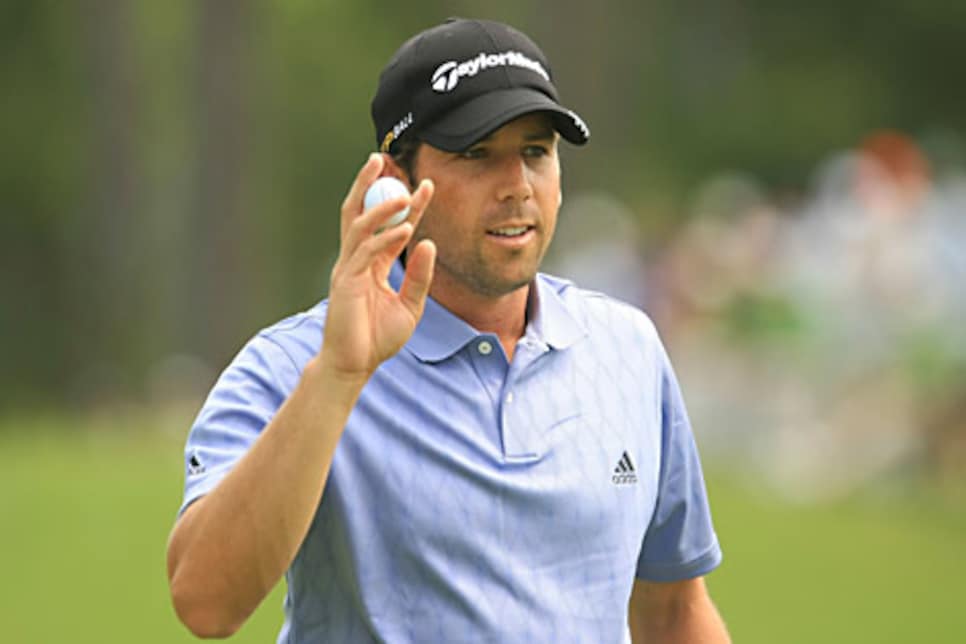 Garcia gave himself chances all day at TPC Sawgrass and his putter didn't squander them.
PONTE VEDRA BEACH, Fla. (AP) -- The flag was in a tempting location, back and left on the 13th green at the TPC Sawgrass with a pond running alongside the left side. Sergio Garcia took dead aim with a 7-iron and the ball never left its target.
This is nothing new with Garcia, who rarely struggles to make solid contact.
What pleased him was to see the 6-foot putt break sharply toward the water and drop into the center of the cup for one of seven birdies Thursday at The Players Championship, leading to a 6-under 66 and a two-shot lead.
"I'm just looking forward to keep doing the same things -- keep hitting the ball well, keep chipping well and keep putting well," Garcia said. "And then hopefully, by the end of the week, we'll be where we are supposed to be."
That would be posing with a trophy, something Garcia has not done in nearly three years.
The 28-year-old Spaniard has strung together three impressive rounds on the frightening Stadium Course, even if his timing is a little off. The first two scores (67-66) came last year and enabled him to finish second. This one was merely a great start, but he'll take it.
Garcia is mired in an 0-for-53 drought on the PGA Tour, the longest of his career, and while he is savvy enough to realize that leading after one round only amounts to a pat on the back, it was a small step in the right direction.
"At the end of the day, the only thing I can do is keep working on it, keep giving myself chances, and it's going to happen," Garcia said. "I feel like I'm getting closer and closer. At least now, I feel like I can do it, and it's just a matter of being able to do it."
Kenny Perry and Paul Goydos each had a 68 in the mild, morning breeze on a perfectly conditioned golf course. Sawgrass turned tricky, if not downright difficult, in the afternoon, and Ernie Els was among those who paid dearly.
Els was at 2 under until his wedge came up 20 feet short of the island green on the 17th, and he barely kept his third shot on land. He wound up with a triple bogey, and a 12-foot birdie on the final hole for a 72 didn't improve his spirits much.
"I think they should blow it up," Els said. "Everything you worked for in 4½ hours, in one shot it's all gone."
Garcia might face a tougher task in the second round, for he also played in the morning. Only eight of the 34 rounds under par came in the afternoon with increasingly blustery conditions.
Todd Hamilton was the best among late starters with a 69, while Wachovia winner Anthony Kim rallied for a 70.
Goydos was among 19 players who contributed 20 balls into the pond that surrounds the island green, although he escaped with bogey that changed his fortunes. Goydos rode that save to three straight birdies on his back nine and a round in the 60s for the first time in his 10 trips to The Players Championship.
"Skipping 18 was a good idea, though," Goydos said.
Phil Mickelson, trying to become the first player in the history of this tournament to successfully defend his title, was flirting with the leaders until a sloppy middle to his round put him at 70. Coming off consecutive birdies, including a wedge to 4 feet on the 17th, Mickelson failed to reach the 18th green from the right rough, then made bogey from 95 yards away in the middle of the fairway on No. 1.
"I feel as though I'm turning 66s into 70s, and I'm going to have to fix that this weekend," he said. "I'm going to have to stop letting those shots slide in the middle of the round that are costing me in the end. But I would have taken anything under par starting the day."
Mickelson won by two shots last year over Garcia, even though the Spaniard was never really in the mix. Garcia was the runner-up when Sean O'Hair put two in the water on the 17th to slide down the leaderboard.
In his 10th year as a pro, Garcia has been an enigma. No other player younger than Tiger Woods has contended so often in the majors and showed so much variety in his game.
"He's like Tiger," Goydos said. "His go-to shot is the shot that's needed."
But frustration has been setting in over three winless seasons, dating to the old Booz Allen Classic at Congressional, and Garcia recently turned to putting guru Stan Utley for help. This was a major move, for Garcia has relied almost exclusively on his father for help.
"My main idea was to get back to the way I used to putt, like 10 or 12 years ago, when I was a good putter," Garcia said. "At least now I have some rounds where I come out and say I actually shot what I should have shot, and not come out and think, 'I should have been four or five shots better' ... which is always not very nice."
He is tied with Adam Scott for most PGA Tour victories (six) by players under 30, although it was hard to fathom how he could go nearly three years without winning.
"It's no secret to anybody that he's been struggling with his putting for a little while, but as soon as he gets it right, we all know he's going to be winning," said Ian Poulter, among five players at 69. "I know he's working hard, and I'm sure he'll be in the winner's circle as soon as he gets it right. It may be this week. If he's putting well this week, then who knows? And watch out."