News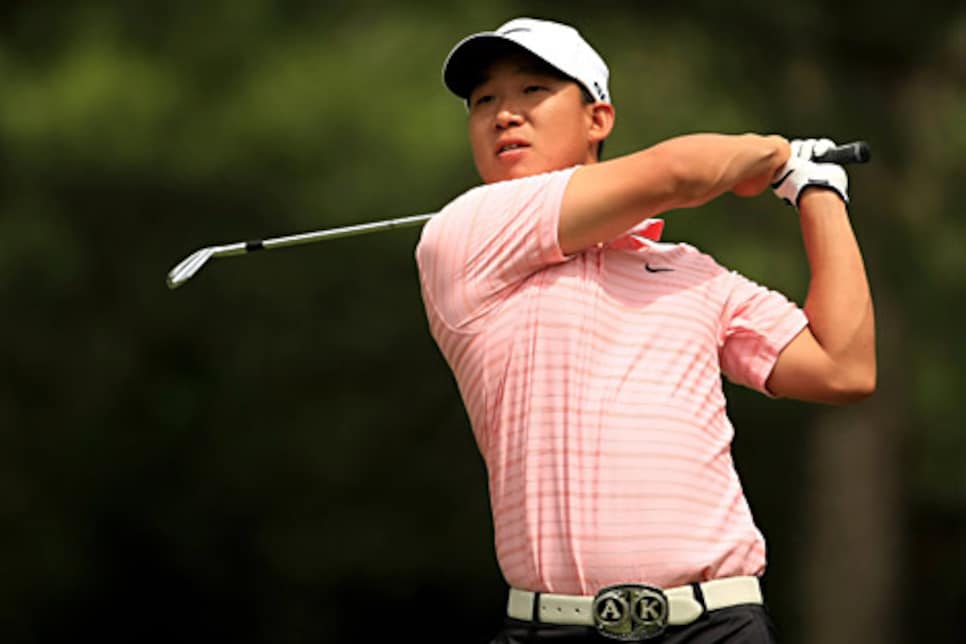 Kim's game has grown up in recent months and his shot choices at Quail Hollow reflects a new maturity.
CHARLOTTE, N.C. (AP) -- Quail Hollow Club's tree-lined, old-style setup has produced an impressive list of winners, ranging from Vijay Singh to Jim Furyk to last year's champion, Tiger Woods.
With Woods unable to defend his Wachovia Championship title following knee surgery, Anthony Kim moved a step away from joining that elite group -- a month shy of his 23rd birthday.
The steady, focused, and less flamboyant Kim shot a 6-under 66 on Saturday to take a four-shot lead over Jason Bohn and Heath Slocum after the third round.
While Kim still sports the signature shiny belt buckle with his initials, the big hitter's recent focus on his game left him at 13 under and as close as ever to his first PGA Tour win.
But the best way to describe how Kim has changed was not the long drives and six birdies Saturday, it was a short punch out on the third hole, when he decided not to try a low-percentage shot to reach the green.
"Six months ago I would tried to go for it, and there was double or triple bogey written all over that," Kim said. "I chipped out, saved par, and that kept my round going. Little things like that have added to some good play."
Kim passed Bohn, the second-round leader and his playing partner, by sinking a 9-foot birdie putt on the ninth hole. Kim added another birdie at No. 14, then navigated through the course's tough closing stretch with his best golf of the round.
After getting up and down for par on the 17th, Kim ripped a 324-yard drive on No. 18 and hit his second shot to 7 feet. He made the birdie putt and calmly walked off the course as the only golfer without a bogey on his scorecard and well ahead of one of the strongest non-major fields on the tour.
"I feel like I'm ready," Kim said of trying to become the eighth golfer in his 20s to win this year, "but you never know."
Bohn recovered from a poor day of putting with a chip-in for par on the 18th for a 72 and a second-place tie with Slocum. But Bohn was in awe of what he saw from Kim.
"It was awesome to chip in on the last hole, but I didn't play as well as I wanted to today," Bohn said. "I played with somebody who played extraordinarily good, almost Tiger-esque. He hit a lot of great shots. So it was fun. I got to watch good golf anyhow."
Slocum charged into contention by holing out for eagle on the 15th hole. Slocum shot 68 and will be paired with Kim on Sunday.
"I thought it was going to be maybe three feet short and it really just kept rolling out and rolling out," Slocum said of his eagle. "It was lined up and the crowd starting getting a little bit louder and a little bit louder and it disappeared."
Bohn will play with Stewart Cink, who was tied with Dudley Hart (70) at 8 under.
Cink, whose 65 matched Pat Perez (6 under) for the best round of the tournament, is part of a field of big names with plenty of work to do Sunday. Furyk's 71 left him at 7 under with Geoff Ogilvy (69). Singh (70) and Fred Couples (69) were at 6 under. Phil Mickelson recovered from his two late double bogeys Friday to shoot 69. He was at 5-under with Adam Scott (66).
But they won't have a chance if Kim continues his success at the 7,442-yard layout. Kim and Woods are the only players here with a scoring average of less than 70.
"If he plays like he did today, we're not going to be able to catch him," Bohn said. "But the finish on this golf course is phenomenal, because anything can happen."
After three missed cuts and no finish better than 30th in six tournaments, Kim decided he was "talking a little bit more than I was practicing." His renewed focus led to his tie for second at the Verizon Heritage last month.
Kim said he tried to limit his risk-taking and not get down after bad shots.
"If I didn't hit a good shot, I felt like my life was over," Kim said. "It's hard to play golf that way. It's hard to do anything that way. I'm just having a lot of fun out here. I love being on the PGA Tour and living my dream. It's pretty special."
Bohn, who entered the day with a two-shot lead over Kim, missed birdie putts on 13 and 14, then bogeyed the par-5 15th, a day after he raved about the success with his new putter.
Bohn's short-game woes allowed Kim to roar past him.
Kim was born in Los Angeles and was the NCAA freshman of the year at Oklahoma in 2004. He turned pro after his junior year and burst onto the PGA Tour by tying for second in the 2006 Texas Open.
As the youngest rookie on the PGA Tour in 2007, Kim had four top-10 finishes -- including a seventh-place finish at Quail Hollow. But he never won and then struggled to make cuts earlier this year.
"It was a great learning experience," Kim said. "If I won I think there's a chance I wouldn't have practiced as hard as I am now. I feel like I'm very focused out there. Hopefully I can keep it up."