News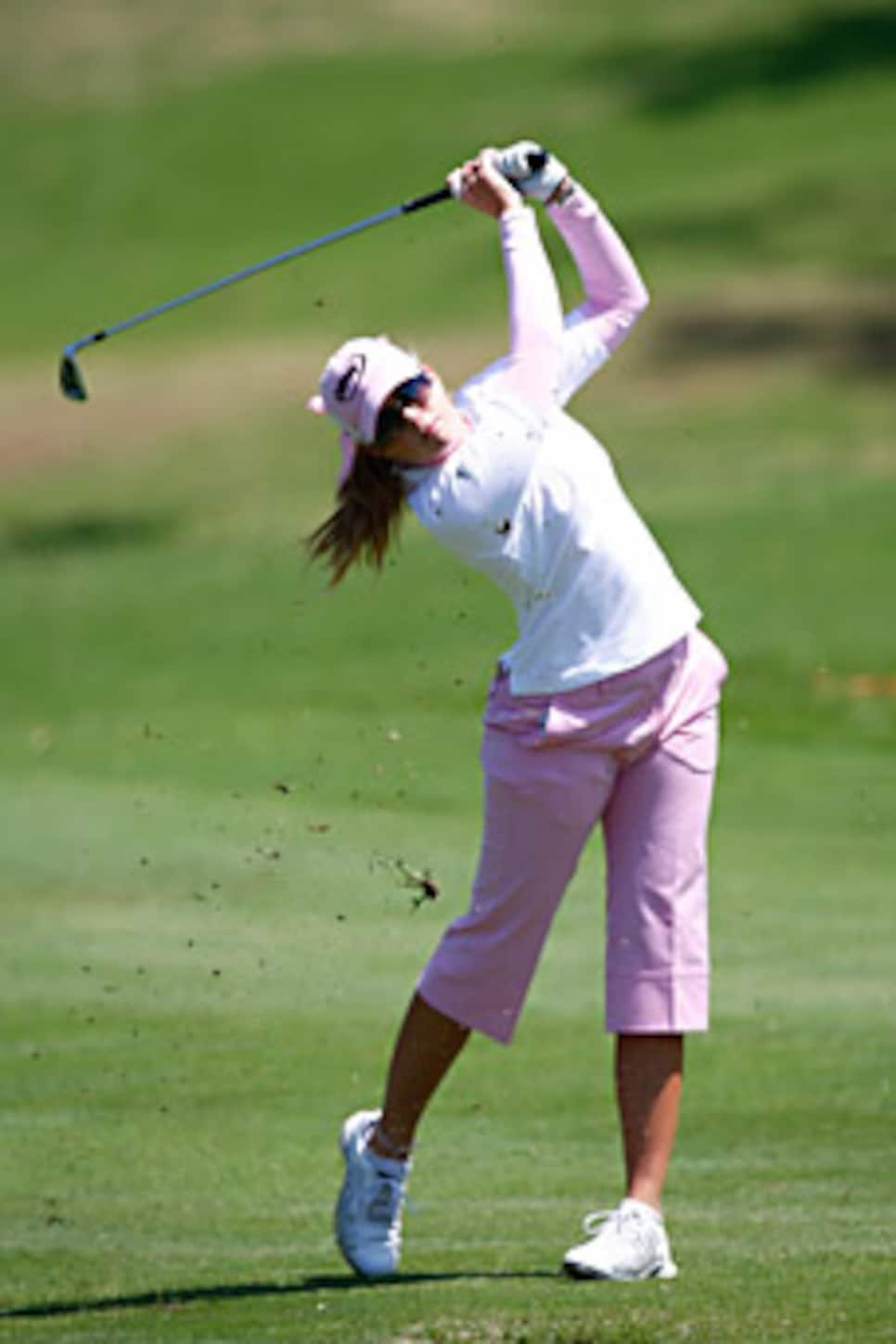 A hot putter most of the day kept Creamer on top even after bogeys on 16 and 18.
BROKEN ARROW, Okla. (AP) -- Paula Creamer looked as though she might blow away the competition Saturday at the SemGroup Championship, rolling in two long birdie putts and keeping bogeys off her card.
Another poor finish gave four players a decent chance, none of them named Lorena Ochoa.
Creamer made bogey on two of the last three holes for the second straight day in identical fashion -- a three-putt on the 16th, a bogey from the bunker on the 18th -- but still wound up with a 2-under 69 for a two-shot lead over Juli Inkster.
"When I was on the 15th green, my goal was to have a five-shot lead," Creamer said. "And I ended up having two shots. But I'm not going to complain. I'm sitting in a good position with the field that's out here and a course that plays hard. Having the lead in any tournament is something that you want going into Sunday."
Creamer was at 3-under 210 and will play in the final pairing with Inkster, whose 20-foot par putt on the 18th hole gave her a 4-under 67, the best this week at Cedar Ridge.
Ochoa, trying to join Nancy Lopez and Annika Sorenstam in the LPGA Tour record books with her fifth straight victory, needs a score in the mid-60s and a collapse by Creamer, neither of which looks like a possibility.
The 26-year-old from Mexico finally ended her birdie drought at Cedar Ridge, but was done in by consecutive bogeys on the back nine that stalled her momentum. She wound up with an even-par 71 and was eight shots behind.
"I still think I can win," Ochoa said. "I think Annika won before coming from 10 shots behind. It could happen."
It doesn't look likely, even with Creamer continuing to give shots away at the end of her round.
Brittany Lang, who tied for second in the 2005 U.S. Women's Open at Cherry Hills, closed with 11 pars for an even-par 71 and was only four shots behind at 214. Another shot back was Angela Stanford (71) and Leta Lindley (72).
Inkster, a 47-year-old with two daughters and seven majors, shot 32 on the front nine in blustery conditions, held it together on the back nine and gave herself another chance at the tournament where she was runner-up a year ago.
The Hall of Famer has not won in more than two years.
"I got myself in position to at least give it a run," Inkster said.
Creamer is only 4-3 with at least a share of the 54-hole lead, one of those losses coming her rookie season in 2005 in the Wegmans LPGA outside Rochester, N.Y. She was two shots ahead of Ochoa, only to watch the Mexican star birdie six of the last seven holes.
Ochoa, however, is in strange territory in the Tulsa suburbs. She has won five of her six tournaments this year by a combined 37 shots, and now finds herself needing the best comeback of her career.
"We're looking at it from a different perspective," she said. "I'm going to be positive and hopefully do good tomorrow."
But Creamer is playing well enough that even Ochoa's best golf might not be good enough.
Coming off a playoff loss in Florida, the 21-year-old made birdies on some of the toughest holes and rarely had to work for pars. Her boost came from an unlikely birdie, some 50 feet below the hole at No. 9 that produced the loudest cheer at Cedar Ridge all week.
And she kept right on attacking, taking on the trees from the right rough at No. 11, holing a 35-foot birdie on the 12th and reaching the fringe of the par-5 14th in two to set up a simple birdie and expand her lead.
Inkster also appeared headed for a sloppy finish for the second straight day. On Friday, she hit a clunker into the water for double bogey on the 17th and missed a 3-footer for par on the 18th. This time, she tried to hit through a gap in the trees on the 18th, but it caromed off a branch into the fairway. Inkster hit sand wedge to 20 feet and holed it for par.
She was four shots behind when she finished, two shots behind when the third round was over.
Even so, she knows tracking down Creamer won't be easy.
"I'm going to need a lot of help from her," Inkster said. "She's just playing good golf right now. And I'm going to have to play my 'A' game out there, putting and hitting. But this golf course ... a lot of things can happen. And I know she knows that. She's not the type to play it safe. She's going to play aggressive. She's going to do what she need to do to win."
Ochoa went 27 holes with par or worse until ending that drought on the par-3 second with a tee shot that stopped 4 feet from the hole. But she followed that with a bogey, typical of her week.
While she still has hopes, her tournament probably ended on the 11th and 12th holes.
Ochoa closed out the front nine with back-to-back birdies that charged up the gallery and put her a 3 over, creeping up the leaderboard. But her tee shot on the 11th settled into a slight depression right of the bunker, the ball below her feet. The wind was strong, from right to left, and the ball shot up into the air, carried right of the green and bounced into the creek.
She made a superb chip to save bogey, then hit her approach well right on the 12th and had to make a 10-footer for bogey. It was her third straight round of back-to-back bogeys.
"We still have one more day to turn it around," she said.