News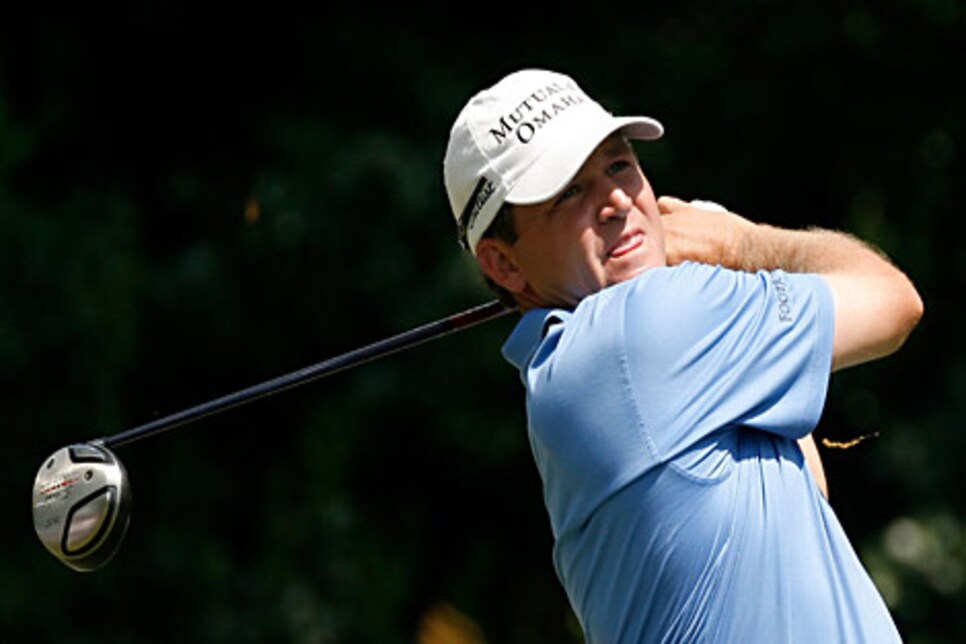 A hot putter helped Bohn on Friday. He only needed 26 putts to get around the course.
CHARLOTTE, N.C. (AP) -- Jason Bohn and Phil Mickelson each switched to longer putters recently. Bohn was sinking putts and full of confidence on Friday, while Mickelson had trouble just reaching the green in a disastrous closing stretch.
Bohn took control at the halfway point of the Wachovia Championship with a 5-under 67. At 9-under, he held a two shot over Anthony Kim (67). Jim Furyk, who won here in 2006, Dudley Hart and George McNeill were three strokes back after 67s.
Mickelson, ranked No. 2 in the world, drew most of the attention here with defending champion Tiger Woods home recovering from left knee surgery. But after shooting 68 Thursday in what Mickelson credited to his longer putter, he plummeted into a tie for 25th, seven shots back. His 74 included two double bogeys in the final four holes.
"There was a low round out there, and I let it slide there in the end," Mickelson said. "Unfortunately I'll have a lot of work to do on the weekend."
Mickelson will be chasing Bohn, ranked 196th and all smiles after the pressure of his future on the PGA Tour was lifted last month with a sixth-place finish at the Verizon Heritage.
Bohn injured his ribs at the Memorial last June. Doctors misdiagnosed him, and he re-injured himself later in the year. He was held to 17 events and entered this year in a precarious position. Bohn had 12 tournaments to earn $257,668 and keep his playing status for all of 2008. His strong showing at Hilton Head ended his worries.
"I'm just excited to play. I don't have a lot of pressure now that my medical status is taken care of," Bohn said. "I can just go out and free swing it."
With first-round leader David Toms struggling to a 75, Bohn shot ahead on the strength of a putter an inch longer than he's used in the past. Bohn said his coach, Mike Shannon, had been nagging him for almost two years to make the switch.
"I just didn't feel comfortable," Bohn said. "Finally I wizened up and listened to him."
Bohn needed only 26 putts, a day after he had 27.
"When you're putting well, you don't really care if you hit it to 30 feet, you really don't," Bohn said. "You're like, 'I can make this.' Then typically you don't it 30 feet, you start hitting it 12 to 15 feet, and then you start running them in.
Bohn did that at par-3 13th, when his 7-iron landed 4 feet away. He knocked in the putt for birdie, offsetting his only bogey a hole earlier.
While Mickelson's putting wasn't as sharp Friday, that wasn't his biggest problem.
With an afternoon tee time, Mickelson birdied the 10th hole to get to 6 under. He missed a birdie putt at No. 14, then strolled to the easiest hole on the course, the par-5 15th.
But Mickelson sent his tee shot into the trees. His second shot was even worse, going nearly straight left. While the ball just cleared the water, it nestled in a horrible lie of pine straw at the base of a tree.
Mickelson hacked at his sunken ball, and it dribbled 30 feet. His fourth shot landed in front of the greenside bunker. A chip shot and two putts later, Mickelson had a 7 and had fallen five shots behind after Bohn had birdied the same hole in the group ahead of him.
Mickelson parred 16 and 17 before he sent his second shot into the creek on 18, leaving him with plenty of work to do to win this tournament for the first time.
"Just sloppy shots," Mickelson said. "I tried to hit a 3-wood off 15 to just get down there so I would be able to reach it, and I hit it into the trees left. And I had a wedge in on 18, and it was an easy shot. I just hit a poor shot. I don't really have a reason."
Bohn will be paired on the final group Saturday with the 22-year-old Kim, whose increased emphasis on his game is paying off. After missing three missed cuts, he tied for second at Hilton Head and is in contention again.
"I feel like last year was all a blur, and I didn't learn that much on the golf course," Kim said. "Now I'm starting to learn what I'm doing right and what I'm doing wrong out there, and it's helping me tremendously."
Minus Jay Williamson's hole-in-one at No. 6, it was a struggle for most of the day as the greens hardened. Whether scattered thunderstorms in the forecast hit the course or not this weekend could determine how difficult it will be for Bohn to get his second PGA Tour win.
"It's getting firmer and faster," Bohn said. "If we get a little rain and it softens up, I think you'll see some good scores."