News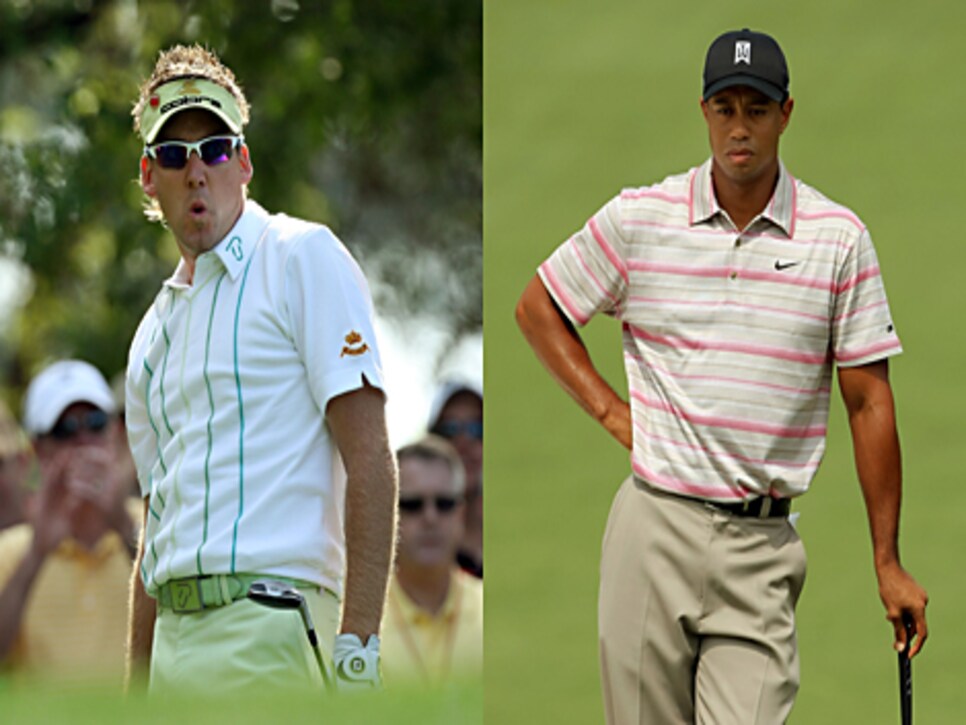 The early Augusta fog gave way to bright sun, warmth and tough scoring conditions.
AUGUSTA, Ga. (AP)-- When Ian Poulter walked off the 18th green, he wasn't No. 2 to anyone.
Poulter, a flamboyant Englishman who's always been known as much for his garish outfits and eccentric hairstyles as his shotmaking, knocked in a hole-in-one at No. 16 and finished with a 2-under 70 for the early lead at the Masters on Thursday.
Woods coasted through the front nine with nothing but pars on his scorecard as he made the turn on a warm, sunny day at Augusta National. Of course, it's early. No matter what happens in the opening round, Woods likely will remain the overwhelming favorite to win his fifth green jacket -- the starting point for an unprecedented Grand Slam.
But the early star was Poulter, who's never had any trouble stirring things up -- whether it's his fashion sense or willingness to say whatever's on his mind.
He certainly got attention with an interview published late January, when he conceded no one was as good as Woods but that he felt capable of being the world's second-ranked golfer if he played to his potential. Poulter's comments were quite bold, considering he's never won in the U.S. and has only one Top 10 finish in a major, sparking everything from criticism to ridicule.
"Basically, I was saying how good Tiger was," Poulter said, "and how achievable I think it is to get to the No. 2 spot. If you play well over a year's period or a two-year period, you can get there."
Poulter certainly played well on Thursday, putting the ball right where he wanted on virtually every hole. That was never more evident than it was at 16, the 170-yard gem known as Redbud.
With more fans than ever able to watch from the adjacent hill, Poulter launched an 8-iron over the water that landed about 20 feet short of the hole, curled up and around the ridge -- and rolled right in.
"As soon as it left the club, I knew it was going to be pretty good," Poulter said. "It was quite nice to see it drop."
The patrons roared as though it was the back nine Sunday.
"There was an unbelievable buzz," said Poulter, who actually went a little tame with his attire: lime green pants with matching visor, and a striped white shirt. "That was a special moment. The hairs on the back of my neck were standing up. It was great."
At the next hole, still pumped about his ace, Poulter overpowered a 5-iron into the wind, the ball soaring over the green. He wound up taking his only bogey of the day on a course that has toughened up considerably since being soaked by rain last weekend.
"That had to be adrenaline," Poulter said. "That's the only way to explain it."
Mark O'Meara, the 1998 winner, shot a surprising 71 that left him one stroke off the lead among those in the clubhouse. Also getting through the round at 1 under: Heath Slocum and Peter Lonard.
Woods and everyone else teed off about an hour behind schedule after soupy fog blanketed the course just past sunrise. The world's No. 1 player got off to a shaky start, pulling his drive up against the second cut to the left, then missing the green to the right with a towering second shot.
He chipped 6 feet past the cup, but managed to sink the putt to save par, the ball curling around the lip before dropping in. That set the tone for a solid if unspectacular front nine that was enough to have him right in the thick of things.
Defending champion Zach Johnson got off to a good start, shooting 1-under 35 on the front side, but two-time Masters winner Phil Mickelson was expected to be Woods' major challenger. He had an afternoon tee time.
The first shot of the day was struck by Arnold Palmer, who took care of the ceremonial duties for the second year in a row.
Because of the fog, the King was able to say his tee shot traveled so far he never saw it land. Visibility was limited to about 200 yards until the sun broke through.
"As a matter of fact, it went out of sight," Palmer said with a smirk.