News
The Concept Is Overwhelming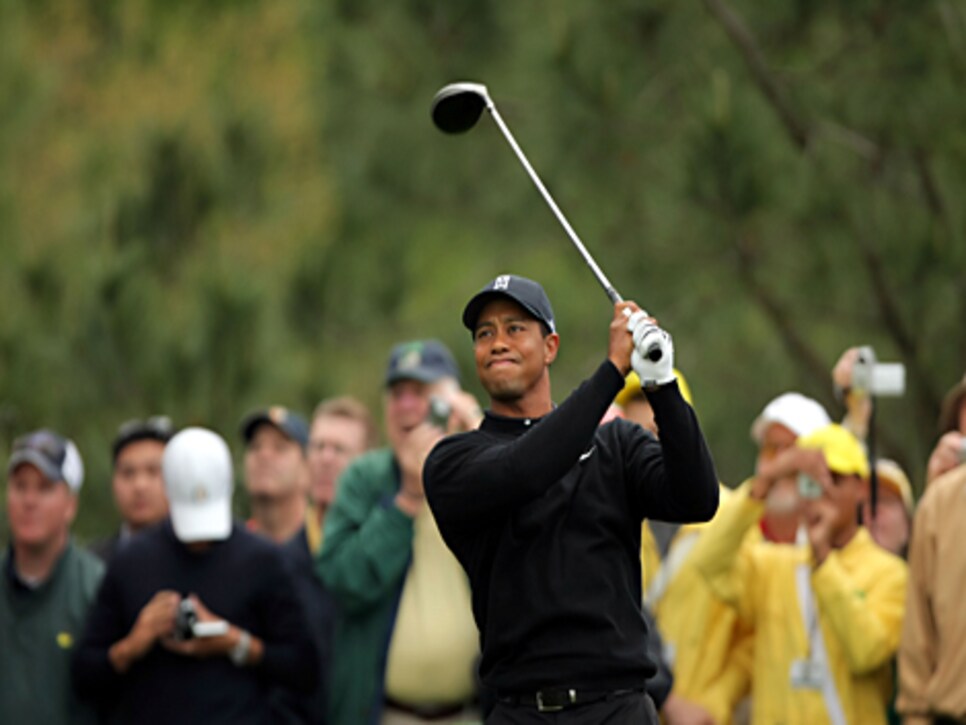 Woods' resume, going back to his days as an amateur, says he can do the job.
AUGUSTA, Ga. -- The concept of the Grand Slam -- winning all four of professional golf's major championships in the same season -- is overwhelming. The mere fact that it has never been accomplished serves as evidence for those who say it is unachievable. Yet the aura of Tiger Woods makes the overwhelming seem manageable and brings the unachievable within reach. Woods' career has been all about doing what can't be done.
The mere fact that a man whose father was black and whose mother is from Thailand is the greatest golfer in the world -- and, in reality, extremely close to being a consensus choice as the greatest ever to play the game -- shatters all stereotypes about golf. Woods, however, is the most curious of revolutionaries. He batters down barriers without uttering a word.
His resume is burned into the memory of anyone who even remotely follows the game: Three consecutive U.S. Junior titles (1991-93) followed by three consecutive U.S. Amateurs (1994-96). Woods won in his fifth tournament as a professional, and made the 1997 Masters his first major championship as a pro.
But it's not just about the results for Woods, it's about the process -- the way he does things. In all three of those U.S. Amateur triumphs he had to erase some prodigious deficits to win. And in that first Masters victory he did it after playing the first nine holes in 40 strokes and then storming back to win by 12.
All that is why the Grand Slam is within reason for Woods, if not within reach. Forget all those logical factors -- like the four victories here at Augusta National and the six wins at Torrey Pines, where the U.S. Open will be played in June. The reason Woods has a chance to begin a run at the impossible here this week can be summed up in one word: history.
Tiger is all about history. One of the stories we all know is how he had the achievements of Jack Nicklaus taped to his wall as a kid and crossed off each one as he passed it. Chief among those is still in the future: The mark of 18 professional majors, five more than Woods now has, although that deficit can be reduced by one this week.
The point is this: Woods has not only won, but he has won in ways that demand attention. It is as if Woods has grabbed the world by the collar and shouted: "Look what I can do." He won those Amateurs by coming from behind. He won his first major at Augusta National, well aware of the symbolism of a young man of color slipping into a green jacket at what was once an all-white club.
Woods has been an agent of change without ever being an activist for change. He simply broke new ground in unavoidably noticeable ways, forcing race to recede into the background by making the only label anyone could hang on him simply this: the greatest ever.
He not only won the 1997 Masters, he won by a dozen strokes. In 2000, he won the U.S. Open at Pebble Beach by 15 and the British Open at St. Andrews by eight. Was there any doubt he would win at St. Andrews, the home of golf? No. Because it was all about history.
And that's why what looms in front of us when Tiger tees it up Thursday at 10:45 a.m. at Augusta National is such great drama. Of all that Woods has accomplished in his career there is a feeling that there is still something more waiting to happen, something that will scream even louder: Look what I can do.
More than a dozen years ago, while working for The Associated Press, I wrote these words: "The feeling persists that history is a blank page before Woods that he will fill with remarkable achievements as his career unfolds." Nothing has happened in the years since to change that perception.
Putting the matter of the Grand Slam on the table would be considered placing too much expectation on Tiger, except for this one factor: Woods has done nothing to discourage Grand Slam chatter. In fact, he has encouraged it.
Tiger points out that in all but a precious few of the seasons he has played the PGA Tour he has won five or more tournaments. He notes that he has proven he can win four times in a season, and adds that winning the Grand Slam is merely a matter of winning the right four.
Make no mistake about it: Tiger wants this. He wants to win all four majors in a single season -- in part to shut up those who shortchange his Tiger Slam (four in a row over two seasons). And make no mistake about this: If he does win all four this year, he won't hesitate to point out it is the second time he has possessed all four Grand Slam trophies simultaneously.
When Tiger was winning his last U.S. Amateur title in 1996, he would start every match by going into the back left corner of the tee box, turning his back on his opponent, bowing his head and seemingly enter a meditative trance. It was one of the most intimidating gestures I have ever seen an athlete perform. Tiger is wearing that game face here.
His decision to skip the annual par-3 contest is once again one of those wordless statements. Tiger is telling the world how much he wants to win this year's Masters. Tiger is telling the world this is all about the competition, all about getting the job done. Tiger is telling the world this is all about history, and history has always been what Tiger Woods is all about. The Grand Slam starts here this week.