News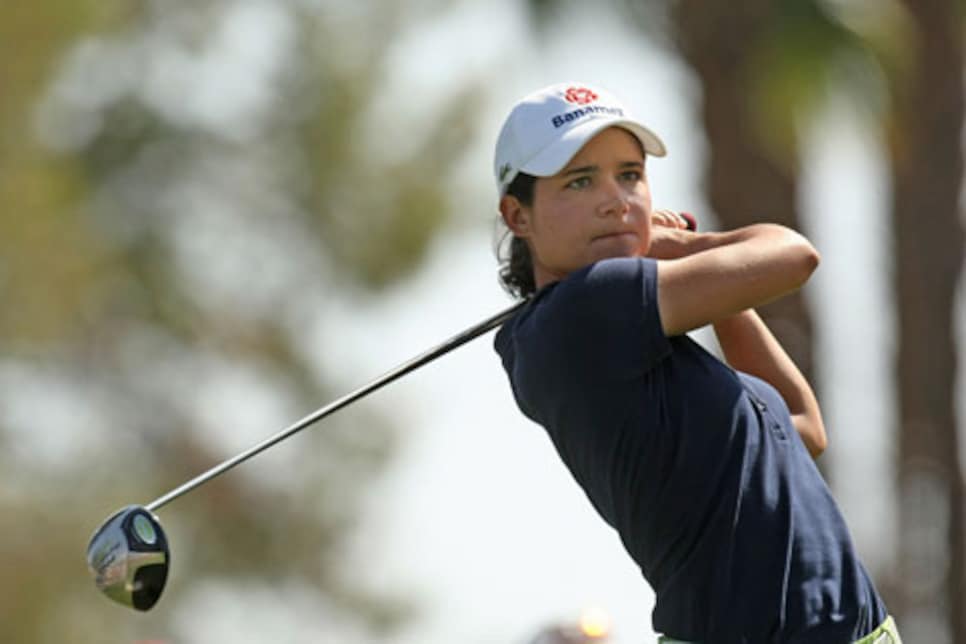 With four birdies on the front nine, Lorena had buried her challengers by the time she made the turn for home.
RANCHO MIRAGE, Calif. (AP) -- Lorena Ochoa set the silver trophy on a table, clasped hands with her parents and sprinted to the edge of the lake surrounding the 18th green at Mission Hills, raising both arms as she plunged into the water.
Whether she is playing or celebrating, the Mexican star is unstoppable.
Ochoa buried her competition Sunday at the Kraft Nabisco Championship with back-to-back birdies at the turn to build a five-shot lead, then closed with eight pars for a 5-under 67 and another romp in a major that once gave her fits.
Even more inspiring were the festivities that followed.
She joined hands with her parents and sister-in-law and raced into the water. Her brother, Alejandro, swing coach Rafael Alarcon and caddie Dave Brooker leapt from the bridge. Before long, two dozen friends and family members were bobbing in the water to the rhythm of a mariachi band, a celebration unlike any other at this major.
"I thought for a moment, 'Maybe I should try to do something funny, like a flip or something,'" Ochoa said. "No, no, no. Too dangerous. So I did the regular jump. You always worry about the jump, but once you win, I don't care."
The ripple effect is frightening.
Ochoa became the first player since Annika Sorenstam in 2005 to win two straight majors, having captured her first major in the Women's British Open at St. Andrews last summer by four shots.
In four starts this year, she has won three tournaments by a combined 23 shots.
"Nothing can stop her," said Se Ri Pak, who became the youngest player inducted into the World Golf Hall of Fame last year, a record that certainly will be broken by the 26-year-old Ochoa.
Sorenstam and Suzann Pettersen each closed with a 68 and tied for second, although they were never close.
Ochoa, who finished at 11-under 277, never trailed under the blazing desert sun, and was threatened only briefly. She answered with two straight birdies to make the turn in 32, and the rout was on.
"It was commanding golf in both," Brooker said of the last two majors, starting with her four-shot win at St. Andrews. "She's very polished. Every win that goes along, she gains even more momentum. If she had been putting better the first three days, this might have been a runaway even earlier."
This has always been somewhat of a home game for Ochoa, who has been coming to the Nabisco since she was an amateur and bringing what seems like half of Mexico with her. She spent Wednesday morning meeting with the maintenance staff at Mission Hills, helping them cook breakfast and thanking them for their hard work in preparing the course.
Lorena is pronounced similar to "la reina," Spanish for the queen, and there's no doubt who rules women's golf.
With as much dominance as Tiger Woods enjoys on the PGA Tour, she also has raised possibilities of winning all four majors.
"Even when I was on a roll, I don't think I ever dominated like this," said Karrie Webb, who won five out of eight majors from 1999 through 2001. "People don't understand how hard it is to stay on top of your game like that. I did it for a few years. Annika did it for five. Tiger has done it for 12."
Sorenstam, who battled a stomach virus on the weekend, tried to give Ochoa a run but could never get closer than three shots. She closed with a 68 and tied for second with Pettersen, who also had a 68.
Even healthy, it's doubtful she could have had enough to stop Ochoa.
Sorenstam was impressed that Ochoa would handle the pressure of playing before what amounts to a home crowd in the California desert, with Mexican flags at every turn, and with the memories of blowing good chances at Mission Hills the last two years.
"She has come out as the leader and is staying as the leader," Sorenstam said. "That takes a lot of courage, takes a lot of guys and it takes a good athlete. I could be wrong, but I think the goal for her is just to take one tournament at a time and try to win each one of them. And it turns out to be the last two majors. I'm sure it won't be the last, either."
Ochoa earned $300,000 for her 20th victory, and is one point away from the performance criteria of the World Golf Hall of Fame. She could get that next week with a victory in Mexico, although Ochoa would have to wait until she completes 10 years on the LPGA Tour, which would be 2012.
Ochoa had some nervous moments, feeling the most pressure from Hee-Won Han until a quick turnaround on the front nine.
Despite a birdie-birdie start for a three-shot lead, Ochoa went five straight holes without hitting the ball closer than 30 feet, and Han pulled within one shot with birdies on the fourth and sixth holes.
But it all turned in a three-hole stretch.
Ochoa saved par with a 40-foot downhill chip to 4 feet, while Han three-putted for bogey. On the tough par-3 eighth, Ochoa hit a high draw with a 6-iron that held against a left-to-right wind and settled 15 feet away from the back-left pin for a birdie. Han hit into the trees and took bogey, and there was another two-shot swing on the ninth when Ochoa birdied it for the first time this week.
Then came the walk to the 10th tee, which passes the 18th green.
Ochoa kept her head down, eyes focused only on her next step, resisting any temptation to gaze at the lake around the 18th. This was the 20-year anniversary of the winner jumping into the lake, and Ochoa badly wanted to be part of it.
"I couldn't stop thinking of that jump in the lake," she said. "It was something that I've been waiting for a long time."
The mariachi band struck up the famous Mexican tune, "Canta y no llores," which translates to "Sing and don't cry."
There was a little of both.