News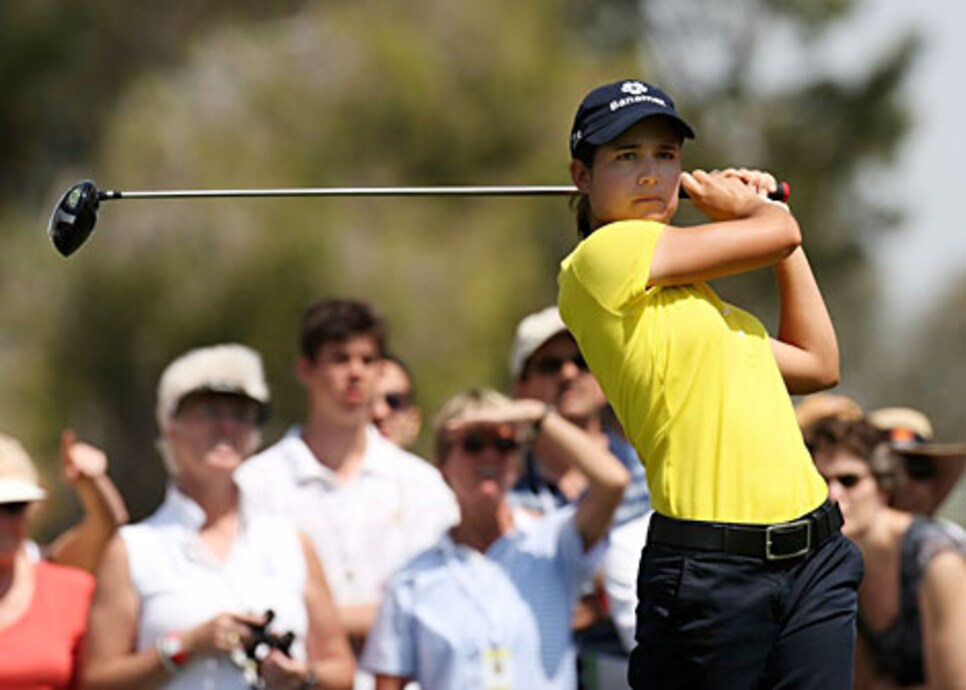 Lorena is going to have to put better if she wants to win her second major.
RANCHO MIRAGE, Calif. (AP) -- Nothing ever comes easily for Lorena Ochoa at the Kraft Nabisco Championship.
She has been jilted the last two years at Mission Hills, the major that makes her feel at home with so many Mexican flags waving in the gallery and shouts of "Pajarito" -- birdie -- to carry her along.
But as she stood on the 18th green late Saturday afternoon, Ochoa pursed her lips and looked up at the blazing blue sky in disgust. She finished with three-putt bogeys on two of the last four holes, dropping her lead to a single shot over Hee-Won Han.
"I'm OK," Ochoa said after a 1-under 71, leaving her as the only player to have broken par all three days. "I am not one to be upset. I am really positive. I'm really happy that I'm going to play tomorrow in the last group, that I have a chance to win a major, and that's what I am going to do."
So many others suddenly felt the same way.
Fourteen players were separated by five shots going into the final round, seven of them major champions.
U.S. Women's Open champion Cristie Kerr picked the right fortune cookie at dinner Friday night -- "A great day ahead," it said -- and fired a 66 that brought her within two shots of the lead. LPGA champion Suzann Pettersen holed out from the fairway on her way to a tournament-best 65, leaving her in range only four shots behind.
Ten-time major champion Annika Sorenstam battled a stomach virus so severe that she thought about quitting at the turn, only to gut it out with four birdies on the back nine that also left her in range.
"I still have a chance," Sorenstam said, who was four behind. "If I feel good, then I'm going to charge."
Ochoa, at 6-under 210, had a one-shot lead over Han, who shot 70 and will be playing in the final group at a major for the first time. Joining them will be Kerr, who held off Ochoa to win the Women's Open last summer at Pine Needles.
"It all came together for me today," said Kerr, who was at 212.
Seon Hwa Lee (68) and Maria Hjorth, who bogeyed the par-5 18th for a 72, also were at 212. Heather Young was tied with Ochoa going into the third round and had the lead to herself with a birdie at No. 9, but she shot 39 on the back for a 74. She was at 213, along with Liselotte Neumann, who won the U.S. Women's Open 20 years ago that inspired so many Swedes.
Sorenstam needed no inspiration Saturday, just a place to lay down.
She found it on the 12th hole, flat on her back, wondering if she could make it another hole. She carried an umbrella to shield her from the heat, but that broke. She sat in a chair when possible. And she wore an ice wrap around her neck.
"I just wanted to finish," Sorenstam said. "I did not have a score in mind. Just get it done with and see if I can just finish. The birdies kept me going. I'm hoping I'll feel better tomorrow."
She was in the group at 214 with Pettersen, who got the fireworks going on a dynamic day in the desert.
Pettersen, who captured her first major last year at the LPGA Championship, made the cut on the number Friday and was 10 shots behind. Among the first to play Saturday morning when the wind was tame, she holed out with a 6-iron for eagle on the tough seventh hole and finished her round with a 6-foot par putt.
"I played myself into the tournament again," Pettersen said. "Seven under is pretty good on a Saturday in a major. I'm right there."
Then came Kerr, who might want to go back to that Chinese restaurant.
"I went for the fortune cookie on the left and it said, 'A great day ahead' in capital letters. So go figure," Kerr said.
Even though she watched five birdie putts catch the lip, she fired a 66 that she thought would get her back into the tournament, not knowing when she left Mission Hills just how close she would be.
"I played beautiful golf today," Kerr said. "I mean, it was really beautiful to watch, if I do say so myself."
Also entertaining a small measure of hope was Karrie Webb, who came from seven shots behind in the last round two years ago to win on the strength of a pitching wedge she holed for eagle on the 72nd hole, followed by a birdie in the playoff.
Her highlight Saturday was a 6-iron that one-hopped into the hole for an ace on the difficult par-3 eighth, and keeping mistakes to a minimum on the back nine when the wind picked up and blew across every fairway, the toughest conditions of all.
She settled for a 69 and was in the group at 1-under 215 that included Se Ri Pak (73), who needs this major to become the seventh woman to capture the career Grand Slam.
Despite so many players in contention, they still are chasing the No. 1 player.
Ochoa won the Women's British Open last summer at St. Andrews, so she now is equipped with the experience of winning a major. She found it far more important to have won twice this year in three starts, by a combined 18 shots.
Someone asked if this would be her most meaningful win, considering the trouble she has faced, and the additional pressure of playing before what feels like a home crowd.
"Hopefully, I win and jump in the lake," Ochoa said. "Then I'll let you know how it ranks."