News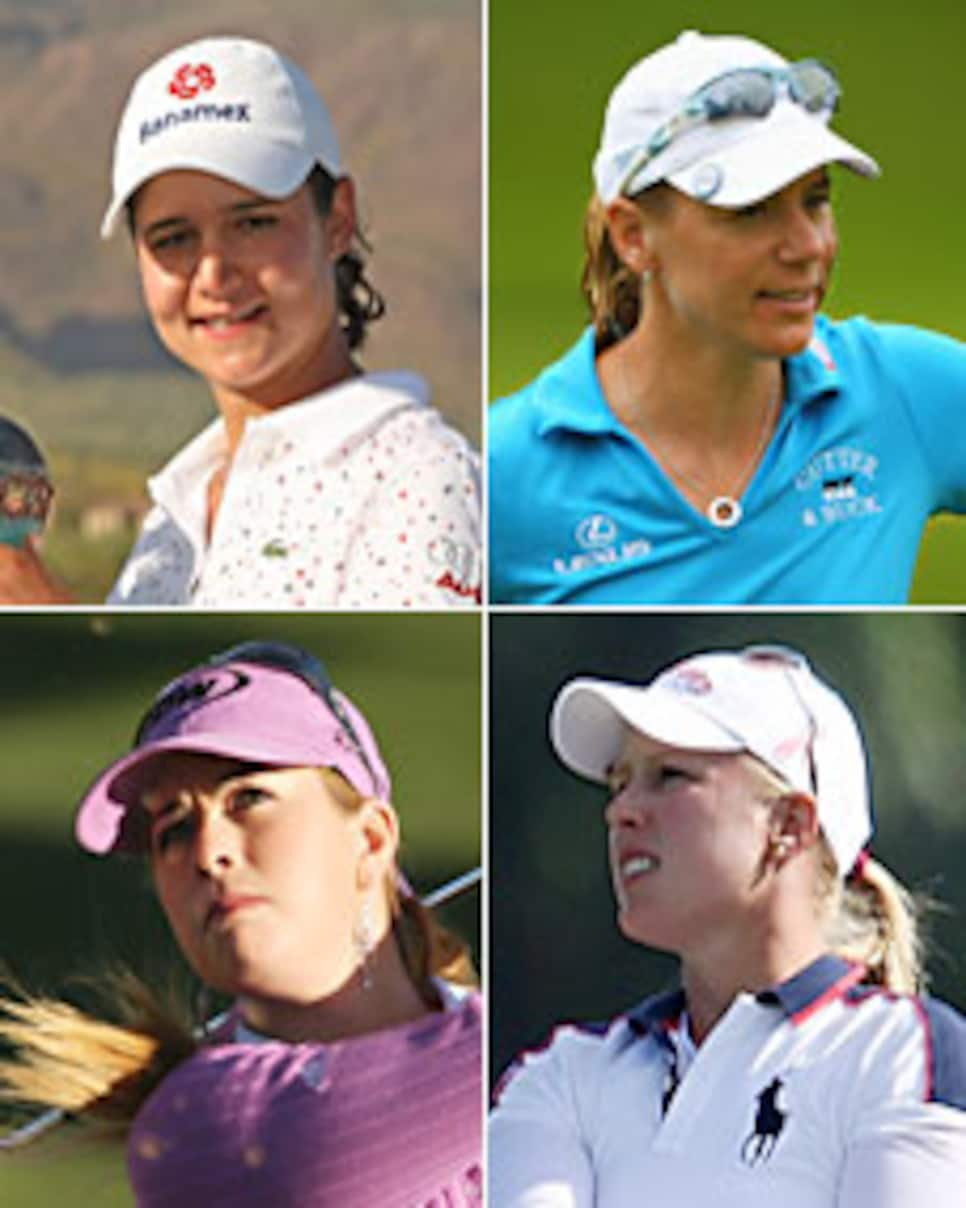 Will it be the tried and true veterans like Lorena and Annika or youth like Paula or Morgan?
RANCHO MIRAGE, Calif. -- This is what the LPGA has come to. The burden of carrying the label "Best Player Without a Major Championship" has passed from a 26-year-old to a 21-year-old. That says something about the state of the women's game, and it can only be good. It also sets the stage nicely for this week's Kraft Nabisco Championship, the first major of the year.
Perhaps it is a case of talent stepping into a void that youth is being served so vigorously. But it's difficult to make that case when Lorena Ochoa, 25 when she won the Ricoh Women's British Open last August, and Paula Creamer, 21, are coming on the heels of Annika Sorenstam, Karrie Webb, Juli Inkster and Se Ri Pak, who won a combined 29 majors and are all in the Hall of Fame. They all also have significant game left.
It also says something about the competitive parity achieved on the LPGA that the last 10 majors have been won by 10 different players. Clearly, in Ochoa a dominant player threatens to disrupt that equilibrium in the way Sorenstam did when she won 43 tournaments from 2001 through 2005. What remains to be seen is if Ochoa will dominate the majors in a Sorenstam-like way. The Swede won seven majors during that five-year run.
The three compelling story lines coming into this week's Kraft Nabisco are: Can Ochoa win her second consecutive major and show she reigns supreme? Can Sorenstam show that her game has totally recovered from the ruptured disk in her neck last year and add to her total of 10 majors? Can Creamer capture that elusive first major and emerge as the youngster most likely to challenge Ochoa?
Ochoa picked up her 19th LPGA victory last week at the Safeway International and that number sits a little out of balance with the lone major she won at St. Andrews. But that can change rapidly. There were whispers about Sorenstam's problems closing the deal in the big ones when she was shut out in the majors from 1997 through 2000. Now--eight major wins after those whispers--Annika is regarded as one of the best in the history of the game.
Ochoa can significantly enhance her reputation with a victory this week at Mission Hills. The way she is playing right now -- she won in Singapore by 11 strokes and in Arizona by seven -- she would not only be grabbing consecutive majors -- the last of '07 and first of '08 -- but almost certainly would trigger Grand Slam talk. That's what happens when you win a very Tiger-like 16 of your last 48 LPGA events.
Creamer already has five career victories and 10 top-20 finishes in the majors, her best being T-3 at the 2005 McDonald's LPGA Championship. "It definitely motivates me," she says about the "Best Without" title.
"Probably the biggest thing affecting me in not winning a major [is] patience," she said. "My patience and my maturity got in the way last year. I tried to make too much happen. I remember trying to force things, trying to hit it close instead of hitting it to 25 feet and taking my par and maybe rolling in the putt."
Sorenstam, Creamer, Ochoa, Louise Friberg and Ochoa have won the first five events of the LPGA season. Except for Friberg, none would be surprise winners here this week. Sorenstam, showing flashes of the form interrupted by her neck injury, has played all 14 of her rounds this year under par -- and that's with a putter that's yet to get hot.
Ochoa, meanwhile, has been somewhere beyond hot since winning the British Open. Beginning with that win on the Old Course, she has taken seven of her last 12 events, finishing in the top 10 a total of 11 times. It's as if when she shed that "Greatest Without" title she found sanctuary in a calm place that nutures confidence.
Asked if she thought she could dominate her tour the way Tiger Woods is overwhelming his, Ochoa said: "That's what I am trying to do." And the way she laughs when she says that buries any thought that it is conceit speaking. It is merely talent recognizing its potential.
"Every tournament I play I'm there to win," she said, uttering a sentence said often by Woods to shaking, disbelieving heads in 1997, his first full year on tour. When asked if she will ever become the star Woods is, Ochoa responded: "Tiger is Tiger, and he's an American." Then, with a pause, she added: "I'm doing OK in my country, too." That's in part why she had to ask tournament organizers for 100 tickets this week.
Last year, all four majors were won by first-time major championship winners. Besides Ochoa at the British Open, Cristie Kerr won the U.S. Open, Suzann Pettersen took the McDonald's LPGA Championship and Morgan Pressel was victorious here. It would also serve as no surprise if Kerr, Pettersen or Pressel walked away with this year's trophy. And don't count out the trio who dominated the majors along Sorenstam from 1998 through 2002: Webb, Pak and Inkster.
All that adds up to this: If Ochoa does pile up a bunch of major titles she will be doing it at a time when the LPGA Tour is deep in talent.
What we have seen from Ochoa -- 16 wins in less than two full seasons -- is especially startling because it comes so close on the heels of Sorenstam's era of domination. You don't really expect another exceptional player to emerge so quickly. But that is what has happened.
Ochoa is the clearly No. 1 in women's golf and seems to be playing on that special stage exceptional players stumble onto for brief periods of time. Still, this is a major and that brings with it a special pressure. Ochoa has won twice this year, both in romps. That likely won't happen here.
If she wins Ochoa will likely have to fend off some significant talent late on Sunday afternoon. And that will make victory ever more special. This is, after all, a major championship. And it is in the majors that flaws are exposed, doubts are removed and reputations are made -- no matter how old you are.