News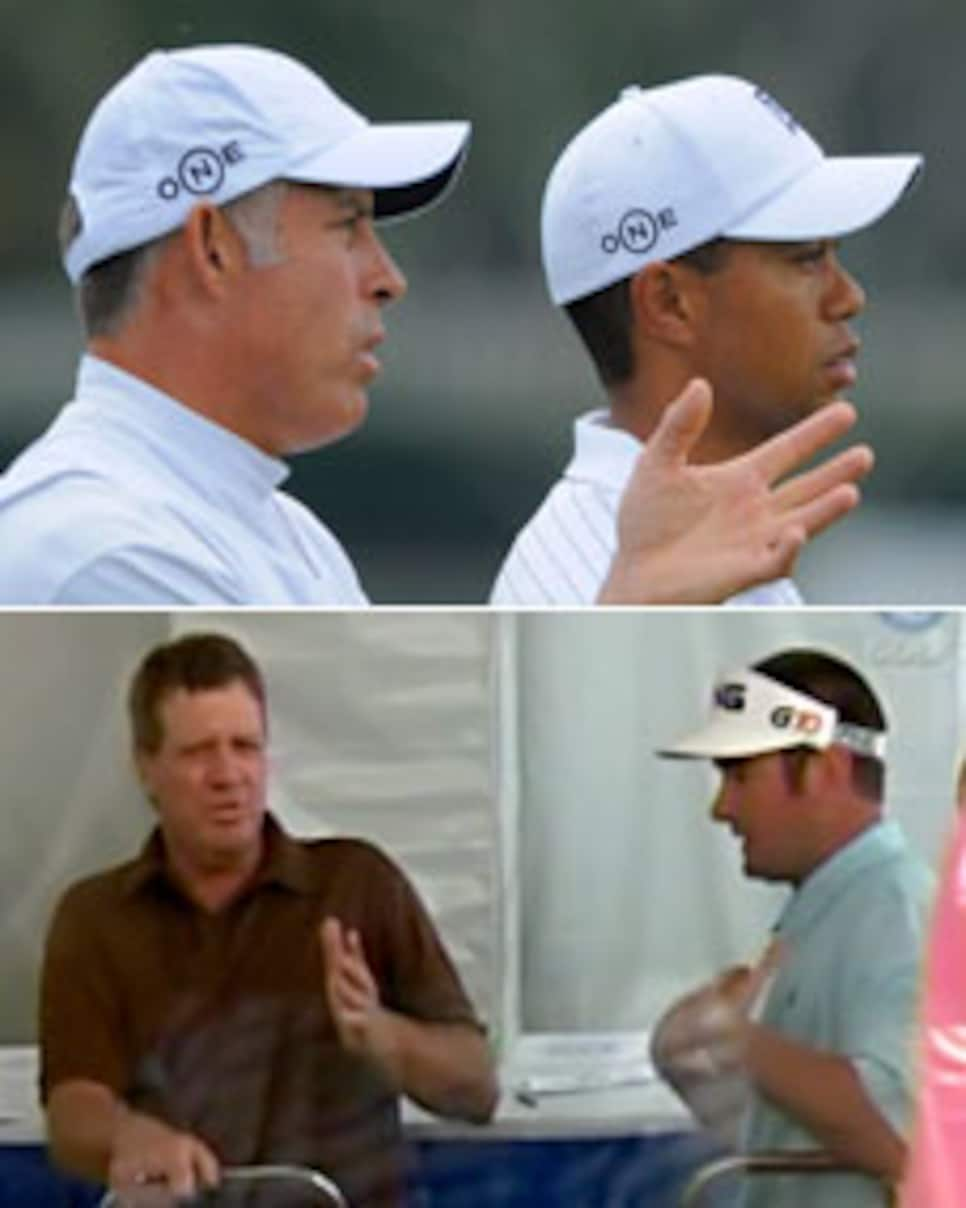 Up close and personal can very interesting. Just ask these guys.
Access and trust -- you need both to get the inside story, or listen to a conversation between Tiger Woods and Steve Williams with a tournament on the line.
Frank Ricciardi carries one of the boom mikes for NBC and last month he was allowed to listen in while Tiger and Stevie went through club selection on the 16th hole of the Arnold Palmer Invitational. The most revealing and riveting moment of their interchange came as Woods was taking practice swings. Visualizing his long approach shot over water to the 16th green while the wind gusted in that corner of Bay Hill, Woods told Williams to keep an eye on the flag at 15, and if it changed, call him off the shot.
Knowing Woods' ability to stop his downswing -- most notably the time a flock of birds flew through his range of vision on the 13th tee box at Augusta -- this added another dimension of drama for the television viewer. To NBC producer Tom Roy, "it showed the trust that Tiger has in his relationship with Steve Williams." This was more than a YouTube moment. It was going as far inside the ropes as the television viewer will ever get. It was similar to being in the huddle with Peyton Manning or the dugout with Joe Torre.
Two holes later, Ricciardi captured Woods and Williams discussing club selection, finally deciding on a 5-iron that Tiger landed 24 feet from the hole, center of the green, to set up the deciding birdie in his seventh straight win worldwide.
A week later at the CA Championship in Miami, Woods shrugged off those conversations as something he always has with his caddie. "You know, people are making such a big deal of that conversation we had on 16 Sunday, but that's what we do," Woods said. "We do it on the very first hole to the 72nd hole. I trust him. As we all know, as a player, and from the standpoint of the caddies, ultimately it's my call. I love the fact that he's not afraid to give me the info. He's always trying. He'll call me off of shots if the wind changes. Not too many guys out here ever would have the guts to do that.
"I wouldn't have won the PGA in 2000 if it wasn't for him," Woods said, recalling the time Williams had him back off a shot at Valhalla during the third leg of his Tiger Slam. "He called me off a shot on 12 because the wind had switched. I changed the distance I was going to hit my shot. I hit it up there, made birdie and kept myself in the ballgame after Bob [May] just hit it up there to two, three feet."
By being able to listen in, we know so much more than we did before, not only about Tiger's victory at Bay Hill, but how he and Williams have worked under pressure for a decade, including a forgotten shot that could have changed the course in golf history.
There was another case last week in New Orleans of getting up close and personal through sound, but this had nothing to do with building a relationship such as the one Ricciardi has with Woods and Williams. It was a case of a boom mike picking up a heated exchange between Bubba Watson and Steve Elkington in the Zurich Classic of New Orleans. This has become a YouTube moment for all the wrong reasons.
Watson dropped an F-bomb and made a reference implying that Elkington was pulling gamesmanship by saying, "veterans can kiss my ass." The comments were picked up by a Golf Channel microphone. If you know Watson, you know he's cocky enough to bother Elkington. If you know Elkington, you know he's capable of delivering a message, however subtle by walking when Watson was over his ball.
What made Watson's comment so conroversial "is that Bubba said it so loud you could have heard it from across the fairway," says Roy, who was in the truck. "It was sort of an aberration." Still it made an otherwise forgettable Friday afternoon at the TPC Louisiana worth talking about
"The only time we listen in is on approach shots," says Roy, using conversation between Woody Austin and caddie Brent Henley on the 72nd hole of the Zurich Classic as an example. "It's only 30 seconds per hole. We're not trying to invade their privacy. It's just to show the shot they're trying to hit. I wouldn't think they would get upset by it."
I made a few calls Monday to PGA Tour Headquarters and to members of the PGA Tour Policy Board and Players Advisory Council, just to make sure there was no push-back by the players, that boom mikes wouldn't be banned because they were "invading space," or bringing the audience too close to the competition. Ty Votaw, the tour's executive vice president of communications, made it clear that while saying the interaction between Watson and Elkington was "unfortunate," players know that while they're inside the ropes, the microphones are on. Joe Ogilvie, a player director, said that a decision on microphones would never go to the policy board, meaning PGA Tour commissioner Tim Finchem and the networks would handle it. For what it's worth, Ogilvie added that the "competitive angst" shown in the Watson-Elkington dialog does not scar the game.
"We're not talking state secrets here," says Ogilvie.
I've heard that one high level player and caddie don't like the boom mike listening in on their decisions. I also remember controversies that erupted years ago when a seven-second delay wasn't enough time to censor Fred Couples at La Costa and Curtis Strange at the TPC Sawgrass. Thankfully, the use of sound is an element that comes down from the top; Finchem believes it adds to the telecast and thus the boom won't be banned.
It goes back to access and trust.
"The players have the option," Roy says, "to wave us off."