News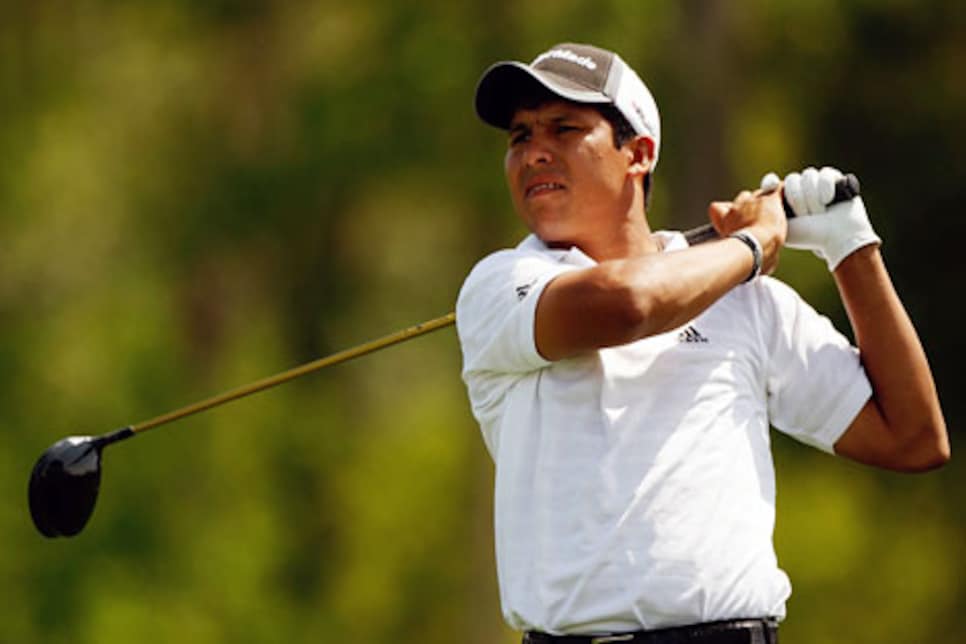 Andres Romero tees off on the 18th hole during the final round of the Zurich Classic of New Orleans.
AVONDALE, La. (AP) -- Argentina's Andres Romero walked off the TPC Louisiana a happy man Sunday afternoon. Three hours later, he felt even better.
Romero won the Zurich Classic in his 12th career start on the PGA Tour, closing with a 4-under 68 hours before the other contenders finished en route to a one-stroke victory over Australia's Peter Lonard.
"I played great these last 36 holes," Romero said. "I made just one bogey in 36 holes, and it's not very common for me to make one bogey in two rounds. But that was the key to being here in contention at this tournament."
Romero, a shot behind John Merrick on Sunday morning after the completion of the third round, had a 13-under 275 total on the TPC Louisiana and earned $1,116,000.
Speaking through an interpreter, Romero said he was very relaxed during the wait to see if his score would hold up.
"I was in the players lounge having some lunch and chatting with my friends," he said. "I had some lunch and called home and told my mom. They had to do the job, because I had already done mine."
Lonard had a chance to force a playoff, but missed a long birdie putt on 18.
Lonard opened with a pair birdies, bogeyed Nos. 3 and 10, then birdied Nos. 8, 11, 14 and 16 to tie Romero at 13 under. The Australian's putt for par on 17 stopped 4 inches shy of the cup, and he then failed to birdie 18.
"I think in a perfect world you'd rather come down the stretch together," Lonard said. "But I think if there's ever a chance you're going to actually shoot the score -- if they give you three hours' notice you probably should be able to if you're good enough."
Romero, who opened with a 73 on Thursday, whittled away at the lead with a 69, then a 65 in the rain-delayed third round. In the final round, Romero offset a bogey on the sixth hole with five birdies.
The consolation for Lonard -- besides the $669,600 second-place money -- is that the runner-up finish should get him into the Masters by moving him from No. 72 to No. 50 in the world. The Zurich Classic was the final week to earn a spot at Augusta National through the world ranking.
"Well, I've never made a cut at Augusta, so it doesn't really worry me whether I'm going or not," Lonard said. "But I would like another go before I die."
Romero already qualified for the Masters with his third-place finish last summer in the British Open, a result that helped him earn a 2008 PGA Tour card. He's the fourth straight player to notch his first win at the Zurich Classic.
Tim Wilkinson shot a 67 to finish third, two strokes back at 11 under. British Open champion Padraig Harrington (69), Woody Austin (71) and Nicholas Thompson (71) followed at 10 under.
Stewart Cink was disqualified after signing an incorrect scorecard after the third round.