News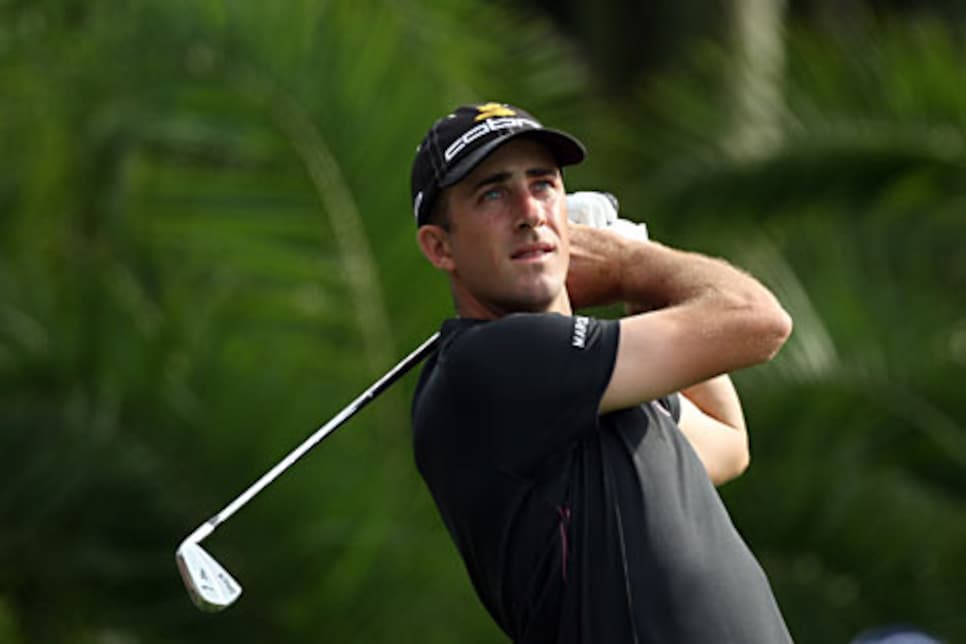 Nearly perfect with only one bogey, Ogilvy might get his first win since the 2006 U.S. Open.
DORAL, Fla. (AP) -- Tiger Woods' unbeaten streak lives another day. Barring a big comeback, it'll live for only one more day.
Geoff Ogilvy got to 17 under through nine holes and held a two-shot lead over Jim Furyk and Vijay Singh at the soggy CA Championship, which won't finish until Monday because of a three-hour weather delay during the final round.
Furyk was 15 under through 10, Singh through nine. Retief Goosen and Graeme Storm were three shots back and Steve Stricker made a huge charge, shooting a final-round 63 to finish 13 under, four shots back of Ogilvy.
Play will resume Monday at 8:30 a.m., when most intrigue will be pointed toward someone who likely won't win.
World Golf Championship events are some of Woods' favorites, given his 15 wins in 26 previous WGCs entering this week. Somehow, at Doral, he's looked mortal. He hasn't lost to anyone in months, yet when play was halted, he was tied for ninth, trailing Ogilvy by five.
Ogilvy's last win was the 2006 U.S. Open. Woods missed the cut that summer at Winged Foot and has been on an absolute tear ever since, winning 16 of his last 26 official PGA Tour events and carrying winning streaks of seven straight appearances worldwide and five tournaments on tour into this week's stop at Doral, a track where he's prevailed each of the past three years.
Unless he pulls off a stirring comeback, all those streaks will end, meaning he'll be a winner in only nine of his past 11 events heading into the Masters.
For anyone else, that's a superhuman clip. For Woods, it's become practically expected.
Ogilvy's bogey-free streak for the week ended after 60 holes, when he left a 35-foot par putt short on the seventh hole. Moments later, Woods had a two-putt birdie at the par-5 eighth hole, getting within four of Ogilvy -- but gave that stroke back one hole later, making bogey after appearing to be distracted by a camera click as he teed off on the par-3 ninth.
The up-and-down trend plagued him all weekend.
Woods' chances took a serious hit in the third round, when every other contender seemed to go on a birdie barrage while he remained stuck in the Doral mud. Singh and Storm each shot 63, Goosen and Furyk shot 64s, while Woods could only manage a third-round 72.
He gave the omnipresent throng of fans who followed him in the gallery much hope when he opened the final round with two birdies.
But he followed those with consecutive bogeys, one before the weather delay, one after at the long par-3 fourth hole. At that point, he trailed Ogilvy by six, and was a decidedly un-Tigerlike even par over his past 25 holes.
It sure didn't look like much of a tuneup for Augusta National.
Third-round play was suspended Saturday after 3 inches of rain fell in a three-hour stretch of the afternoon, and the final round didn't begin until shortly before noon Sunday. Final-round play was suspended for three hours because of lightning threats. By the time play could resume, there was only about 2 hours of daylight remaining, nowhere near enough time for everyone to finish.
Players had about a 2½-hour break before starting the final round Sunday, and with more storms in the forecast, some wondered why they weren't on the course earlier.
"I think we were all asking the same question, exactly," Furyk said. "I don't know. It seems as though that would have been the safest way."
Instead, most players will finish Monday, when Woods will need a huge charge.
"It can be had," Woods said.
Notes:@ Aaron Baddeley made six straight birdies on the front side and closed with a 66. ... Soren Kjeldsen of Denmark had two eagles in the first eight holes of his final round; he made 3s on the par-5 first and eighth holes, needing only a combined 14 feet of putts. ... Reigning U.S. Open champion Angel Cabrera withdrew during the delay Sunday because of an undisclosed illness. He was 21 shots off the lead at the time. ... Rory Sabbatini played his opening nine final-round holes in 8-over 44, giving back all those shots in a five-hole span.