News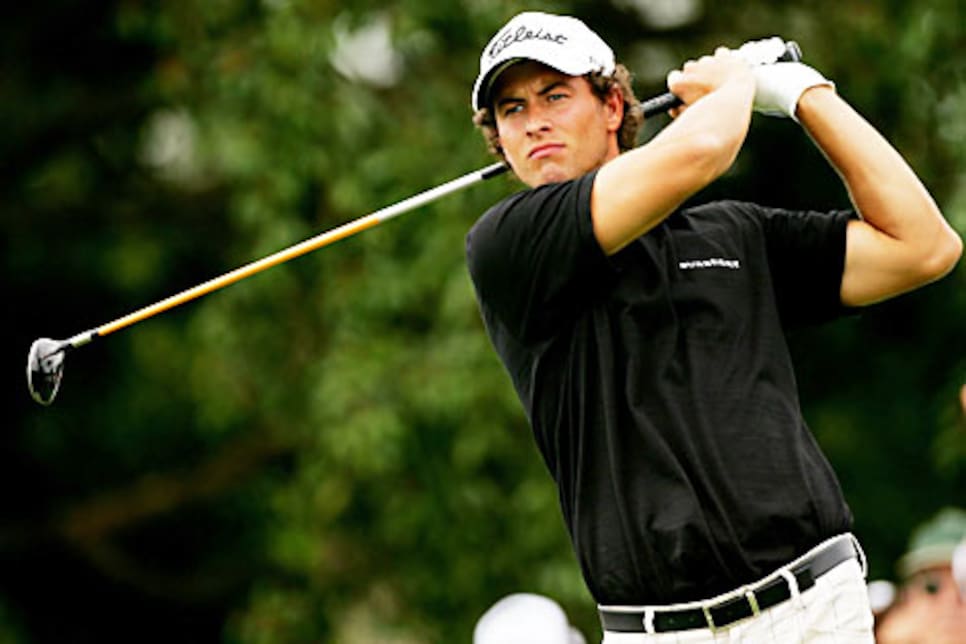 Adam Scott's burst out of the gate with an eagle and two birdies in his first five holes on Saturday.
DORAL, Fla. (AP) -- Adam Scott picked up five shots in five holes against a faltering Tiger Woods, then Geoff Ogilvy came to life and regained the lead Saturday before storms suspended play for the day in the CA Championship.
Ogilvy was at 14 under, one shot ahead of Scott, through 11 holes.
The Blue Monster has rarely been so gentle, yet Woods was about the only player who couldn't take advantage, and he was three behind. Woods, trying to stretch an amazing winning streak that began in September, missed putts inside 4 feet on the first two holes and quickly fell off the pace.
Ogilvy had to scramble for par from the bunker on the par-5 opening hole, the easiest at Doral, while Woods appeared to be a shoo-in for birdie after lagging his long putt from the fringe to within 4 feet. But his putt ran around the rim and stayed out, ending a streak of 18 consecutive birdies or better on the first hole of the Blue Monster, which dates to 1998.
Woods took three putts on the next hole, too, lipping out from 3½ feet and making bogey.
Scott, meanwhile, made up ground quickly. He had finished with two straight bogeys Friday, but came out firing with a 15-foot eagle on the first, a 25-foot birdie at No. 3 and a 20-foot birdie at No. 5 that swirled into the cup. That made Scott the outright leader at 13 under, although Ogilvy birdied two of the next four holes and was at 14 under when play was halted.
That three-man race -- two Aussies and Woods -- got crowded in a hurry. The course was easy, the scores low, and eight players were separated by five shots midway through the third round. Woods was the only player among them who was not under par for his round.
Vijay Singh, who was nine shots behind at the start of the round, was 8 under for his round and three shots off the lead when play was suspended. The big Fijian had a 7-foot birdie putt on the 16th.
Tim Clark was 7 under through 15 holes and had tied Singh and Woods at 11 under. Another shot behind was Jim Furyk, who was 6 under through 13 holes, and Graeme Storm, 7 under through 15 holes.
Play began about four hours earlier Saturday because of storms in the forecast. Those storms arrived around 1 p.m. and, after about a three-hour delay, tournament officials decided the third round would resume Sunday morning.