News
The Maturation Of The Man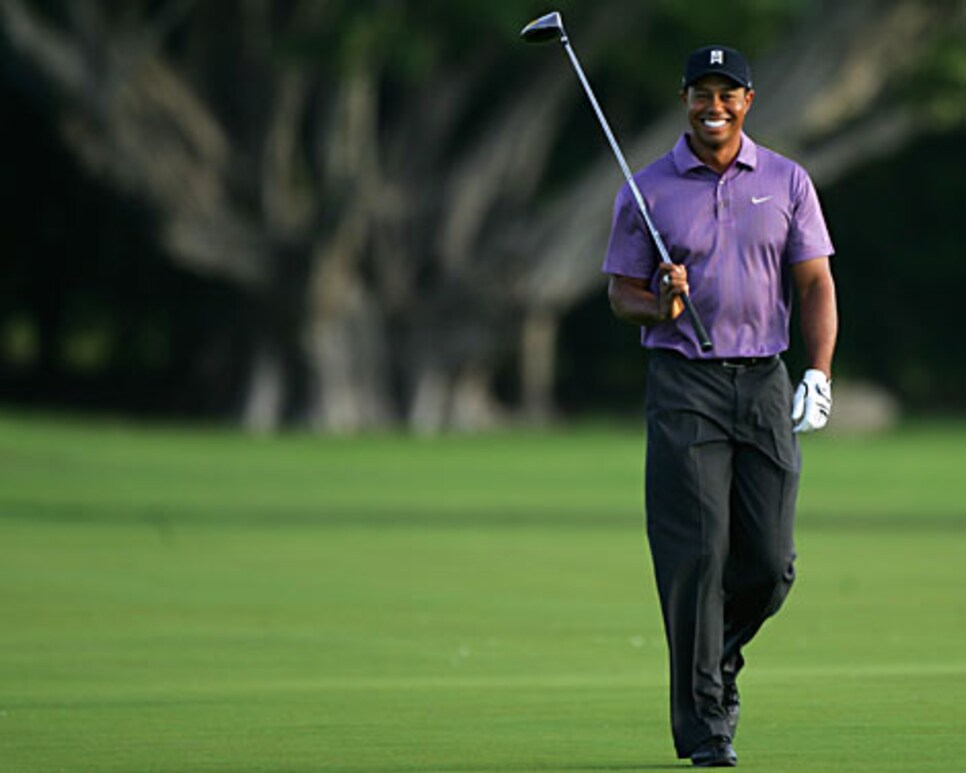 Maturity is just another weapon in Tiger Woods' arsenal.
MIAMI, Florida -- Perhaps the most important factor in the progression toward perfection made by Tiger Woods is the most obvious, the most unrelenting and the most overlooked: He has gotten older. Before our eyes Woods has matured from a 21-year-old kid into a 32-year-old adult -- a husband and a father with both feet firmly planted on reality. And it has resulted in a better golfer.
At one point in Wednesday's pre-tournament news conference at the CA Championship Woods referred to "the maturation of my game." Indeed, if there is one single factor that can be isolated as responsible for the new level to which Woods has raised his play it is the fact that a dozen years have passed since he turned professional. Time has deposited Tiger at a very grounded place in his life.
Watching Woods field questions at the Doral Resort, I could not help but flash back to that hectic stretch after the 1997 Masters when Tigermania was at its peak. His next event was the Byron Nelson Classic where more than two dozen TV crews greeted him as well as a media turnout that rivaled major championships. He was a whip-thin young man looking to make sense out of a world trying to try make sense out of him.
Flash forward to 2008 and Woods is a man who appears to have placed into the proper perspective who he is, what he is doing and how that intersects with those around him. On the eve of his effort to win a sixth consecutive PGA Tour event, the Woods of today is a lot more muscular and a lot more composed than he was back then. He has grown up in every way. Never once in his interview session did he appear as if he wished it was over, an antsyness he once evidenced in such situations.
There was a time when Woods overwhelmed golf courses and his competition. That's not so much the case now. Woods has refined his focus to one simple goal: Winning. Doesn't matter but how many strokes, doesn't matter how sensational the shots were -- all that matters is winning. Tiger has learned something Jack Nicklaus knew: You only need to shoot a 65 when a 65 is what it takes to win.
Woods spoke Wednesday about how the lengthening of golf courses has changed his approach to play. He referred to bunkers he was once able to fly the ball over that he now must work around. It could well be that has been a blessing in disguise for Woods, although it is much more likely that development would have been a natural progression in his growth as a golfer.
Take a look at his final hole last Sunday at the Arnold Palmer Invitational at Bay Hill. Needing a birdie to win, Woods not only drove to the fairway but, using a 3-wood off the tee, he drove to the left side of the fairway, leaving himself the perfect angle from which to attack the back right pin placement.
And when he went after that pin, he made sure to leave the ball of the left side of the green, safely away from the water on the right, just in case the shot fell short of perfection. The downhill putt on the slippery green toppled into the hole on the last roll. Every shot in that sequence was not only perfectly executed but also perfectly conceived. Woods has always been the smartest player on tour, but what has happened is that he has matured into the best tactician on tour as well.
Virtually every word that escaped his mouth Wednesday screamed of control, shouted his ability to remain in the now. "This week is a new week," he said when asked about his winning streak. "A lot of things have to go your way," he noted when he was asked how much of a role luck plays in putting together such a streak. And when asked if he will ever lose this year he answered honestly and with not a note of conceit: "I'm sure it will happen eventually."
Conventional wisdom has always been that golfers peak in their early to mid 30s. When Woods won nine times with three majors in 2000 we thought we were seeing the dawn of a new era in which players would get better younger. That hasn't been the case. No other twenty-something player has come along who has provided even the faintest whisper he was playing his best golf.
Now, as Tiger enters what has traditionally been regarded as a players' prime years, it is beginning to appear that the remarkable accomplishment of the 2000 season may well have been a prelude for what is to come. Tiger has gotten better on the golf course in just about the only way left to him in which he could have improved: Years have passed and they have given him the wisdom of experience.
Asked what he does better now that he has in the past, Woods said: "That's the maturation of my game, learning how to fix it within a round" so that a bad round never becomes a bad score. Think back to Bay Hill once again: Tiger was far from his A game on Thursday and Friday, but he fashioned rounds of 70 and 68 that kept him in position to have a chance to win on the weekend.
"The whole idea is to give yourself chance after chance after chance," Woods said. That's exactly what he is doing now. That precisely defines the new level to which he has raised his game. In the last 10 tournaments he has played worldwide, Woods has won nine and finished second in the other.
What is the difference between the Tiger Woods of today and the one who took the tour by storm in 1997? Time, my friend, time. The tranquility with which he was able to discuss his foray into history and his flirtation with perfection was eerie.
Woods' professional dreams rest now in his hands with the ease with which his daughter Sam must cuddle into his arms, completing his personal satisfaction. He is playing the game of golf with the maturity of an adult and the care of a parent.
To all those enormous skills Woods brings to the golf course -- physical and mental -- he has now added another dimension: He has the wisdom that only comes from experience, the knowledge that only time can bring. Yet another building block has been added to his monument to perfection.