News
Out Of The Woods And In Charge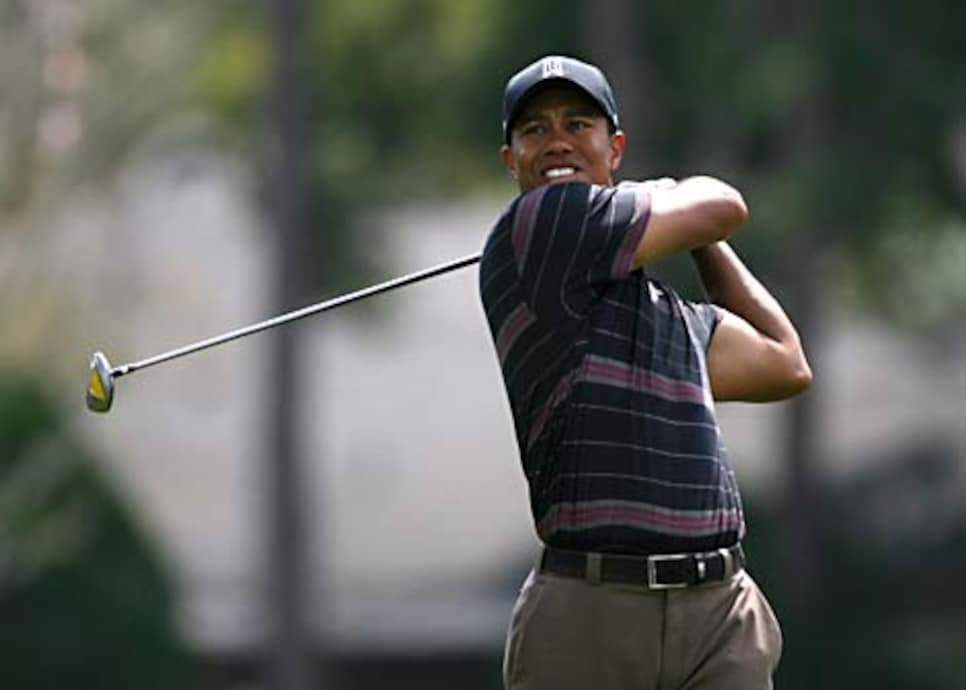 Six birdies and two bogeys pushed Tiger to the top of the leaderboard.
ORLANDO, Fla. (AP) -- Arnold Palmer was walking into the locker room Saturday morning at Bay Hill when he bumped into Tiger Woods, who recently surpassed him on the PGA Tour's career victory list by winning every tournament since September.
"He told me to get off my butt and play a good round," Woods said.
He responded with birdies on the three toughest holes at Bay Hill for a 4-under 66 and a five-way tie for the lead. The King must have said something to Mother Nature, too, for blustery conditions that contributed to a series of spectacular crashes late in the afternoon turned the Arnold Palmer Invitational into quite a show.
Nine players had at least a share of the lead at one point in the third round.
When the zany, windy and splash-filled afternoon finally ended, Woods was in a familiar position as he tries to extend a winning streak that spans seven months and keep alive the ridiculed notion of a perfect season.
Woods will be in the final pairing Sunday with Sean O'Hair, who won last week at Innisbrook and gave himself a chance for another victory at Bay Hill with a 63, a round he finished before the leaders even teed off.
They were at 6-under 204, joined by Bart Bryant (68), Bubba Watson (68) and Vijay Singh, whose 73 made this all possible.
Singh had a two-shot lead and showed no signs of a struggle until dropping five shots in a four-hole stretch in his front nine of 40. He hit three balls into the water, but chipped in from 30 feet for par on the last miscue to stay in the hunt.
It was the largest log jam in the 30-year history at Bay Hill, and the largest on the PGA Tour since a five-way tie for the lead at the Deutsche Bank Championship in 2005.
Woods never looked to be part of it until two spectacular shots in the toughest conditions.
He carved a 4-iron around the trees to 2 feet on the 15th hole for a birdie, then followed that with a 7-iron that held up against the wind and dropped softly to 3 feet right of the flag.
It was one of only three birdies at the 16th, the scene of so much calamity that followed.
"I've played my way back into the tournament," said Woods, who finished two hours before the round ended and had no idea he would be in the final pairing for the fifth straight time on the PGA Tour.
Woods is 42-3 when he has at least a share of the 54-hole lead on the PGA Tour, but two of those three losses came when he shared the lead with someone else. He has never started a final round tied with more than one player.
And it's not just the other four still in the hunt.
Sixteen players were separated by a mere three shots heading into the final round. One of them was Hunter Mahan, who bogeyed two of his final five holes and still shot 65. He was one shot behind at 205.
By all rights, it's anyone's tournament.
"It's pretty much Tiger's game," Bryant said. "When Tiger plays great, he's tough to beat. The guy has won six or seven in a row or something, and he's not playing great and he's tied for the lead. So you figure he's got to play good at some point. But not to say that somebody can't go out and play a great round and beat him. And not to say he's going to play perfect golf, either.
"It's definitely there for the taking."
Over the last two hours, Bay Hill did most of the taking.
Singh got it all started by taking double bogey on the par-5 sixth with a tee shot in the water, and another ball in the pond in front of the eighth green that led to bogey. He was the only one who truly recovered. The big Fijian birdied the next two holes, then escaped trouble on the 16th when he chipped in for par from 30 feet after hitting yet another ball in the water.
Nick Watney made two eagles, the second one at No. 12 to take a two-shot lead. He came unraveled with a tee shot out-of-bounds, another shot into the water and a putt he missed from 4 feet -- all on the 16th hole, leading to a quadruple-bogey 8.
He went from the lead to 12th, and wound up in a five-way tie for seventh, only two shots behind.
"I'm closer to the lead than when I started," Watney said.
Bryant hit a 4-iron into the water on the 16th, but escaped with bogey when he holed a 12-foot putt.
"To hit that good of a drive on that tough of a hole, and walk out of there with a double bogey, that would have been a killer," Bryant said. "It was a huge putt for me."
Carl Pettersson, playing in the final group with Singh, opened with nine straight pars to join the leaders. Then the Swede pulled his tee shot on the 10th and went out-of-bounds, making double bogey.
O'Hair had no such worries, playing most of his round during a lull in the windy conditions. He played superbly, particularly on the back nine when he hit 3-wood to 7 feet for eagle on No. 12, wedge into 4 feet for birdie on No. 13, then holing a chip from 65 feet for birdie on the next hole. He signed for his 63 about 20 minutes before Singh even teed off, not knowing that he would end up in the lead.
Woods finally found the right speed on the greens, and it helped that he made birdies in some unlikely spots. Blocked by the trees on the 15th, he played a cut with his 4-iron, then ran to the left to see the outcome, although the cheers told him everything.
"Got the ball over the left bunker and let the wind bring it back over, and it worked out perfect," he said.
All it took was two great shots to get back into the mix, then a series of mistakes to put him in a familiar position.