News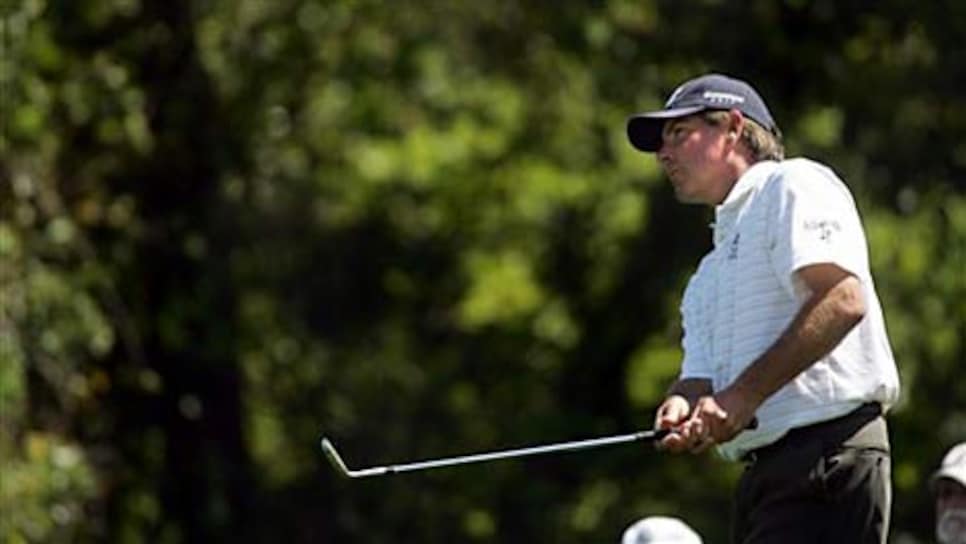 Couples was fourth in driving accuarcy and second in putting on Thursday.
ORLANDO, Fla. (AP) -- Fred Couples made four birdies in his opening six holes, shot 5-under 65, and golf finally felt fun. Tiger Woods couldn't hit the green with a wedge, struggled to shoot even par, and he finally looked human.
The Arnold Palmer Invitational delivered a few surprises Thursday, none bigger than the 48-year-old Couples booming tee shots, taking only 23 putts and finishing atop the leaderboard with J.J. Henry.
"This doesn't make me the guy to beat," Couples said. "If I can play like that, it makes it a lot easier. When you birdie four out of the first six holes, there's not much that can bother you."
In three previous trips to Bay Hill, Henry had never done better than 71. He played under warm sunshine without a bogey, making four birdie putts outside 15 feet.
"I feel like I've been close," he said. "And today, finally, everything clicked."
They were a stroke ahead of defending champion Vijay Singh, Lee Westwood, Tom Lehman and Lucas Glover, who got a pep talk from friends to quit being so hard on himself. Despite consecutive bogeys, Glover kept his cool and ended a streak of eight consecutive rounds without breaking 70.
For Couples, it was his best score at Bay Hill since a 63 in 1992, the year he won this tournament and was No. 1 in the world.
Woods is the world's No. 1 player now, having won every tournament he has played since September. It sure didn't look that way after a birdie on the opening hole. He missed one green with a pitching wedge, another green with a sand wedge, and settled for a 70 that left him five shots behind, but not in awful shape.
He didn't make a lot of putts, and Woods attributed that to the each green having a different speed.
But he took some of the blame.
"You had to make adjustments on the fly," he said. "It would have helped if I hit more greens. I never gave myself a chance to make putts. I missed two greens with a pitching wedge and a sand wedge. I don't ever do that."
Woods headed home to sort it out, not overly bothered by his worst start since the Deutsche Bank Championship, which was the last time he failed to win. Besides, only 33 players managed to break par. Phil Mickelson opened with a 72.
Couples woke up early Thursday and began visualizing his round, figuring out where would be his best chances at birdie. He didn't see too many of those holes in his head, but it was a different story on the golf course.
Playing aggressively with a driver he could trust, Couples rarely had more than wedge into the green, and the suspect condition of the putting surfaces — they are recovering from a worm disease — didn't bother him in the least.
"I'm not saying they're bad," Couples said. "But I think I'm a good putter when they're not ideal."
After hitting some 30 yards over the green on the par-3 14th and saving par, the guy once known as "Boom Boom" ripped another tee shot over the corner on the 15th for a wedge into about 10 feet for his fourth birdie. His only bogey came on the par-3 17th with a shot into the bleachers.
And he almost dropped one at the end of his round.
Surrounded by trees right of the eighth fairway, where a pond guards the front of the green, Couples looked cool as ever. He studied the top of the trees, looked to the right of them, under them and out to the fairway, the whole time studying his options as if he were admiring a piece of art.
He finally selected an 8-iron, and while it clipped a twig, the ball had just enough distance to clear the water. He chipped to 8 feet and saved par, and kept gliding to the end of his round.
"I took 10 minutes to hit it, but I kept trying to visualize just getting over the tree — not where I got it way up over it, so high and not far enough," he said. "I think it clipped a leaf, or clipped something. I smoked it, and it was a yard from being in the water."
Couples has not seen his name on the leaderboard since his back-nine duel with Mickelson at the Masters two years ago, when Lefty won his second green jacket. Couples gave him a good run, describing his chances as only he can.
"I just couldn't match him when the nitty-gritty was nitty-gritty," he said.
Of course, Couples hasn't had a ton of chances since then. He played only twice in the regular season a year ago because of a back injury so severe that he contemplated life without golf.
This is his sixth start of the year, however, and while he knows his back can go at any moment, he's relishing the times he plays well.
"My back will go out and when it does, I'll know. And where I hit the ball, everyone else will know," Couples said. "But as far as worrying about it, there's not much you can do."
Couples was appointed Presidents Cup captain for 2009 earlier this month, and he's still fired up about that. Most everyone believes he'll be a good one, someone who brings a relaxed atmosphere from the team room to the golf course.
Woods has played with him in the matches, and he has been paired with him on the weekend, and he sees another side.
"He's a lot more tense than people think," Woods said. "You see how he walks, his mannerisms. But below the surface, it's raging pretty good."
Divots:@ Mickelson signed an endorsement deal with Barclays ... Couples figures there are two directions John Daly can go after getting fired by swing coach Butch Harmon and criticized for his social behavior. "He can read all this stuff and say, 'The heck with it.' Or he can read all this stuff and say, 'Maybe they're correct,'" Couples said.