News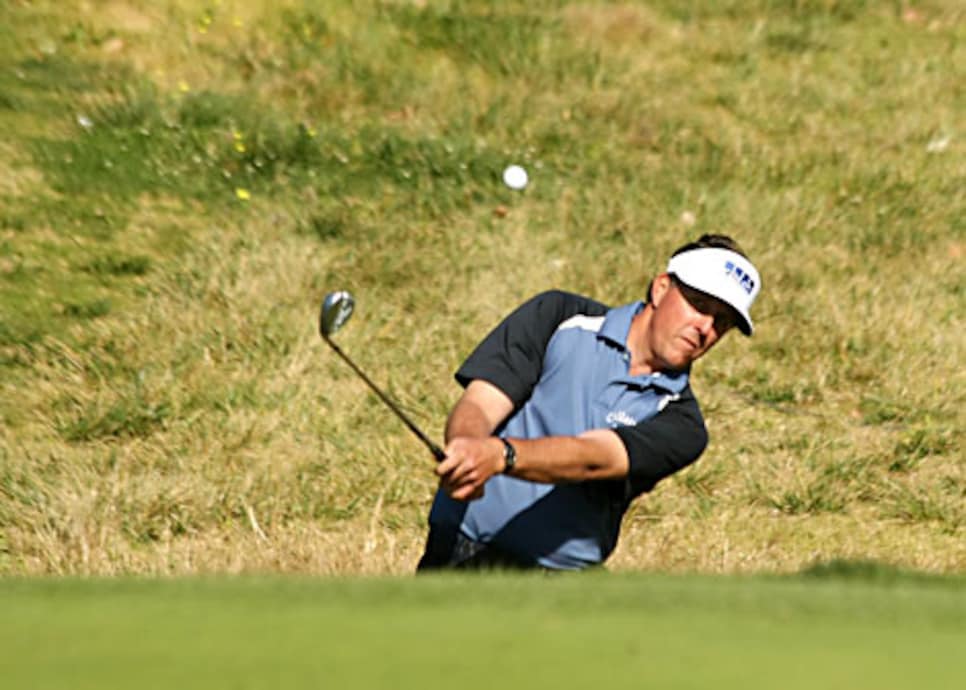 A victory at Riviera would complete Phil's collection of trophies from the West coast swing.
LOS ANGELES (AP) -- Phil Mickelson lost his cushion, but not the lead Saturday at the Northern Trust Open.
Mickelson watched Jeff Quinney make a hole-in-one on the fabled sixth hole at Riviera that erased a four-shot margin, but saved par on the 18th hole for a 1-under 70 to stay in the lead and move one step closer to adding this trophy to his West Coast collection.
Quinney made a 35-foot birdie putt on the final hole for a 67 that set up what appears to be a two-man race in the final round.
Mickelson, whose 15 victories on the West Coast Swing have come in every city but Los Angeles, was at 11-under 202. He missed the green to the right on the final hole, chipped 7 feet by and saved par.
"I thought it was a good, solid round," Mickelson said. "It should be an interesting and tough day tomorrow."
Quinney delivered the best shot, and maybe the worst.
Along with his hole-in-one that he could hear, but not see, Quinney bladed a wedge over the green on the par-5 11th that led to a two-shot swing in Mickelson's favor, then spent the rest of the gorgeous afternoon trying to catch up.
Quinney was at 203, four shots ahead of everyone else.
John Rollins fell back with consecutive bogeys and had to settle for a 69 that left him at 6-under 207. Scott Verplank, who opened his round with a four-putt from 30 feet on the fringe, shot 71 and was another shot back with Stuart Appleby (69) and Vaughn Taylor (71).
"Other than Tiger, he's probably the next best front-runner," Verplank said of Mickelson, who is 21-7 with a 54-hole lead. "He's awful good. So I'm going to have to play exceptionally well, and probably then would need a little bit of help."
Mickelson also had a one-shot lead last year going into the final round, losing in a playoff to Charles Howell. There were five players within three shots of the lead a year ago, but only Quinney, a former U.S. Amateur champion who has not won on the PGA Tour, appears to be in his way this time.
"He's going to bring a lot to the table," Quinney said. "I have to bring my best to the table."
Quinney did not sound the least bit concerned about a four-shot deficit to Mickelson, saying after his second round that Riviera is not the type of course where one has to shoot 64 to make up ground.
Then, he looked as though he might do just that.
Quinney birdied the first hole with a long chip across the green on the par 5, then gained another shot when Lefty three-putted for bogey on No. 4. Quinney then holed a 20-foot birdie putt to reduce the lead to one-shot going into the sixth hole, famous for having a bunker in the middle of the green.
He thought that's where his 7-iron was headed. But it landed just to the side, rolled down the slope and into the cup.
Back on the tee, Quinney had already turned away and was looking over his shoulder when he heard the crowd erupt, the sure sign that he had made ace. He ran toward his caddie, unsure whether to hug or high-five, and it turned out to be a clumsy celebration.
"We need to get that organized," he said.
That gave him the lead, but only for as long as Mickelson hit 8-iron to 5 feet and made birdie, putting both at 10 under.
They matched birdies at No. 10 -- Quinney with a wedge to 2 feet, Mickelson by driving to the front of the green -- and neither showed signs of backing down. But everything changed with one swing.
Mickelson was on the par-5 11th green in two, Quinney just short of the bunker. Quinney caught too much ball, however, and it sailed over the green. He chipped back to 15 feet and did well to escape with bogey.
Even so, it was a two-shot swing after Mickelson made birdie, and Lefty kept his margin.
Mickelson had the 54-hole lead at Riviera last year, only this time the odds are even more in his favor. Five players were separated by three shots last year, while this appears to be a two-man race.
"Daylight is up front, first and second," Appleby said. "If I can shoot a good round tomorrow, 4 or 5 under, that would be a good score. Now, what's that mean for the tournament? Does that threaten the top? Probably not. It's not really an open tournament."
Divots:@ Pat Perez isn't any more optimistic about the Accenture Match Play Championship than he was last week, when he thought he was playing Tiger Woods in the first round and didn't want to embarrass himself. He was told Saturday morning he would be playing Phil Mickelson. "Yeah, that's much better, because he's playing like (dirt) right now," Perez said with typical sarcasm. J.B. Holmes will play Woods and had a different outlook. "I'm in," he said. "That's all that matters." ... Marc Turnesa was on his way home Saturday morning until John Merrick missed a 4-foot par putt, meaning 78 players made the cut at 3 over. Turnesa then shot 67 and moved up to a tie for 29th at 1-under 212.