News
Did Someone Say Phil Has Putting Problems?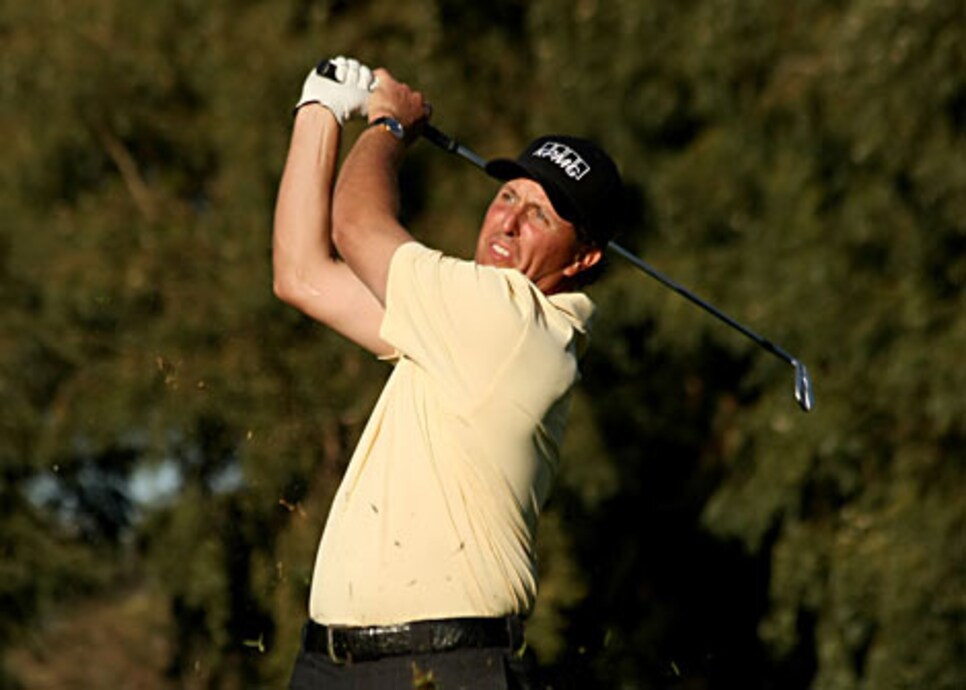 Phil closed with a 20-foot birdie putt and silenced talk of putting woes.
LOS ANGELES (AP) -- Phil Mickelson seems determined to add Los Angeles to his collection of West Coast trophies.
A year after losing at Riviera in a playoff, Mickelson played golf as spectacular as the weather Friday in the Northern Trust Open, finishing with a 20-foot birdie putt on the final hole for a 7-under 64 and a four-shot lead.
Even after starting with a 68, Mickelson felt he was close to putting his game together. It started with a 3-iron to 12 feet on the par-5 first for a simple birdie, and built momentum with a 60-foot birdie on the fifth and never slowed.
When he finished his best score ever at Riviera, he was at 10-under 132 and in firm command going into the weekend.
"This is a tournament that has eluded me," Mickelson said of the only city in the West Coast Swing where he hasn't won. "The West Coast means a lot to me."
Robert Allenby, who won at Riviera in 2001 in the cold and rain, did OK in warm sunshine with a 66 that put him at 136 with Jeff Quinney, who made bogey on the final hole for a 67.
Mickelson and the top dozen players atop the leaderboard got one big break with the draw by playing early Thursday and in the afternoon Friday, essentially avoiding the strongest of the wind that gusted along the eucalyptus trees lining the fairways.
For those who faced a cold wind Thursday afternoon and more swirling breezes Friday morning, the best anyone could muster was David Toms (68) and Kevin Sutherland (69), each at 3-under 139.
"It was interesting, the last 27 holes that I've played with the wind and everything," Toms said. "You certainly had to think about it on your club selection. It made a lot of the holes play very difficult. Overall, I'll take the two rounds I've put on the board."
For the second straight day, not everyone finished the round.
"So there will be a Saturday cut," quipped Rory Sabbatini on his way to the 18th tee as the sun began to dip behind the hill, and players were still just making the turn.
The Players Advisory Council recommended another change in policy to a Saturday cut if the field is more than 78 players. If approved, that wouldn't happen until Florida at the earliest. Otherwise, when the cut is more than 78 players, only the closest to 60 can play on the weekend, and the notorious "Rule 78" looked as though it could happen for the third time in five events.
The cut won't be made until six players finish the second round Saturday morning.
Scott McCarron, a UCLA alum who nearly won this tournament in 2002, had a 65 and was part of a large group at 5-under 137 that included Scott Verplank, Chad Campbell and Vaughn Taylor.
Mickelson wasn't about to practice posing with the trophy, and no one was conceding anything with 36 holes left to play on a course that was playing fast with the firm conditions.
"If Phil is at 10 under, that's fine," Allenby said. "There's a long way to go. There's still 36 holes to go and a lot of birdies out there. I've made plenty of birdies here before, so there's no reason why I can't do it on the weekend."
Quinney will join Mickelson and Allenby in the final group. Quinney made a late surge up the leaderboard, including birdies on the 12th and 15th hole, but ran into trouble on the last hole.
Four shots behind the second-ranked player in golf can be daunting, but so is Riviera.
"You don't have to shoot 8 under on Saturday," Quinney said about the deficit. "If you get firm greens and the wind blows a little bit, a couple under can move you a long way."
Even so, Mickelson appears to be hitting his stride.
He began pulling away after a three-putt bogey on the sixth hole, hitting wedge to 2 feet on No. 7 and a gap wedge with the breeze at his back on No. 9 to 12 feet. After going well left of the par-4 10th, he chipped to a 3 feet for birdie, then got up-and-down for his fourth birdie in five holes at the par-5 11th.
Even stronger was his finish, which began with a par.
Mickelson went long on the par-3 16th, leaving himself a downhill chip that went some 12 feet by the hole. He made that for his par, which kept momentum on his side for the closing holes.
"The biggest shot that set up those two birdies in the par putt on 16," Mickelson said. "It kept momentum of the round going and it didn't let the round kind of slip away."
Mickelson didn't have an answer for why is playing so well on a course that was rarely part of his rotation. He has won 15 times in California and Arizona during his career, but never on the course off Sunset Boulevard. Until last year, Mickelson only played this tournament eight times, missing the cut in half of them and never faring better than a tie for 15th.
He had a 54-hole lead last year and was on the verge of winning until a bogey on the 18th, then losing to Charles Howell III in extra holes. Now, he's right back in the picture.
Mickelson has said this is one tournament he want to win, but kept that in perspective.
"I haven't won the U.S. or British Open, either, and I really want to win those," he said. "Let's not get ahead of ourselves."
Divots: The field featured 17 of the top 20 players in the world, but five of them missed the cut, and Sergio Garcia at 3 over was on the verge of going home under Rule 78. ... John Daly shot a 74 to finish at 1 over, but made his first cut of the year.