News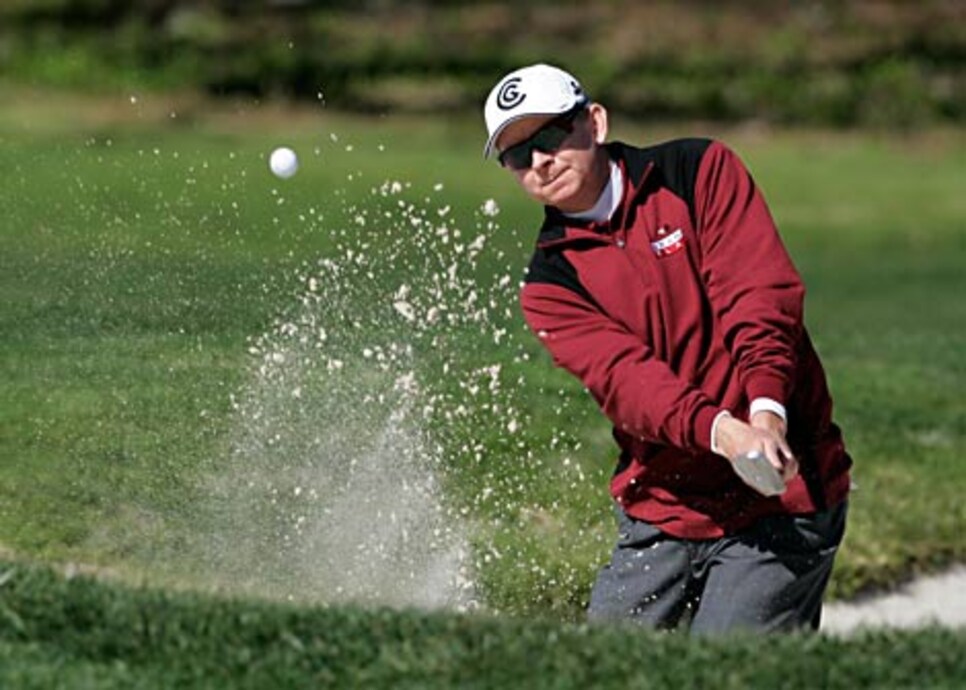 With 270 PGA Tour tournaments under his belt, Jones has never had a top-five finish.
PEBBLE BEACH, Calif. (AP) -- The celebrity watch at the AT&T Pebble Beach National Pro-Am took place everywhere but the top of the leaderboard Thursday.
Kent Jones birdied the two most famous par 3s at Pebble Beach and kept bogeys off his card for a 6-under 66 and a one-shot lead, an encouraging start for someone who has played 270 tournaments on the PGA Tour without finishing in the top five.
Nationwide Tour grad Roland Thatcher was a shot back along with Q-school grad Brad Adamonis and John Mallinger, third at Pebble Beach last year as a rookie.
The star gazing took place at Poppy Hills, and while it didn't always produce great golf to match the spectacular sunshine on the Monterey Peninsula, it was entertaining.
Defending champion Phil Mickelson was on the verge of shooting himself out of the tournament until a birdie-eagle-birdie-birdie burst enabled him to recover with a 71.
Greg Norman, playing on the PGA Tour for the first time in 18 months, was holding steady until a four-putt on the 13th hole for a double bogey. He finished with a 76. His fiancee, tennis great Chris Evert, flew in from Florida and didn't make it out to the golf course until Norman was on the 16th.
Evert has no plans to take up golf, saying it was too time-consuming with three boys — "It's like four boys with Greg," she said — and a tennis academy to run.
"Tennis only takes one hour," she said, laughing.
These rounds take close to six hours with two pros and two amateurs in every group, and it was a slow, steady grind.
Norman struggled with that and the bumpy greens, but he had no complaints about how he hit the ball.
"It's a long day of concentration, which I'm not used to," Norman said. "You get past four hours, you really have to stay locked in."
Jones, a 41-year-old from New Mexico who has yet to finish in the top 100 on the money list, has been around long enough to realize that one round is too early to get excited, especially in a format that uses three courses, and in a tournament where the leaderboard doesn't begin to sort itself out until Sunday.
"I think I'm just satisfied that I played well and putted well," Jones said. "When everyone is playing different golf courses, being in the lead isn't every important. But it's nice to be playing well, obviously."
J.B. Holmes, coming off a playoff victory over Mickelson last week in Phoenix, had a 68 at Spyglass Hill to join a group of 10 players that included Todd Demsey, who recently recovered from having a tumor removed from his brain.
The top 14 players on the leaderboard have combined for 10 career victories, and that doesn't include the California State Amateur that Demsey won in 1992.
Davis Love III, returning to the PGA Tour for the first time in four months after a severe ankle injury, overcame an early gaffe on the par-5 14th at Spyglass with three birdies on his back nine for a 70. Vijay Singh also had a 70.
Mickelson was thrilled to even be remotely near the lead.
Lefty had big expectations for his week as he tries to become the first back-to-back winner at Pebble Beach since Mark O'Meara in 1989-90. But he bogeyed his first two holes, had to save par from the fringe on the par-5 ninth, then clipped a tree and went into the water on the par-5 10th, taking another bogey, putting him at 4 over for the round.
Poppy Hills has five par 5s, and Mickelson played the first three in 2 over.
"I was just trying to get back to even par," Mickelson said. "If I shot 3 or 4 over, I would be shooting myself out of the tournament."
Instead, he shot himself back into it.
After holing a 30-foot birdie on the 11th, Mickelson hit a hybrid from 240 yards that covered the flag and settled 4 feet away for eagle. Then came a wedge that landed 10 feet beyond the flag and spun back slowly to a foot, followed by another approach to 3 feet on the 14th that put him 1 under for the tournament.
Standing on the 15th tee during another backup, Daniel Chopra looked at Mickelson's score and looked perplexed.
"Weren't you 4 over a minute ago?" he said.
Chopra, who opened the season with a victory in the Mercedes-Benz Championship, had a 69 while playing with his twin. That would be comedian George Lopez, who broke out a visor-wig combination to mimic Chopra's spiked, bleach-colored hair.
"I've seen those at Bay Hill," Chopra said, who decided his name would be "Chopez" the rest of the week.
Mickelson ended his streak with a bogey on the 15th, and he didn't make his first par until the 16th hole, when he missed a 6-footer. After another par on the 17th, caddie Jim Mackay said to no one in particular, "Do we get a prize for back-to-back pars?"
He ended with a birdie for a 71, and this was one time he could accept that at Poppy Hills.
"It's not a great start," he said. "But at least I put myself in position where if I shoot a low round tomorrow, I can get myself right back in the tournament."
He was only five shots behind a group of players without his pedigree, so it wasn't all that bad.
Divots:@ Natalie Gulbis was inside the ropes at Pebble Beach as a caddie for Ted Forstmann, who owns IMG. ... Tadd Fujikawa opened with a 72 at Spyglass Hill. The 17-year-old from Hawaii has not made the cut since he turned pro last summer. ... John Daly opened with a 79 while playing with actor Kevin James.