News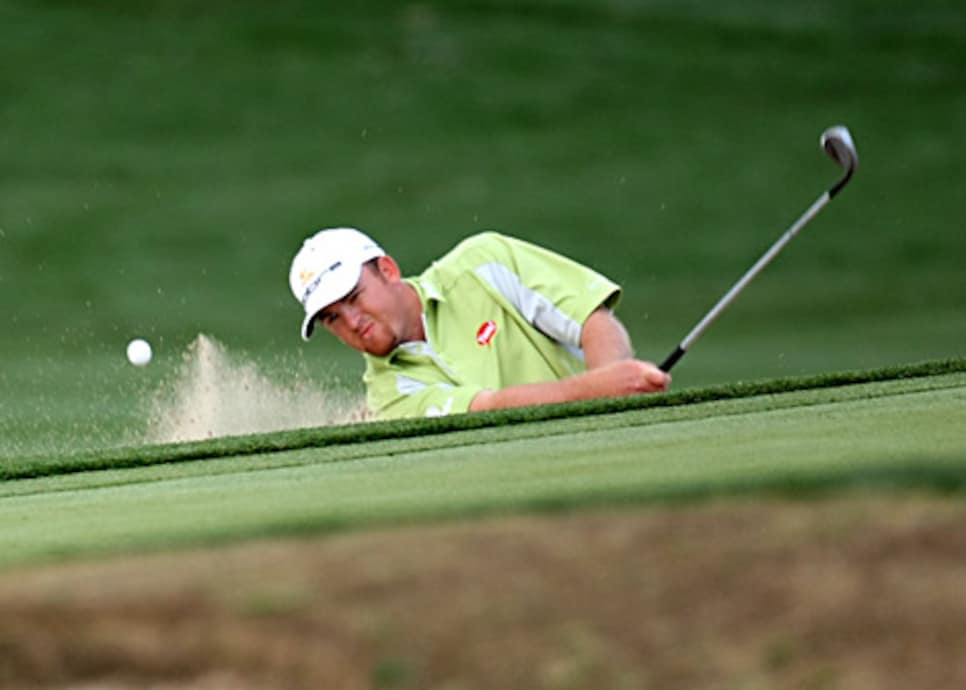 A victory on Sunday would be Holmes' second FBR Open title and his second PGA Tour win.
SCOTTSDALE, Ariz. (AP) -- The enormous crowd wasn't behind leader J.B. Holmes. But he wasn't alone.
"I don't think the crowd was behind anybody," Holmes said after taking a two-shot lead at the FBR Open on Saturday in front of a record 170,802 fans, most of them more interested in partying than golf.
"Especially on 16 and 17," he said. "Usually if you miss the green they boo you. We were hitting the green and they were booing you. When the putt went in they cheered, but they're rough on you."
Holmes, who won the FBR as a rookie in 2006 but is winless since, shot a third round 5-under 66 for a 14-under 199 total heading into Sunday's final round with just over $1 million at stake for the winner.
Charles Warren, co-leader after the first round, shot a 67, bogeying the final hole, to match Jonathan Byrd at 12 under. Byrd had a 68.
Ben Crane and Nick O'Hern were 11 under, and two-time champion Phil Mickelson was in a group of six at 10 under.
The turnout, which featured gridlock in front of concession stands and along the path between the 18th and 16th holes at TPC Scottsdale, broke the single-day record of 168,337 set in 2006.
"The entire golf course had people everywhere," Mickelson said. "It's so special for this tournament, for the game of golf, to have something like this."
With one day to go, the tournament has drawn 466,551 fans. Turnout always falls considerably for the Sunday round, even when the Super Bowl is not just down the road, but the overall tournament attendance record of 536,767 is well within reach.
The turnout set records for Thursday (83,657) and Friday (120,891), too.
"It's totally different than anything we experience," Warren said. "But even compared to yesterday you could tell that there were a lot more people out there."
The big-hitting Holmes won the FBR in just his fourth tournament as a rookie. He has shot 68-65-66 this year, giving him eight rounds in the 60s in nine played overall on the 7,216-yard course.
Holmes pulled away from a tie with Warren with birdies on the par-5 13th, par-4 14th and par-4 17th. Holmes opened his round with a bogey on No. 1, then reeled off birdies on holes three through six.
Overall, he had three bogeys and eight birdies.
"It was a good day all around," he said. "I made a couple of more bogeys than I would have liked, but luckily I was making putts and made a lot of birdies today."
Mickelson shot a 67 in the third round but bogeyed both par 3s on the back nine. The second came on the raucous 16th where more than 10,000 loud fans surround the layout, lustily cheering good shots and booing the bad ones just as fervently.
The crowd chanted "A-S-U! A-S-U!" for Mickelson's alma mater, Arizona State.
But he knocked his tee shot far to the left, then his chip shot fell short of the green. Local favorite or not, the crowd let him have it.
"Sixteen is great when you hit a good shot, and I hit a terrible shot," Mickelson said. "So they were just as hard on me as they would be anybody, and rightfully so."
He followed that bogey with a birdie on the par-4 17th to return to 10 under.
One of those tied with Mickelson was Justin Leonard. The only other time the Super Bowl was held in Arizona, 1996, Mickelson beat Leonard in three playoff holes.
After a frost delay for the third day in a row -- this one lasting 58 minutes -- 45 golfers finished the second round Saturday, with a logjam of five in the lead when the third round began.
Among those missing the cut were defending champion Aaron Baddeley, who wound up at even-par 142.