News
Tiger Struggles, Ernie Doesn't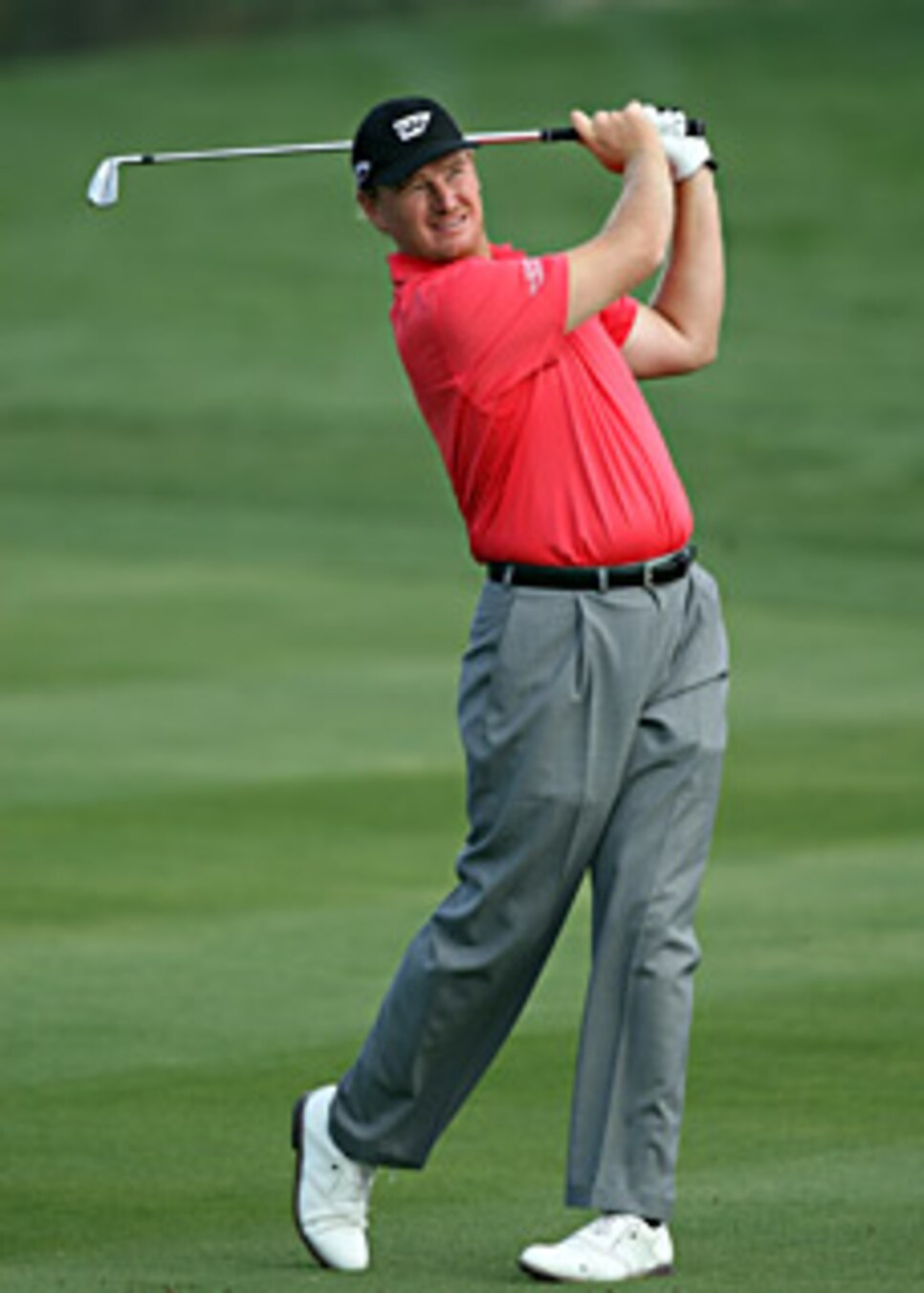 An eagle and five birdies let Els move to the top of the leaderboard.
DUBAI, United Arab Emirates (AP) -- Tiger Woods struggled Saturday and Ernie Els took advantage, surging into the lead of the Dubai Desert Classic with a 7-under 65.
That doesn't mean Els thinks he can sit on his one-shot lead over Henrik Stenson with Woods another three strokes back going into the final round.
"Probably need a really low one (score) tomorrow," Els said. "I can't see Henrik with Tiger and the other guys not shooting low, so just got to keep going tomorrow."
Woods, who led after the first two rounds, missed putts, hit wayward drives and yelled at a photographer en route to a 73. He is at 7-under 209 and tied for fifth with five others.
"I didn't play well today," said Woods, who opened his season with an eight-stroke win at the Buick Invitational last week for a fourth straight title. "I didn't hit the ball close enough on the greens, and consequently I was 'lag putting' a lot. Never really gave myself a lot of looks at birdies."
Els had a bogey-free round, nailing an eagle on the 10th and adding five birdies to rise from fifth to first at 11-under 205. The South African has won the Dubai three times, in 1994, 2002 and 2005.
Defending champion Stenson shot a 68. European Tour money leader Lee Westwood (68) and Graeme McDowell (69) are tied at third at 208.
Woods, who hit two birdies and two bogeys -- including one on the last hole -- found himself beyond the rough after several wayward drives landed in sand near the gallery.
The clicking cameras also bothered him. He yelled at one photographer at the eighth hole for taking a picture during his backswing off the tee. Woods' ball landed to the left of the course near some palm trees.
Marshals repeatedly had to tell the large gallery following Woods to put away their cameras and stand still. A few fans were ejected for not listening.
Afterward, Woods said the crowd and photographers were part of the sport.
"Just one of those things you have to deal with ... You just got to fight through it," he said. "I have to go out and play a good round of golf and play better than I have the last two days and obviously start making some putts."
Els was pleased with his third round -- especially after he shot in a second-round 72 in gusty conditions.
"I hit the ball really nice. I hit a lot of fairways, a lot of greens," Els said.
Sunday's lineup reminded Stenson of last year's final round in Dubai -- when Els was leading by two with the Swede in second and Woods in fifth. Stenson went on to win, Els took second and Woods third.
"It's always hard to defend a title, and I think especially this one will be hard. I'm very happy with the job I'm doing so far," said Stenson, who took second in Qatar and Abu Dhabi last month. "Hopefully, I can go out and play a solid round again."
Westwood said even with the top player in the mix anything was possible.
"Golf is funny. (Woods) wins by seven at his own tournament, eight last week ... leading by two after one day here, you'd think it's over and he's running away," he said. "But golf has a funny way of reining you in and just when you think you've got it, it bites you."
Tied with Woods in fourth were second-round runner-up Damien McGrane of Ireland (72); Sergio Garcia of Spain (70); Martin Kaymer of Germany (69); Peter Hedblom of Sweden (70) and Shiv Kapur of India (69).