News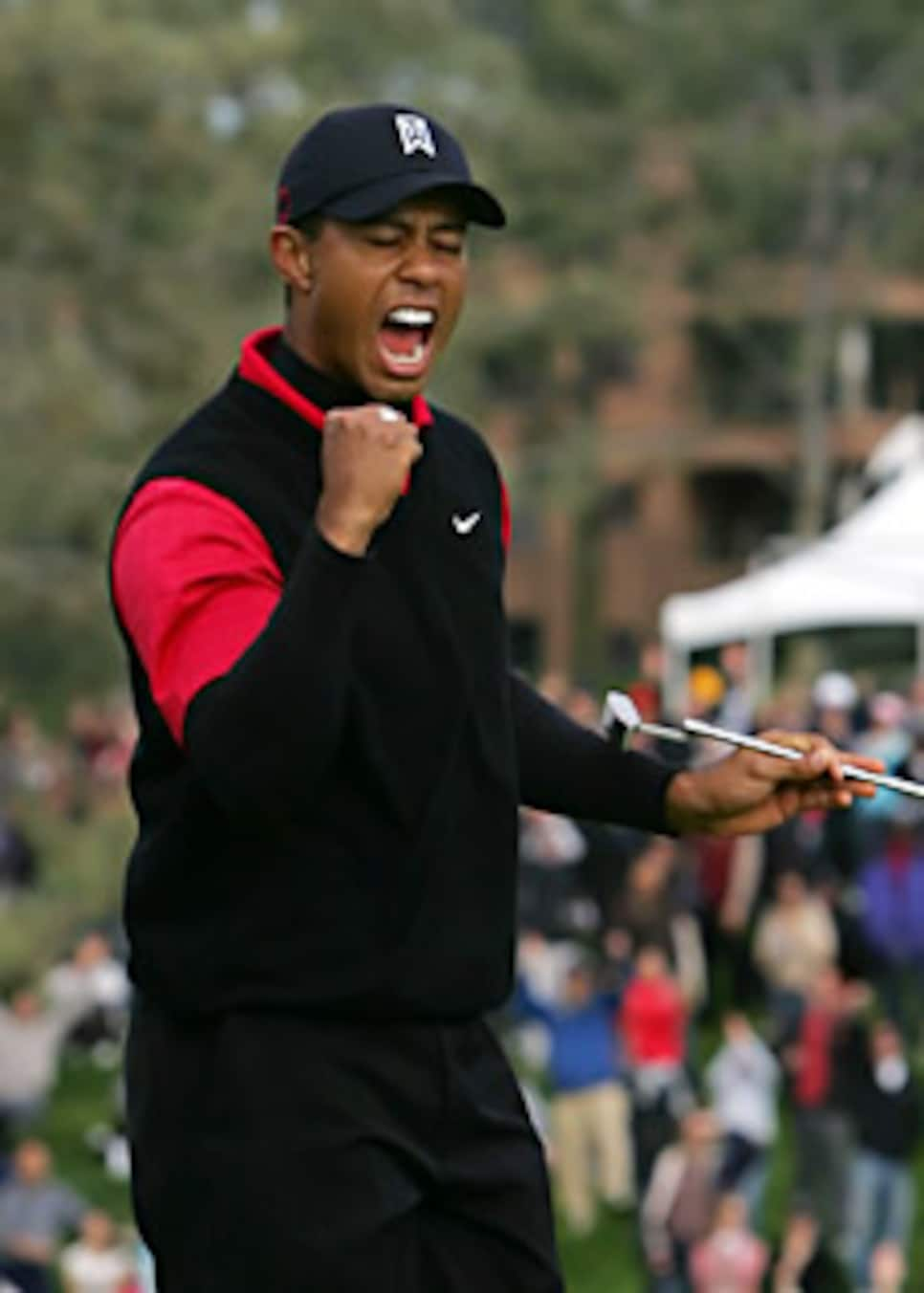 Arnie says there is no doubt Tiger will keep piling on the wins
SAN DIEGO, Calif. (AP) -- Tiger Woods joined the King, and left everyone else at the Buick Invitational feeling like paupers.
In his most dominant start to a season, Woods built an 11-shot lead Sunday until his game and the fickle weather turned cold on the back nine. A birdie on the last hole gave him a 1-under 71 and an eight-shot victory, giving him 62 for his career to tie Arnold Palmer on the PGA Tour list.
"I'm sure that there are many, many more coming in the future," Palmer said. "There isn't any question about that."
Just like there was no question about the outcome.
Woods opened with a 40-foot birdie putt, threw in a 60-foot birdie just to keep a four-deep gallery from falling asleep, and only looked mortal when he made three straight bogeys toward the end of his round.
All that did was affect the final margin, not the name on the trophy.
Woods finished at 19-under 269 to win the Buick Invitational for the fourth consecutive year, tying a PGA Tour record for consecutive wins in a single tournament. Woods is the only player to own such a streak at two events, having also won four in a row at Bay Hill.
Ryuji Imada matched the best score of the final round with a 67 and was the runner-up.
Woods returns to Torrey Pines in June for the U.S. Open, and if this week was any indication, it could be another long week for his peers. The world's No. 1 player now has won six times as a pro at Torrey Pines, and his comment that the Grand Slam is "easily within reason" looked every bit of that.
"What he's going to do is screw the U.S. Open up for everyone else," Fred Couples said. "If he had shot 10 or 11 under, the USGA would have said, 'Well, maybe we have it in the right spot.' Now, they may have to regroup a little."
Then again, it might not matter.
Woods has won his last two PGA Tour events by eight shots, and this was the ninth time in his career he has won by at least eight.
"I wanted to go out there and make no bogeys and shoot something under par," Woods said. "I got half of it right."
The 71 ended Woods' streak of 14 consecutive rounds in the 60s, dating to the second round of the Deutsche Bank Championship. He has finished no worse than second since the British Open in July, when he tied for 12th at Carnoustie.
Woods planned to leave Sunday night for the Dubai Desert Classic, and he likely won't return to the PGA Tour until the end of February at the Accenture Match Play Championship. Next in line on the career list is Ben Hogan with 64 victories, and each win moves Woods closer to the record 82 won by Sam Snead.
"You'd like to think it's surprising, but it's not," Charles Howell III said. "It's Tiger."
Woods is 6-of-12 in his PGA Tour debuts, but he has never won with such ease. He went back to work after the holidays, and it was as if last year never ended.
The only surprise was the weather, a pleasant one at that.
The forecast was for heavy rain overnight and into Sunday, with the possibility of a Monday finish. But the clouds cleared as Woods was warming up, and he played the front nine under brilliant blue skies. Only on the back nine did clouds return and temperatures plunge. He closed out his victory under a mixture of rain and clouds, and smile that showed all was right in his world.
"He's just much better," said Couples, who posted his first top-10 finish since the 2006 Masters. "It's fun to see. I've been on tour for 28 years, and I've never seen this stuff."
Imada birdied his last two holes to finish alone in second at 11-under 277 and was thrilled.
"This is the Tiger Woods Invitational, isn't it?" he said. "I thought he was the host."
The Buick Invitational is the third PGA Tour event Woods has won six times. The others are the Bridgestone Invitational and the CA Championship, both World Golf Championship events.
"My goal going into today was to finish second," Imada said. "That's almost like winning the golf tournament to me."
Rory Sabbatini also had a 67 to tie for third with Stewark Cink (73), who joined Joe Durant in the final group and were along for the ride. On the opening hole, with fans lining both sides of the fairway from tee-to-green, Cink and Durant found a fairway bunker and took three shots to reach the green. Woods played safely to the middle, and his 40-foot birdie fell on the final turn.
"I'd say this is the best I've seen him play," Cink said. "The last couple days, off the tee, the control he had was just really very impressive. The Tiger that we saw a year and two years ago, hitting it sort of all over the place, I think that's a thing of the past. He's got it geared down and he came out and played really well."
Justin Leonard closed with a 72 to finish alone in fifth, 12 shots behind. Phil Mickelson also made his 2008 debut this week, but was slowed by illness and was never a factor. He shot 71 on Sunday and tied for sixth with Durant (75).
"Nobody thought too much about winning," Mickelson said.
Divots:@ Woods won in California for the 12th time, the most of any state. Florida is second with 10 victories. ... Kevin Streelman, who played in the final group Saturday as the final alternate to get in the Buick Invitational, went 75-77 on the weekend and tied for 29th. ... Only seven players broke par in the final round.