News
Durant And Four Others Tied At Hope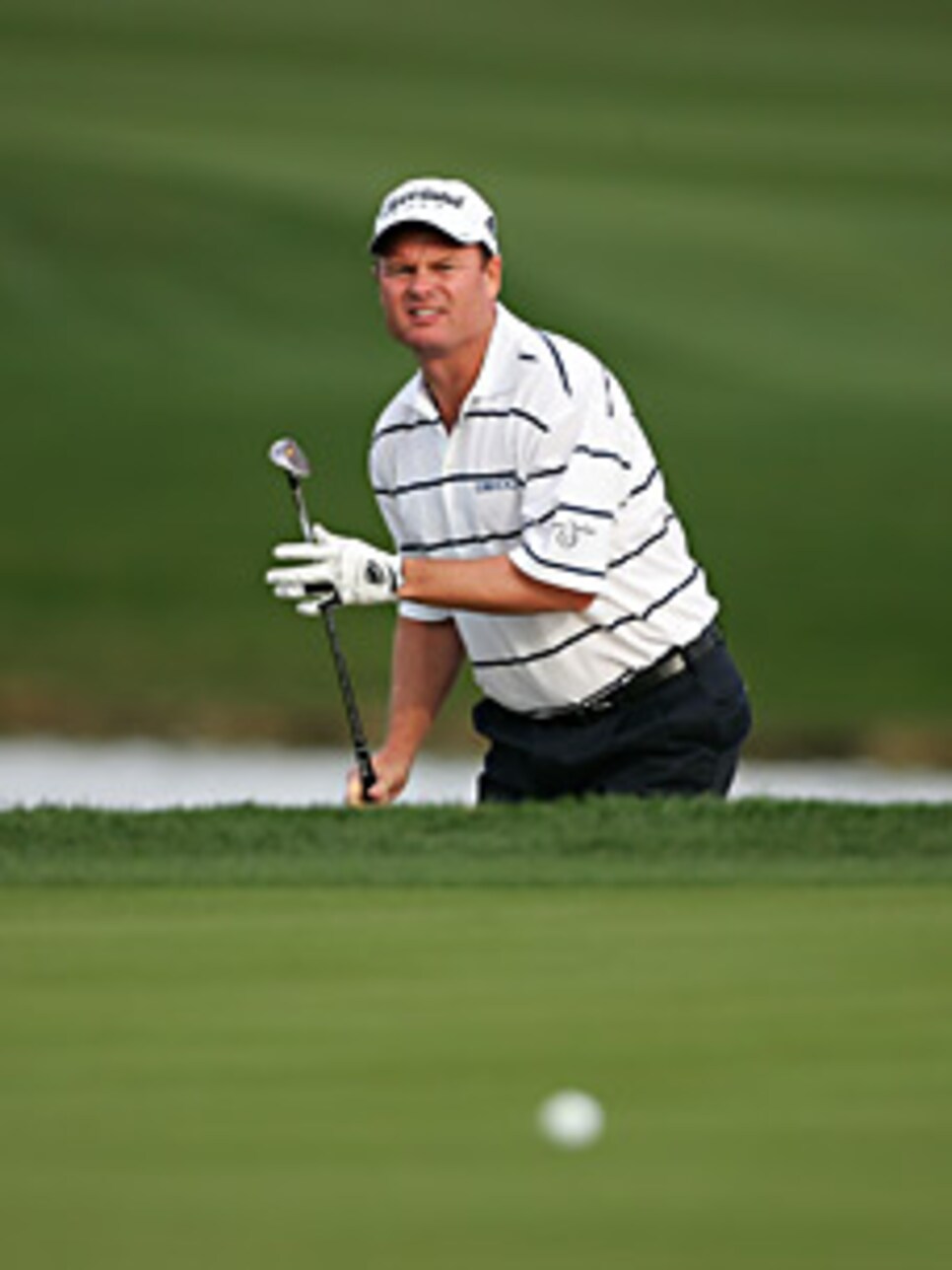 Durant's two eagles on Wednesday gave him a share of the lead.
PALM DESERT, Calif. (AP) -- Former champion Joe Durant had a pair of eagles on his way to a 7-under 65 and a share of the first-round lead Wednesday in the Bob Hope Chrysler Classic.
There was a logjam at the top, with five players tied for the lead and seven others just one shot behind.
Tim Petrovic, Mathew Goggin, Shigeki Maruyama, and Omar Uresti also opened with 65s. Among those one stroke off the pace were Kenny Perry, Lee Jansen, Robert Gamez and Steve Elkington.
Four of the leaders played at the Classic Club, and Uresti played at PGA West.
The first four days of the Hope are a pro-am played at four courses. Sunday's final round, with the 70 low-scoring pros and ties, will be at the Classic Club.
Durant, who won the 2001 Hope in record fashion, had a pair of eagles on the opening day of the 90-hole tournament this time.
Conditions were good, sunny with not much wind, for the opening round. Last year, the tournament was marked by chilly weather and gusting wind.
Durant set the tournament record seven years ago with his total of 36-under 324, good for a four-shot win.
That is one of his four titles since he came on the tour in 1993. His most recent victory was in the 2006 Funai Classic.
Defending champion Charley Hoffman shot a 68. He played at SilverRock Resort, a course being used in the Hope for the first time.
Back in the pack, Fred Couples shot 69, John Daly 71, and David Duval 73. Duval matched the PGA Tour record with a closing 59 to win the Hope in 1999.
Recalling his victory at the Hope, the 33-year-old Durant said, "It seems like a long time, it really does."
Asked if he was on his way to another 36 under, he smiled and said, "Oh, gosh. I don't even know how to respond to that one. I would just like to get to 8 under tomorrow at some point. It's such a long tournament.
"I'm just glad to have one good round under my belt. But it's a marathon and you have to treat it like that."
Petrovic had just one bogey during his round, two holes after he and his amateur playing partners had a long wait to tee off at the turn. They began the day on No. 10, and there were four groups bunched ahead of them when they got to the No. 1 tee.
He shot 31 over his first nine holes.
"And then we had halftime," Petrovic joked. "Let's see, the Super Bowl halftime is 20 minutes and ours was about 40 minutes."
So he took a break in the clubhouse, read the newspaper and "Sat on the porch and waited for the four groups to tee off and then we were ready to go the second nine."
He parred No. 1, had his bogey on No. 2, and went to finish his final nine holes with a 34.