News
Tour Insider: Knox Makes A Difference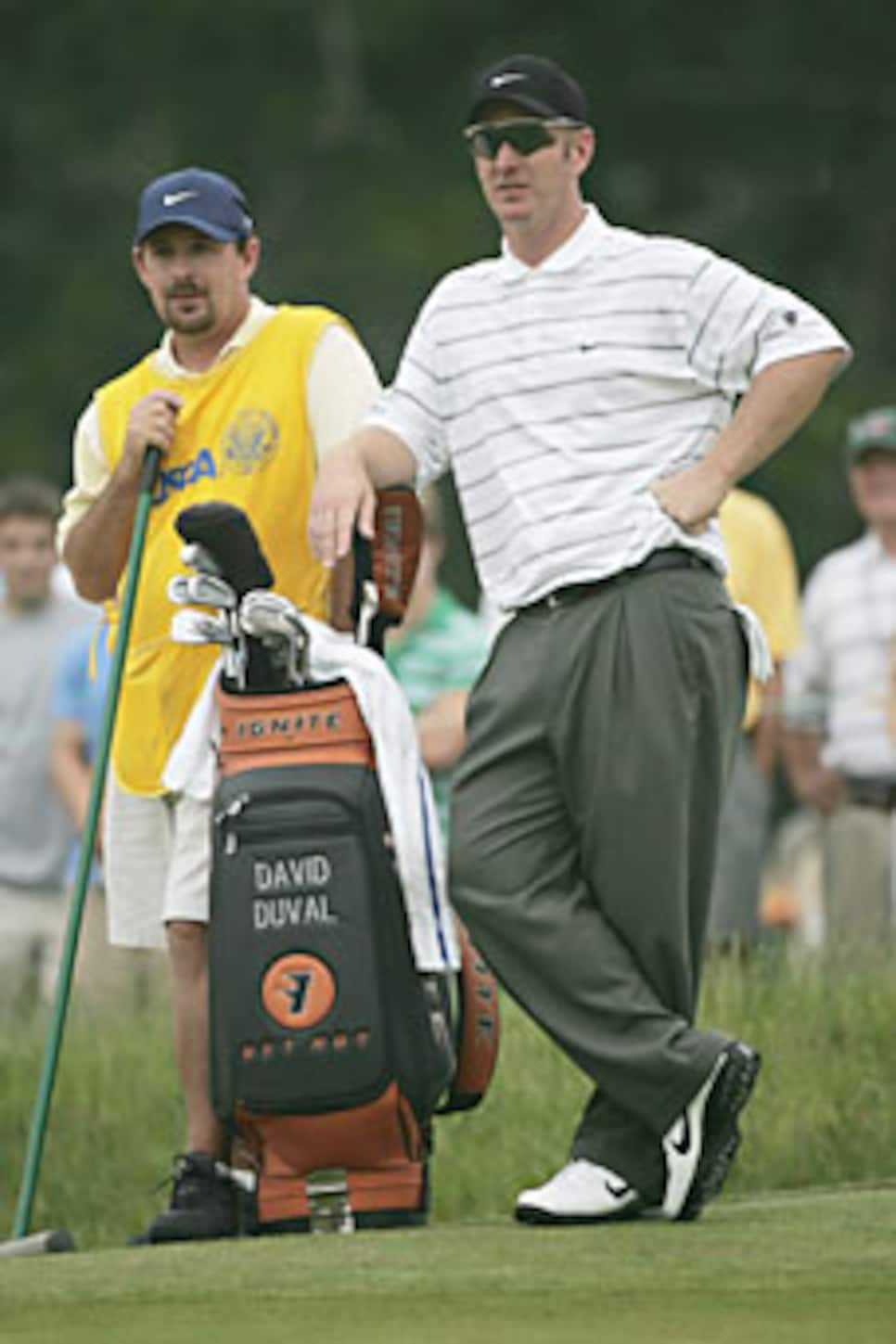 Mitch Knox is a caddie who's made a difference in the careers of two top pros.
Caddie Mitch Knox rode David Duval to a nine-stroke win at Kapalua in 1999. "That was the year I got to watch David in that Kona wind shoot 10 under (63) on Saturday," Knox pointed out last Sunday night. It was also the year Duval won four times before the Masters, including the Players Championship, and ended Tiger Woods' run as the No. 1 player in the world. Knox was on the bag for all of that, including Duval's closing-59 in the Bob Hope Chrysler Classic.
Knox's second Mercedes-Benz victory was no breeze, but that's the difference an experienced caddie can make for a player like Daniel Chopra, who has won two of his last three events with Knox on the bag. The Swede with Indian heritage cracked earlier in the week that he had to watch Larry The Cable Guy to understand his caddie's drawl, but they are feeding off each other better than any player and caddie in golf right now. "He had always been right there," Knox said. "It was just a matter of figuring out how to get through under that situation."
Chopra most certainly has, winning a Fall Series marathon on a muddy Monday in Florida, losing a playoff to Aaron Baddeley in the Australian Masters (Knox should have been on the bag) and validating last Sunday in prime time to earn a trip to Augusta. He also has a third-place finish in there, at the Texas Open, which started this streak last September. And as Chopra noted, there's some good karma in Knox, even if at times you can't understand him.
First, there was the Masters hat that Knox wore.
"That's the kind of guy Mitch is," Chopra said. "He likes that stuff, gives me little side messages."
Then there was the talk before Chopra roped a career 3-wood into the 15th green. With sidespin and grain, the ball released off the green, but Chopra called it "a peach of a shot, one we drew up in our head."
Now Chopra is talking about pulling a Duval, noting in Maui how he felt so much more relaxed on the back nine of the Plantation course than he did on the back nine in the dark and damp at Tesoro in Port St. Lucie, Fla. When he was dressed in all black (Saturday) and all white (Sunday), Chopra reflected cool.
"Like Mitch said, I was wound up tighter than a drum in that final nine holes before darkness came (in the Ginn sur Mer Classic victory at Tesoro)," said Chopra. "I was reasonably relaxed this time, and I felt like I knew what I had to do. Obviously the adrenaline is pumping and you're nervous, but I felt more in control. I knew I was familiar with those feelings, and I was more comfortable, and I'm sure next time in contention I'll even be more comfortable. Hopefully that is the case and you build on that and then you get in contention more and more. I think that's why Duval, when he got in contention, he won the first one and then just rattled them off."
Chopra was ranked 120th in the world before Kapalua, and it's hard to imagine a player coming out of relative nowhere at age 34 and rattling off victories. But Chopra has never lacked for confidence. Two years ago, he played his way into the final group at Doral with Tiger Woods, shot 77, and needed some time to regroup. Now 61st in the world, he followed up his victory with an opening-round 66 on Thursday at the Sony Open, hitting all 18 greens in regulation. Nick Faldo, the Ryder Cup captain and television commentator, has Chopra on his radar screen.
Sitting in the Plantation clubhouse Sunday night, signing pin flags and enjoying a bottle of wine with his Australian wife, Samantha, Chopra realized the turn his life had taken. In 2001, he needed to borrow money from Jeev Milka Singh just to keep his career alive. Now he was going to his first Masters, trending toward the Top 50, and talking like all that international experience, the dues paying on the Nationwide circuit, and the caddie who has been on the bag of a No. 1 player and won a major will result in an explosion of victories.
"I guess it only takes one," Chopra said. "I mentioned before, Duval was the same way. Once he got the first one, he started rattling them off. Mitch Knox was along for the ride as well, so who knows, there might be a little something to do with it."