News
Keep An Eye On Tiger and Annika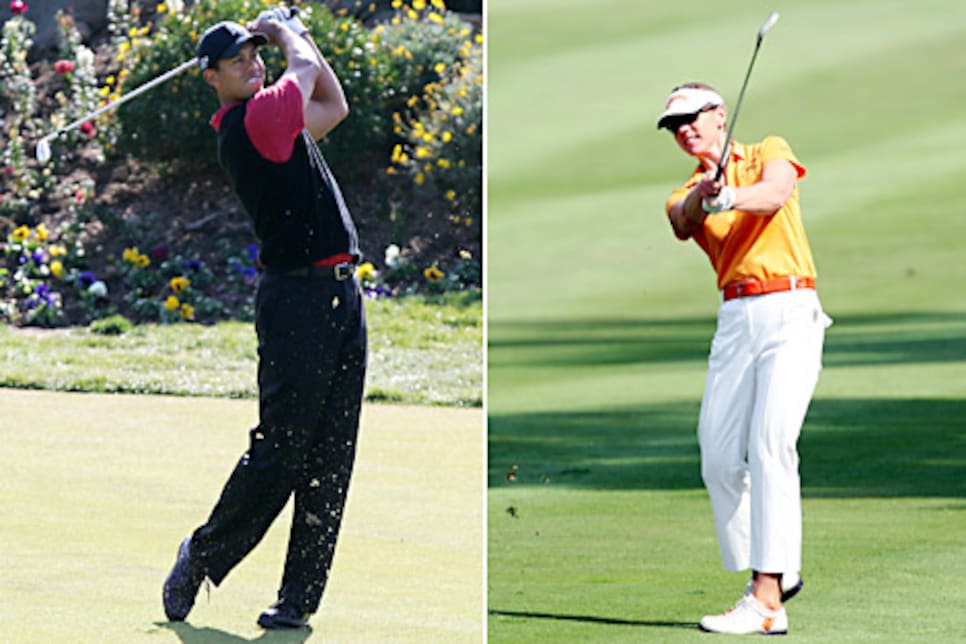 Tiger rolled over the field and Annika made it clear she is not to be forgotten.
For both Tiger Woods and Annika Sorenstam this past weekend was probably not so much a period ending the sentence that described the 2007 season but rather an exclamation point indicating what may lay ahead in 2008. Woods, coming off another dominant season in which he won seven PGA tour events, including his 13th major championship, took a couple of months off and then returned with a route at the Target World Challenge, besting a classy field of 16 pros with a seven-stroke victory.
For Sorenstam, her victory Sunday in the Dubai Ladies Masters prevented this year from being her first winless season since 1993. Once again, as it has many times over the past 12 years, the paths of perhaps the best male and the best female to ever play the game crossed. Woods became a father this year, and on Dec. 22 Sorenstam will celebrate her engagement to Mike McGee with a party at her home in Orlando. The fact they have set their wedding date for April 2009 means this and this alone: Sorenstam's mission in 2008 is to regain her position as No. 1 in the women's game.
That goal is a steep mountain to climb for two reasons. First off, Lorena Ochoa has emerged as a phenomenal talent whose confidence is growing in leaps and bounds. She won eight times in 2007 and her victory at the Ricoh Women's British Open weakened any lingering doubts about her ability to win the big ones. Ochoa also finished in the top-10 21 times in 25 starts, which means she is gathering Rolex Rankings points even when she is not winning. And that means Sorenstam is going to have to win a lot in 2008 to overtake the Mexican and reclaim the top spot.
The second obstacle facing Sorenstam is the depth of talent on the LPGA tour right now. Suzann Pettersen, in her first year working with her new coaching team of Lynn Marriott, Pia Nilsson and Gary Gilchrist, won five times, including a major, and emerged as a challenger for the top spot in women's golf. Meanwhile, Morgan Pressel, Paula Creamer, Natalie Gulbis, Brittany Lincicome, Meaghan Francella and Nicole Castrale all won this year, indicating the United States has produced a twenty-something pool of talent to replace the disappointing the thirty-something group of Americans.
Throw in the plethora of talent from Asia--Jee Young Lee, Ji-Ai Shin, Ai Miyazato and others--and the LPGA has its best depth since the heyday of Betsy King, Patty Sheehan, Amy Alcott, Beth Daniel, Dottie Pepper, Nancy Lopez, Meg Mallon and Juli Inkster, who remains one of the 10 best players in the women's game. Add the crafty veterans like Karrie Webb, Se Ri Pak, Sherrie Steinhauer and Pat Hurst and it will be much more difficult for Sorenstam to dominate than it was when she won 43 of 104 LPGA starts from 2001 through 2005.
But at the age of 37 Sorenstam is far from past her peak. And then there is her motivation. The ruptured disk in her neck that cost her not only two months of competition in 2007 but also denied her even more than that in practice time and workout sessions. She's healthy now, physically able to put in the time she needs to be at her best, and with her eye on her future as a businesswoman determined to walk away from the game in glory rather than limp away because of injury.
"It's been a strange year with my injury," Sorenstam said by text message from Dubai, "but hopefully this is a sign of things to come in 2008. I am very happy to have successfully defended by title in Dubai."
On Sunday at the Emirate's Majlis course Sorenstam closed with a 70 to win the Dubai Ladies Masters by two strokes over Laura Davies and Iben Tinning, "It's a little light in the tunnel," Sorenstam said. "It's been a tough year and I'm still working a lot on my game." Even with 69 LPGA victories and more than a dozen others overseas, Sorenstam had to relearn that sensation of being under pressure in the final round.
"Being in the last group on the last day; there is extra pressure and I haven't had that in a long time," Sorenstam said. "It's something that you have to train and get used to again so I think it was very important. To be able to finish and walk home with the trophy, just getting the job done, means a lot to me. It's going to carry on for next year. I need that and so this is a very special win in many, many ways." The final event of the Ladies European Tour season ended with Sophie Gustafson pf Sweden winning the New Star Order of Merit money list with earnings of 222,081.47 Euros, edging Germany's Bettina Hauert by 2,218 Euros. Hauert was voted as the LET Player of the Year after two wins, two runners-up spots and a debut appearance in The Solheim Cup. Sweden's Louise Stahle won the Ryder Cup Wales Rookie of the Year Award to join Davies, Sorenstam, Webb and Pettersen as past winners.
Woods, meanwhile, rolled over the field at the Target. He turns 32 on Dec. 30 and, remarkably as it seems, appears to be getting better. Tiger plays more like Jack every year, evolving into the kind of mistake-free player that won 18 professional major championships for Nicklaus. Woods has learned one of the keys Nicklaus figured out: You only have to shoot 65 when you need 65 to win. Otherwise, play fairways and greens and make the field catch you.
Fairways and greens has always been the strategy employed by Sorenstam. We will see more of that from her in 2008, but we might also see something new. The talent on the LPGA might provoke Sorenstam to play a little more aggressively. "I used to be able to shoot 68 and win," she said this year at the British Open. "Now so many players are going low." That realization could very well mean we will see Sorenstam attack a lot more pins next year.
Tiger Woods and Annika Sorenstam both won tournaments over the weekend. I have a feeling that's something we are going to say much more often next year than we said this year. And saying it now is a reminder of something for which all golf fans should be extremely grateful: We've had the privilege of seeing two of the best ever play the game at the same time. That's a thought that should help us all have a happy holiday.