News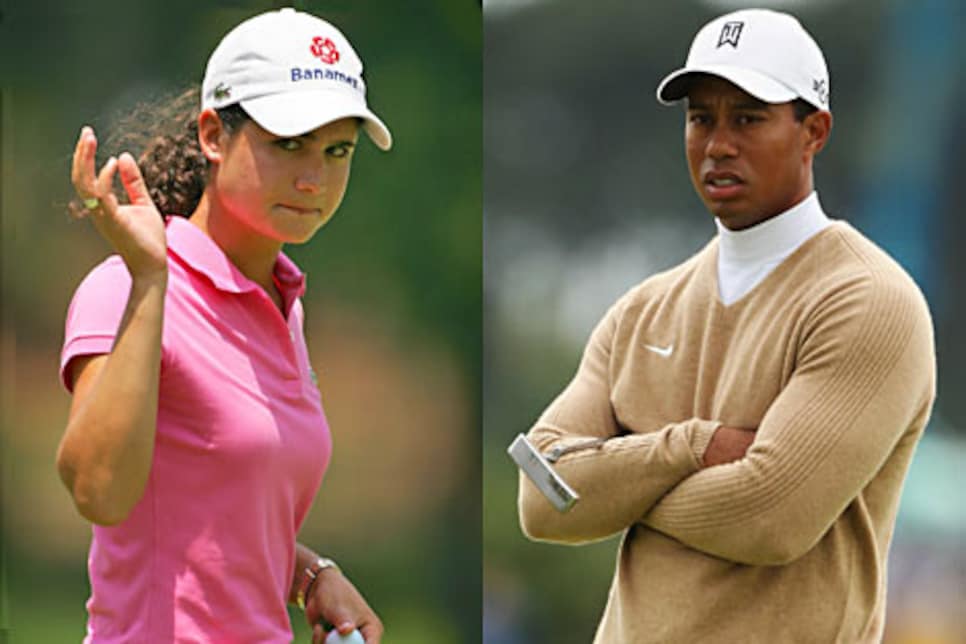 Tiger and Lorena are hands down, the 2007 King and Queen of golf.
The measuring sticks for greatness in golf are well established. The 88 career victories by Kathy Whitworth and the 82 by Sam Snead are the standards by which performance over time are judged. The 18 career majors (20 if you count the U.S. Amateur) by Jack Nicklaus are the gauge by which the ability to play in the most-important tournaments is determined. Money records, of course, have been made meaningless by inflation as is proven by the fact the $1,009,630 won by Jeff Overton on the PGA Tour this year surpassed the career earnings of Ben Hogan, Byron Nelson and Snead -- combined.
And there will always be debates over how things like Ryder Cup performance, leading the European Tour Order of Merit and being popular with the fans should factor into the equation when weighing a player's legacy. But truly, when it comes time for history to pass judgment on a player and place them in their proper slot in the grand scheme of things don't we all really want to know how many Sirak Awards they've won?
The Sirak Awards, for those of you who have spent the last few years either meditating in Tibet or trying to find the NHL on TV, are unique in that I determine who deserves an award and then make up a category for them. That way the deserving are served and there are no fluke winners -- or two-loss teams playing for the national championship. So, without further ado, direct from the home office in Wilton, Conn., here are the 2007 Sirak Awards -- or as the insiders in the trade so coolly call them: The Rakies.
FIRST TIME IS THE BEST AWARD: We have an unprecedented seven-way tie for this honor. That's how many players won their first major championship in 2007 -- three men and all four of the LPGA majors. And somehow it makes perfect sense that the only non-first timer was Tiger Woods, who will eventually have more majors than anyone to ever play the game -- no matter how many children he and Elin raise.
[Ljava.lang.String;@3fec6fed
Morgan Pressel was 18 when she won the Kraft Nabisco Championship, the youngest ever to win a major, nipping Johnny McDermott, who was 19 when he won the 1911 U.S. Open. Suzann Pettersen (McDonald's LPGA Championship), Cristie Kerr (U.S. Women's Open), Lorena Ochoa (Ricoh Women's British Open), Zach Johnson (Masters), Angel Cabrera (U.S. Open) and Padraig Harrington (British Open) were the others breaking through in 2007. And unlike in past years, it would be of no surprise in anyone of those seven first-timers won another major -- or more.
THE CUP RUNNETH OVER AWARD: This award has a decidedly American accent. The U.S. Presidents Cup team demolished The International side 19½-14½ and has now won three of the last four competitions, halving the other. Overall, the Presidents Cup scoreboard stands at 5-1-1 in favor of the United States. Now, if the Americans can only figure out why they keep getting their butts handed to them at the Ryder Cup. Maybe they need to meet Europe on a neutral site -- like Fiji.
On the women's side, a young and talented U.S. team rolled over Europe 16-12, and like the Presidents Cup team won a road game. That's two in a row for the American women in the Solheim Cup and an overall record of 7-3. Clearly, something has to be done about the selection process -- hint: use the Rolex Rankings instead of having five players qualify off the Ladies European Tour points list -- if Europe is to have a chance of remaining competitive. Another rout like this and the cry will be heard to include the rest of the world in this competition. How would a team with Ochoa, Karrie Webb and Se Ri Pak do?
IT'S GOOD TO BE KING AWARD: Remember when Tiger was in a slump? From 1999 through 2002, we thought we saw golf played as well as it has ever been played. During that stretch, Woods won 27 PGA Tour events and seven major championships. And when Tiger decided to fine-tune his swing and went a shocking 10 consecutive majors without winning, many said we would never see the old Woods again. They were right. We are seeing something better.
The seven tour victories in 2007, including the PGA Championship, means Woods has won 21 times with five majors over the last three seasons. With six wins and two majors in 2008 Woods will match the unmatchable numbers he put up in the 1999-02 burst of brilliance. I don't know about you, but I'm taking the over. There is no other sport where the consensus is so clear has to who is No. 1. Hey, Rafael Nadal beats Roger Federer more often than Phil Mickelson beats Woods.
IT'S GOOD TO BE QUEEN AWARD: It was only a matter of time until Ochoa became the best player in women's golf, but no one really thought the time would come this quickly. Granted, she caught some help when Annika Sorenstam went down for two months with a ruptured disc in her neck, but eight victories, a major championship and 21 top-10 finishes in 25 starts would have been difficult for anyone to top.
Ochoa shattered the single-season money record by $1.5 million and was first on tour in birdies (383), rounds under par (74.2%), rounds in the 60s (49.4%), top-10 finishes (84%), greens hit in regulation (73.1%), putts per GIR (1.76) and scoring average (69.69). Any lingering doubt about her ability to win the big ones was erased at St. Andrews when she made the Ricoh Women's British Open her first major, appropriately, in the first professional women's event played on the Old Course. At 26, she could be No. 1 for a while.
[Ljava.lang.String;@3f241530
DON'T COUNT ME OUT AWARD: By the end of the season, Pettersen emerged as the second-best player in the women's game (five LPGA victories, including a major, and another win on the European Tour). But Sorenstam, who got engaged to Mike McGee during the season, sent a clear message when she set her wedding date as April 2009: Next year is going to be dedicated to reclaiming the top spot she has held since 2001.
The injury interfered with her phenomenal work ethic and disrupted both her practice schedule and her workout schedule, two components that worked in tandem to make her the best of her generation and present a compelling case for her being the best of all time. While clearly preoccupied with getting her ANNIKA brand off the ground, she now has McGee to help her run the business while she concentrates on golf. Set the over/under at four wins for her in 2008, with a major among them.
[Ljava.lang.String;@230fbb7c
KIDS DO THE DARNEDEST THINGS AWARD: If Michelle Wie decided to post-up Tadd Fujikawa she'd have no problem shooting over her fellow Hawaiian. But Fujikawa, who was 16 when he made the cut at the Sony Open on the PGA Tour in January, was head-and-shoulders above Wie, who turned 18 in October, in public affection in 2007. While Fujikawa smiled his way to a T-20 finish at the Sony -- including consecutive rounds of 66 -- Wie missed the cut there and then in eight LPGA events missed three more cuts, withdrew twice, finished last among those who made the cut twice and was next-to-the-last in the other.
Sure, Wie had a wrist injured when she fell running as an excuse, but the question that was even more nagging than the injury was why a teenager would risk endangering her future by competing while hurt. It was a question never answered. Wie toddled off to her freshman year at Stanford in September and Fujikawa, apparently learning nothing from Wie, turned pro and missed three PGA Tour cuts and two more on the Nationwide Tour in his five starts. Let's hope both of them can revisit their happier days.
WAITING FOR LEFTY AWARD: Quietly, and not quite as successfully, Phil Mickelson has played Arnold Palmer to Wood's Nicklaus over the last 12 years. As Arnold was the more human foil for the robotically brilliant Jack, Lefty has been the all-too-human opponent for the otherworldly Tiger. Mickelson contended in none of the majors -- a wrist injury contributing to missed cuts at the U.s. Open and British Open -- but he did win three times and connects with fans in a very Palmer-like way.
Phil's three wins in 2007 give him 32 on his career, good to T-13 on the all-time list with Horton Smith. He has an excellent chance to be in the top-10 all-time when his career is done. Few contemporary players bring as much entertainment value to the table as Mickelson. Even when things are unraveling -- see the 72nd hole at Winged Foot in the 2006 U.S. Open -- you can't take your eyes off him. What he needs to make his career complete and get his true reward in the history books is one classic head-to-head duel with Tiger on a Sunday at a major -- and win it.
[Ljava.lang.String;@496b59ae
JUST SHUT UP AWARD: We have another tie, and while the deferred payout at the FedEx Cup created enough whining to have another seven-way knot there were two guys who stood head and shoulders above everyone else when it came to opening mouth and inserting foot. So congratulations Rory Sabbatini and Sergio Garcia. There are no others we rather have shut up that the two of you.
Sabbatini famously said at the Wachovia Championship in May, where he gave up five strokes to the ultimate winner Woods on the final day that Tiger was "more beatable than ever." Let me tell you something: Tiger has a memory like an elephant. Ask Stephen Ames. At the WGC-Bridgestone Invitational in August, Sabbatini led by one after three rounds and finished eight behind Woods.
And then there is Sergio. Actually, he should get a career achievement award on running his mouth. After he kicked away the British Open to Padriag Harrington, instead of being gracious Garcia said: "I'm playing against a lot of guys out there, more than thee field." Yikes! Sounds like dialogue out of the movie "A Perfect Mind." Watch out for that grassy knoll over there Sergio! Yes, the world is against Sergio. But I'm guessing the reason he hasn't won in more than two years has more to do with him that any cosmic conspiracies.
That's it boys and girls. The tour seasons are over and now the most stressful of all competitive activities, for me, is under way: Holiday gift buying. Being in a mall this time of the year is like going to Bat Day and who, by the way, was the genius who thought it was a good idea to arm 30,000 13 year olds with baseball bats? But soon people will be gather points on my secret list for the 2008 Rakies. As the new season progresses, if you have any nominees, send me their name and the category you've created for them. Cheers, and happy holidays.