News
Final Round Q School Hits and Misses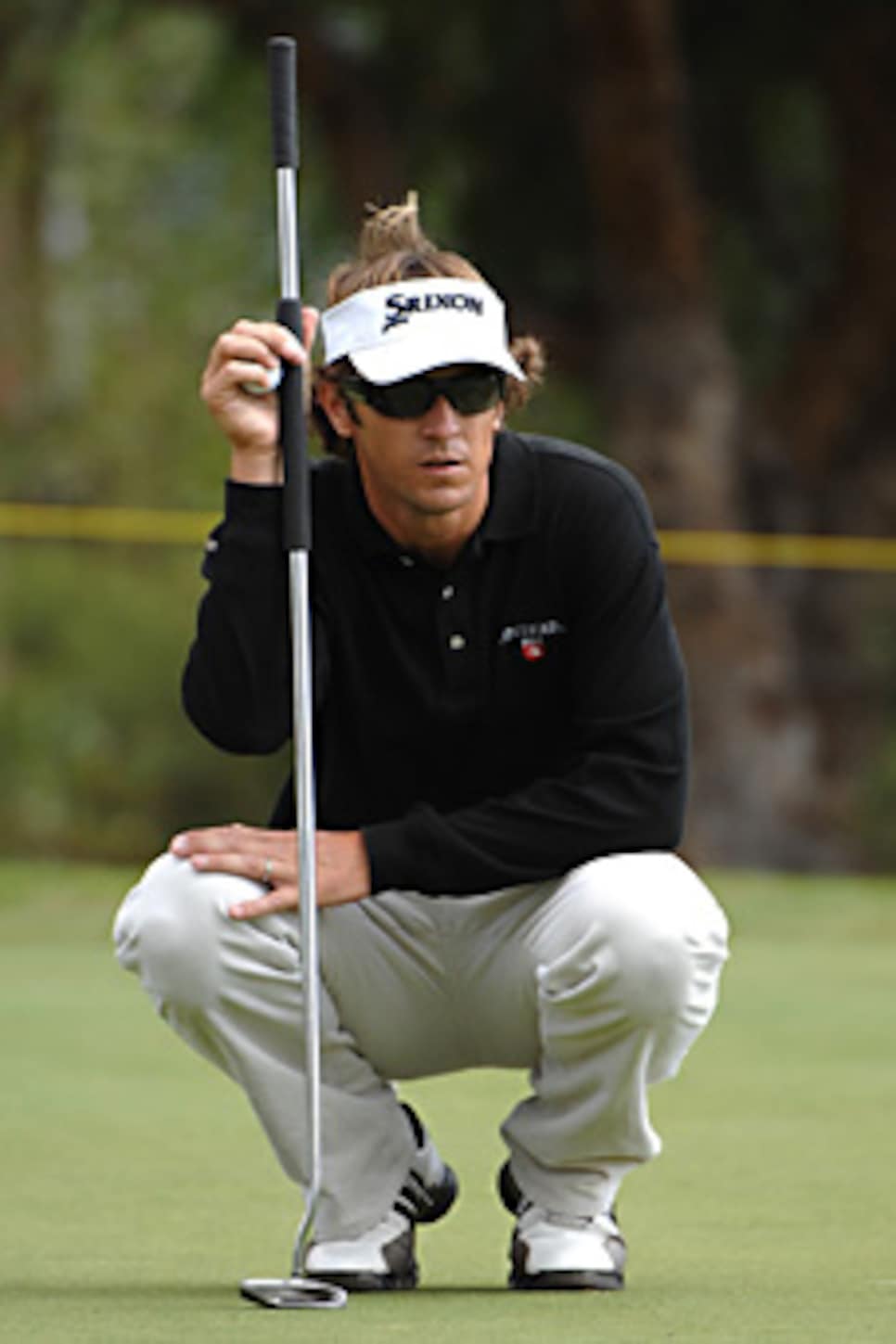 While under the pressure of facing a possible major medical procedure Todd Demsey fired a 64 to finish alone in eighth place.
• Todd Demsey withstood the pressure-packed final round of a career-deciding tournament all the while facing possible radiation treatment for a brain tumor on Wednesday. His spotless 64 on Monday catapulted the 35-year-old into solo eighth place in the Q School final and gave new meaning to the word "survivor" in the process. "Nothing to worry about," said Demsey of the tumor. "It's benign." He rode the strength of a similar attitude most of the round. "When I got to five or six under through 10 or 12 holes I started to feel the pressure all of a sudden because I was right there." A 5-iron to six feet for birdie at 16 helped him breathe a little easier and clinched a trip back to the PGA Tour, where he was a rookie in 1997.
• Englishman Kenneth Ferrie had his 15 minutes of fame and became the answer to a trivia question during the 2006 U.S. Open at Winged Foot. Who led the first round and witnessed firsthand Phil Mickelson's collapse on the 72nd hole? Ferrie, of course. He was paired with the ill-fated Mickelson in the final round. On Monday, though, the 29-year-old had a share of the spotlight at the end with a sparkling 67 in windy conditions to finish tied for 14th at -16 and earn a place on the PGA Tour.
• Swede Richard Johnson, one of eight foreign-born players to earn a tour card Monday, eagled the par-5 17th hole to secure exempt status at -15. He slumped to 165th on the PGA Tour money list this season after enjoying a career year in '06, when he finished 50th.
• Four-time PGA Tour winner Duffy Waldorf was the most clutch of a foursome of 40-somethings successfully making it back to the bigs. He closed with a 66 to finish at -16 (T14). The other graybeards who earned their cards: Jim McGovern (42), Carlos Franco (42) and Kent Jones (40). "It's not the same as in 1990 when I won it (Qualifying Tournament) and I felt like I had gotten back," Waldorf said. "I really felt like I was on tour--I've played so much the last few years even though I wasn't fully exempt. But it's nice to play that well, feel like my game is turning around and that I can be competitive next year."
• Tommy (Two Gloves) Gainey was the recipient of two big breaks this year. The winner of the Golf Channel's reality show "The Big Break VII" had to steady himself down the stretch and survive oxygen deprivation, but he got his card. His hard-fought 77 (-15) came not without a measure of blood and guts. "I hit it terrible all day and it started to catch up with me with the conditions being as tough as they were and the wind blowing 20-plus," he said. "I'm just glad I played so well the first five days so I could have a lot of breathing room." For the Bishopville, S.C., native, this Q School success is the biggest break of all. "I've dreamed of this since I was a kid growing up."
• Miguel Carballo, a 28-year-old from Argentina, speaks very little English. That explains why he had such a difficult time articulating his double bogey-bogey-bogey finish Monday. "Nothing special (happened)," he said through an interpreter, his face flushed from anguish. Carballo's collapse left him one shot shy of the cutoff for getting a tour card. He is, however, exempt on the Nationwide Tour next year.
• Bubba Dickerson ('01 U.S. Amateur champ) played steady golf through his opening nine holes Monday and was in control of his destiny at 14 under, the eventual "number." He bogeyed 13 and 16, however, and a bounce-back birdie at the par-5 17 wasn't enough to send him back to the big tour. He shot 71 and finished -13 for the week.
• Veteran Bob May had no target score in mind starting out Monday, but he had one at the conclusion of his round. "I think it's going to be 14," he said. Unfortunately for May, who finished at -13, he was spot on. May's final round was full of missed opportunities and miscues. He birdied three straight holes beginning with his 10th and reached the par-5 fourth hole (his 13th) in two. Three putts later his fate was all but sealed. "That would have been key to get all four in a row,'' lamented May, who's headed back to the Nationwide Tour next year.
• Matt Every started the final round at -12 (T-25) and was right around the magic number most of the day. In fact, standing over his second shot to the par-4 18th hole at Crooked Cat he was actually on the number, which had slipped back to -13. By the time he had gunned a long birdie putt by the hole and missed the six-foot comebacker to finish -12, the number was back to -14. But that was hardly consolation.
• Korean D.H. Lee needed to shoot no higher than 71 on Monday to earn his card. He was in good shape until he missed a 12-footer for par at 15. Just like Every, he needed birdie at 18 but made bogey instead to finish -12.