News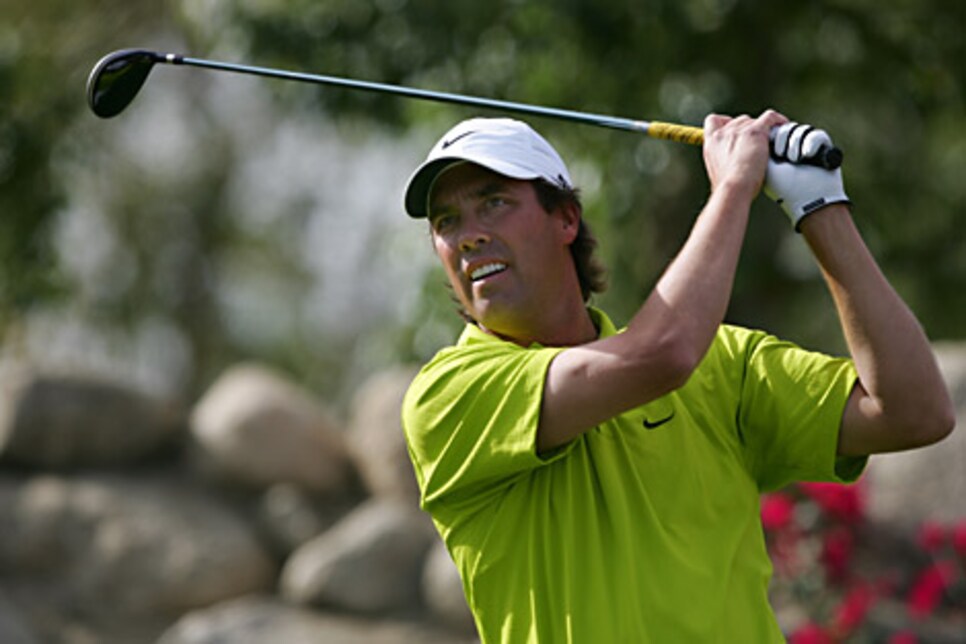 With one putt when he really needed it, Stephen Ames repeats as the Skins Game champion.
INDIAN WELLS, Calif. (AP) -- Stephen Ames started well and finished even better.
Ames, who won the first hole of the LG Skins Game a day earlier and hadn't won another since, sank a 7-foot birdie putt worth $650,000 on No. 18 Sunday.
Taking the title for the second year in a row, he finished with nine skins and $675,000 of the $1 million purse.
Five-time champion Fred Couples, playing in the 25-year-old tournament for the 14th time, also won nine skins, pocketing $325,000 to push his career earnings in the made-for-TV event to more than $4.2 million.
Zach Johnson and Brett Wetterich, both playing in their first Skins Game, were shut out.
Ames, whose birdie on the opening hole of the tournament was worth $25,000, didn't play particularly well again until the 18th. He stuck his 9-iron from 142 yards out close enough to the pin for a good birdie chance, then watched the other three miss their considerably longer putts.
Johnson missed from 40 feet, Couples from 20, then Wetterich's 10-footer slid past the left edge of the hole to give Ames his chance.
He stroked the ball firmly into the center of the cup, and, beaming, accepted Couples' congratulations, then handshakes from the other two players.
Couples won the first hole of the second day of the two-day, 18-hole tournament with a 5-foot birdie putt for $250,000 on No. 10.
From there, the holes were tied until Ames won eight skins on No. 18.
His winning total was $590,000 in the tournament last year, when he clinched the title with a 3-footer for birdie worth $270,000. Couples finished second then, too, with $385,000.
The first six holes were worth $25,000 each, and Nos. 7-12 $50,000. The 13th through 17th carried a prize of $70,000 and No. 18 was worth $200,000.
In the Skins Game format, a player takes a skin by winning a hole. If the hole is tied by any of the players, the money carries over and all four remain in the hunt.