News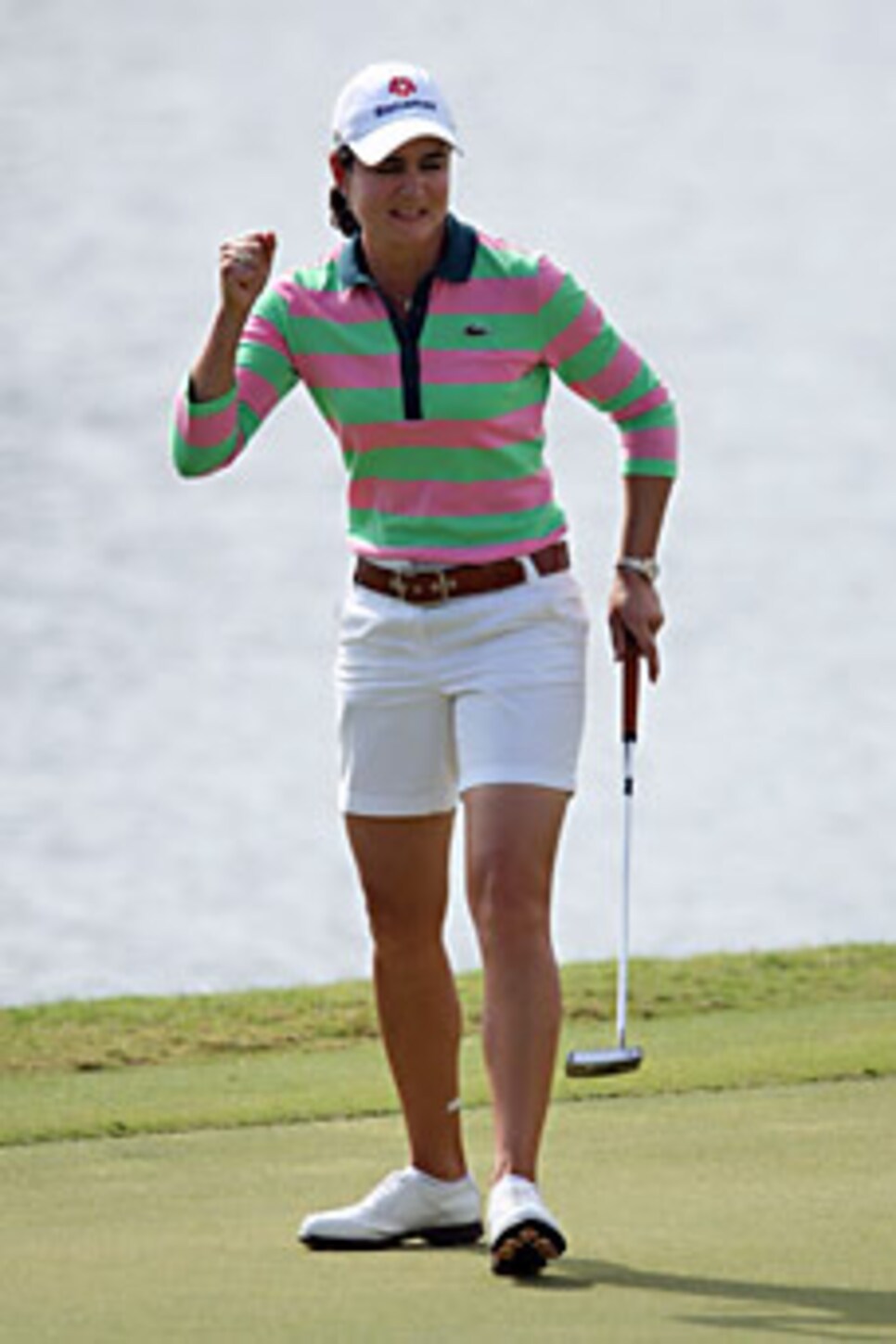 World No. 1 Ochoa will need her "A" game on Sunday if she is gong to win.
Here's a prediction: A PGA Tour event will someday adopt a version of the format used by the LPGA at the ADT Championship. This is one of those gimmicks that got it right. The only teak that would make it better would be to have only four playing on Sunday for the $1 million first prize. And perhaps make it winner-take-all, although having the runner-up get only $100,000 is already pretty close to that.
The scramble on Saturday at Trump International by 16 players for the eight spots in Sunday's finale resulted in the second consecutive playoff. This time Nicole Castrale, Sophie Gustafson, Christina Kim and Mi Hyun Kim played off for two spots with Kim and Kim advancing. They join Paula Creamer, Lorena Ochoa, Karrie Webb, Cristie Kerr, Natalie Gulbis and Sarah Lee in the million-buck shootout.
Eliminated in the third round were Juli Inkster, Morgan Pressel, Seon-Hwa Lee, Ai Miyazato, Catriona Matthew and an ill Suzann Pettersen along with Gustafson and Castrale. Of the four who competed in the playoff, only Christina Kim managed to par the final hole of regulation with Gustafson and Castrale making bogeys and Mi Hyun Kim a double bogey.
What the format produces is the drama of match play within the confines of medal play. Time and again, players plunged deep into red numbers early in the day only to cough up strokes coming in with the violence of a cat ejecting a hairball. Competitor after competitor played the back nine at Trump with the tightness of a facelift on an aging Palm Beach heiress. Did I mention it was pretty tense out there? Having a $1 million pot of gold waiting can quicken the pulse and tighten the swing.
•Inkster was four under par through 12 holes and finished even.
• Pressel was one under through 12 and finished one over.
• Miyazato was three under through 12 and finished two over.
• Gustafson was four under through 16 holes and finished at one under par.
• Castrale came to No. 18 at two under par only to rinse her second shot and finish at one under par.
• And, most dramatically, Mi Hyun Kim was five under par through 13 holes and finished at one under par after a double bogey on the final hole.
As Dottie pepper might say… Well, never mind.
One under was the number needed to get in the playoff for the final two spots. While it might seem counterintuitive to the nature of the game to have as your goal finishing eighth, that's the case here. All scores get wiped out for Sunday's final round and the eight players start even, which means the 66s posted by Creamer and Ochoa on Saturday will be only a pleasant memory when final-round play begins. The only thing a low score on Saturday gets you is first crack at picking your tee time for Sunday.
The first playoff hole was No. 17, the par-3 with water all around the green. Gustafson, who made a double bogey in regulation on No. 17 by finding the water right, eliminated herself this time by finding the water left. Meantime, Both Kims and Castrale put their tee shots on the putting surface.
Castrale putted first from about 20 feet and scared the hole, leaving a tap-in for her par. Next Christina Kim tried for birdie from 14 feet and left it almost on Castrale's mark, about two feet from the hole. Mi Hyun Kim, putting her double bogey on No. 18 behind her, plopped her tee shot eight feet from the hole and drained it to grab the seventh spot. With Gustafson out, Christina Kim and Castrale played on for the final spot,
On No. 18, with water down the right side, Kim and Castrale both drove to the fairway. Hitting first, Kim filled the air with shouts of "Cut! Cut!" has her mid-iron approach honed in on the flag, ending up two feet away, triggering a body bump between Kim and her caddie. Now that's something you almost never see on the PGA Tour. Picture Furyk and Fluff leaping and bumping butts. Actually, better not.
Castrale, continuing the theme of the day, then replicated her shot from moments early on No. 18 and hit the right bank and watched in disbelief as the ball trickled into the water to lock up the final spot for Kim, who tapped in her birdie with Castrale in her pocket.
What that set up for Sunday is a showdown involving five of the top 10 players in the world: Ochoa (1), Webb (3) Kerr (5), Creamer (6) and Mi Hyun Kim (10). Gulbis is No. 24 in the Rolex Rankings with Sarah Lee No. 42 and Christina Kim No. 46. And, unlike the FedEx Cup, the person who wins on Sunday actually has to win it.
By the way, if only four people were competing in the finals they would be Ochoa, Creamer, Webb and Kerr – four of the top six players in the world. Now, wouldn't that make a pretty compelling foursome to have coming down the stretch for $1 million? Clearly, one reason the LPGA likes an eight-woman finale is to give it a better chance of getting marquee names into Sunday's play. The truth is simply this: There is so much talent on the LPGA right now marquee names are everywhere. This is a gimmick that got it right.