News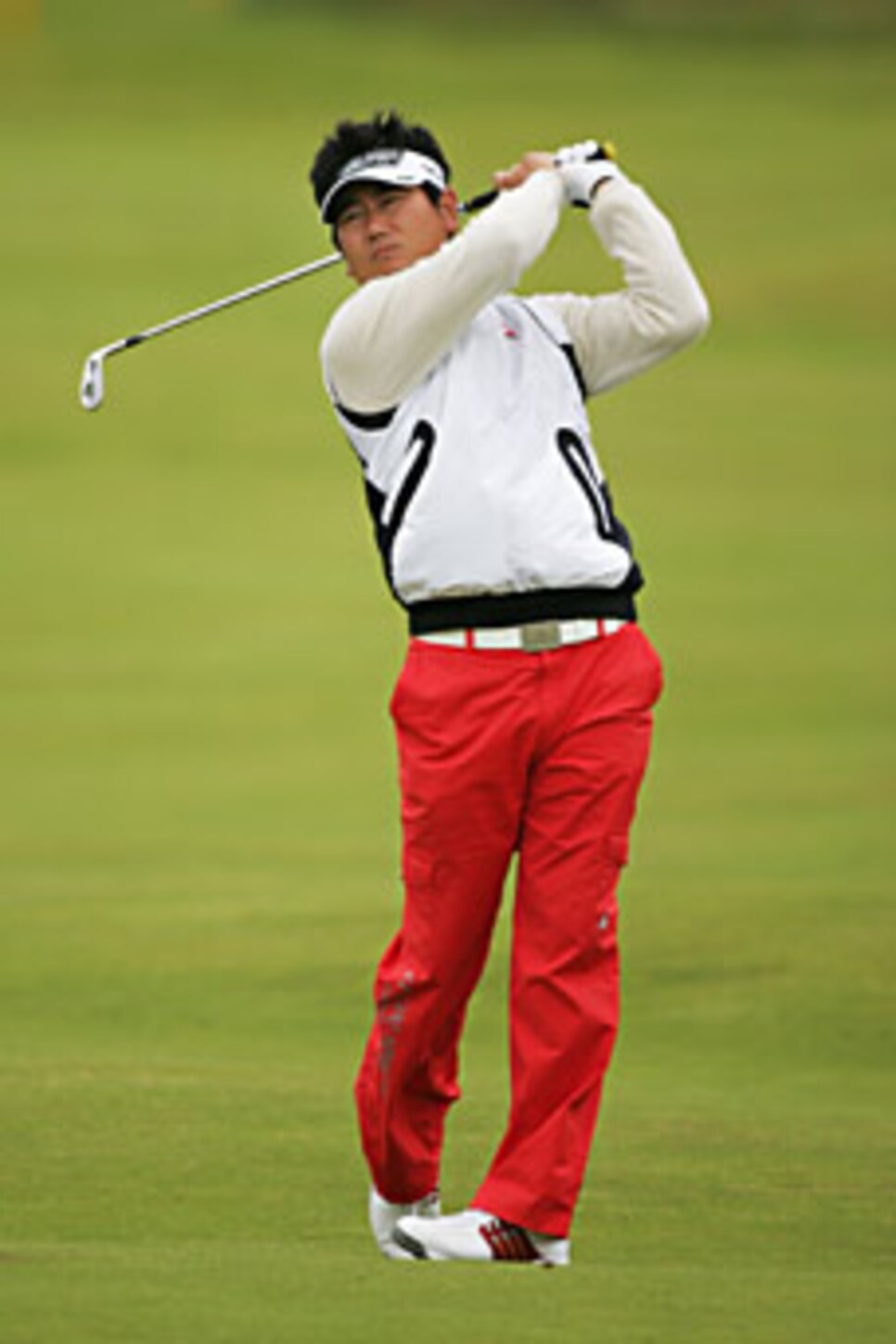 Do you know who this is? He beat Tiger last year in "Asia's major".
I saw leader boards on the PGA Tour this year that looked far worse than the much-maligned Fall Series that, once and for all, ended the 2007 season Sunday at Walt Disney World. New Orleans, Hartford and Greensboro come to mind, but those tournaments were saved by the promise of youth. We forget now that Nick Watney, Hunter Mahan and Brandt Snedeker had their big weeks against weak fields. We just see these newbies as having won regular-season tour events that earned FedEx Cup points, spots in the Masters and more credibility than any of the post-Tour Championship winners.
Right or wrong, one of the byproducts of the FedEx Cup season -- of a season ending in mid-September rather than dragging on to the first weekend in November -- is that old standbys such as the Texas Open, Las Vegas and Disney get second-class treatment. There was a lot of rank-and-file griping that this isn't right. Briny Baird suggested a European Tour-like season where FedEx Cup points would be given for the Fall Series. Daniel Chopra made a big deal about the discrepancy after winning the Ginn sur Mer at Tesoro in Port St. Lucie, Fla., and while some complained about the pace of play and the long hike between tees, others were just happy to be playing for $4.8 million. (See: Shigeki Maruayama, who gleefully locked up his card by finishing T-2.)
It's not like these year-end stops were A-list events before, but it's not as if they didn't have some impressive history. Hattiesburg/Madison (the old Mississippi Masters now named the Viking Classic) has been on the schedule going back to 1968,Vegas since '83 and Texas back to 1922. Even Disney, more popular among tour pros for its park passes than its golf tournament, had a list of some pretty good champions led by Jack Nicklaus and Tiger Woods, and including Raymond Floyd, Lanny Wadkins, Hal Sutton, Payne Stewart, Mark O'Meara and Larry Nelson.
I woke up Sunday morning, clicked on the computer and saw a leader board at Disney that interested me. Stephen Ames, the wry but extremely talented former Players champion -- Mr. 9-and-8 to Tiger -- was tied with the most underrated player on tour: Byron Nelson champion, Scott Verplank. Justin Leonard, winner at Texas, was one shot back. Tim Clark, J.B. Holmes, Stewart Cink and Brett Wetterich trailed by three strokes. It was a tournament that didn't need much selling thanks to the cast. New Orleans, Hartford, Greensboro would have taken it, in a second.
And Disney was the third-weakest field in golf last week, trailing the events in Europe and Asia. The point is that superstars are going to play when they want to play, sometimes late and often, sometimes infrequently, sometimes based on course, sometimes based on appearance money (as is the case in Singapore, where Phil Mickelson is taking advantage of the shortened tour season by making his first Indo-China appearance since playing Yonex clubs early in his career.) If Tim Finchem went to the policy board meeting on Nov. 12, snapped his fingers and made the Fall Series count for FedEx Cup points, he'd still need the likes of Gary Hallberg, Joel Edwards and Dave Rummells to fill out the fields.
And you can bet that if there wasn't a Fall Series, the European Tour would step up its aggressive expansion into Asia, or the Asian Tour would fight back with more massive appearance budgets such as the one Barclays bankrolled for Phil, Ernie Els, Vijay Singh, Adam Scott, and Angel Cabrera. So say what you want about the shortened season, there is always going to be a tournament, right up to the Target World Challenge two weeks before Christmas. Then, after a two-week break, the carnival will start up again at Kapalua for the Mercedes-Benz Championship. Like Renton Laidlaw said signing off Sunday on the Volvo Masters, "for those of you who think you're going to miss us, don't worry, the 2008 season starts next week in Shanghai."
Colin Montgomerie is scheduled to be there, a week after taking a shot at Els for not being loyal to the Euro Tour by taking the guaranteed money in Singapore over a chance to win the Order of Merit title at Valderrama in Spain. At least Els was honest about it. On his website, Ernie talked about this being the time of year to get the wheelbarrow out and cash in. Whatever Barclays is paying Ernie, Monty likely would have been there too if he got an equal offer.
This doesn't help Zurich (New Orleans), Travelers (Hartford) or Wyndham (Greensboro) when they pony up Tiger/FedEx Cup money and get a Fall Series field. Nor does it help the Asian Tour when the European Tour big-foots them, or the European Tour when the PGA Tour takes "their" dates in May-June.
But that's just survival of the fittest. It's all about opportunity, and in golf, there are more access points than any major sport in the world. For 50 weeks of the year, there are tournaments where you can cash checks throughout the world. Twenty-five players got their cards off the Nationwide Tour on Sunday. Ames won in Orlando, Cabrera in Singapore and Justin Rose in Spain.
Rose didn't win in the United States this year, but he had the second-best record in the majors and the World Golf Championships in 2007. He also won the European Tour's final event with a playoff birdie, making him, by far, the best player in his 20s this season. Last May he hit one of the best shots of the year, into the 18th green at Wentworth during the BMW PGA Championship to set up a playoff, but lost in overtime to a 25-foot birdie putt by Anders Hansen.
Rose will not be playing this week, but back up the wheelbarrow: Ernie, Vijay, Philly Mick, both Open champions (Cabrera and Paddy Harrington), Sergio Garcia, Paul Casey, Retief Goosen, Henrik Stenson, Niclas Fasth, Trevor Immelman and the aforementioned Monty will be at Sheshan International Golf Club competing in what's being billed as "Asia's Major."
Yong-Eun Yang will be defending. He defeated Tiger last year.