News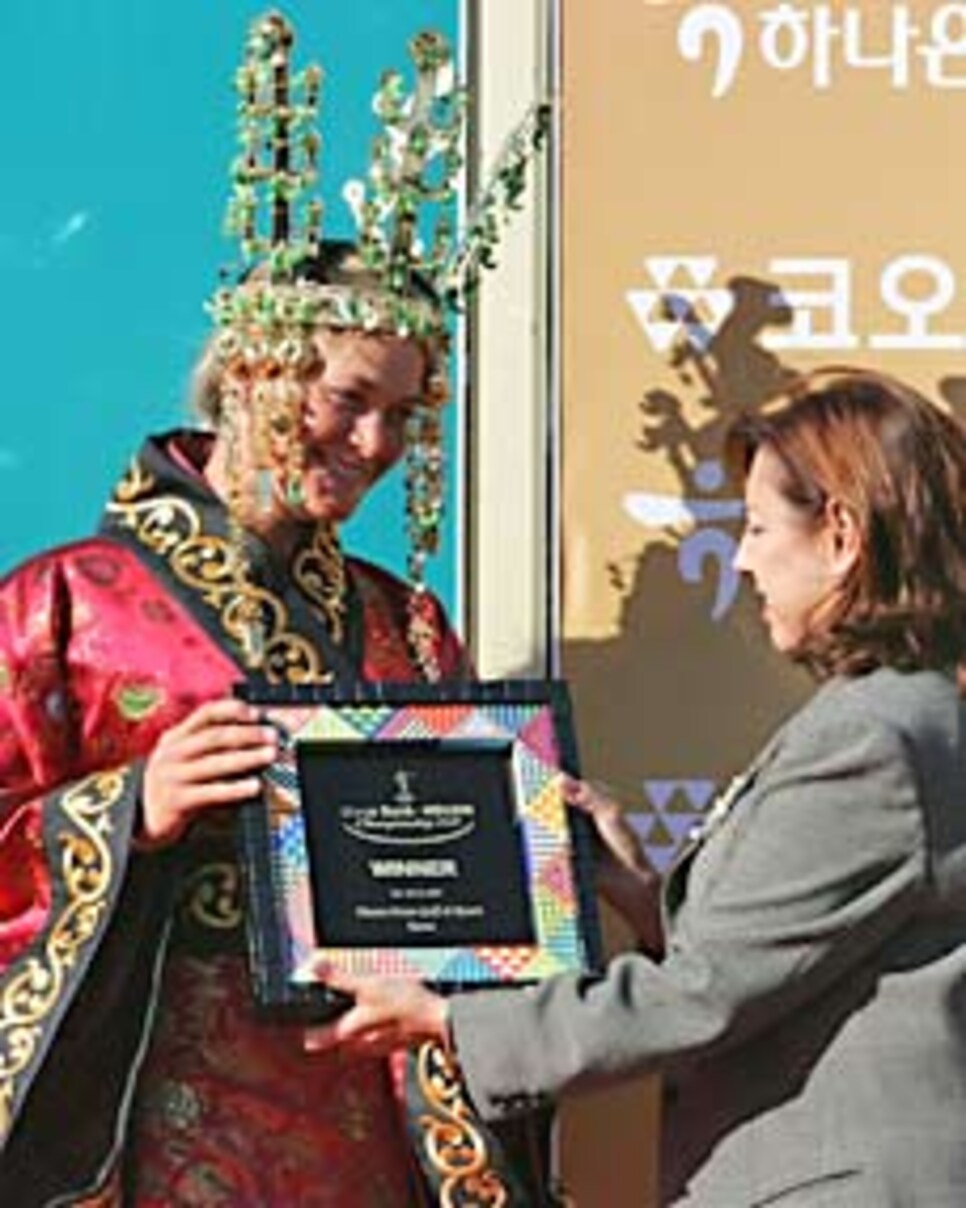 Not exactly what you think of when you're thinking about pro golf.
There was a baseball player -- I don't remember who and it really doesn't matter -- who played in that 1970s era of the two-sport stadium when every ballpark looked like it had been built from the same blueprints picked up at Home Depot and who summed up the dilemma quite succinctly. "I was tying my shoes in the dugout," he said, "and I looked out onto the field and for a moment I didn't know if I was in Philadelphia, Cincinnati or Pittsburgh. Turned out it was St. Louis." At least he knew he was in the National League.
That's sort of the way I feel about the golf season this time of the year. I know there is one going on but I have to think twice -- or more -- to figure out where it is. It's bad enough that the PGA Tour is rolling out its first Fall Finish -- that stretch of events that comes after all the big names have gone home for the year -- but last week the event it played was not even the event that was supposed to be played. That one was finished long before fall. And this one didn't even finish -- until a day late because of weather.
The Ginn sur Mer Classic at Tesoro in Port St. Lucie, Fla. was supposed to be the Running Horse Golf Championship in Fresno, Calif., which went belly up in record time. And to make things even more confusing, the Ginn sur Mer Resort is in the Bahamas and not Florida -- or Fresno. And while we are on the subject, is Bobby Ginn quietly trying to take over ownership of every event on pro golf? The dude's got stops on the men's, women's and geezer's tour. I guess that sub-prime thing hasn't affected him.
The LPGA, meanwhile, was in Thailand last week. Now the best thing about that is time zone wise it's always tomorrow in Thailand. Wake up on Sunday morning and the tournament is over. It's so far away about the only way to get players to go is to make it a no-cut tournament and guarantee the 60 lucky invitees a check. Last place Sunday was $3,984, which should cover airfare. Unless you are traveling business class, in which case it will get you from Orlando to about Fresno. And you don't want to go there.
The European Tour played the Mallorca Classic which was a little distressing because I had to Google Mallorca to find out, first, what it was and then secondly, where is was. It's not a make of car — or a kind of cookie, which would have been my guess — but rather the largest island of Spain and is part of the Balearic Islands archipelago, in case you ever get the question on Jeopardy. "I'll take obscure European Tour events for fifty, Alex." At least Mallorca is in Europe, which is not the case for many European Tour events. Do Dubai and Singapore ring a bell?
The Nationwide Tour was at the Miccosukee Golf & Country Club in Miami last week. Now there is a punch line in there somewhere and I am not going anywhere near it. The Champions Tour -- and I will get a phone call from Florida about my geezer reference above -- was in Sonoma, Calif., which means that Golf World writer Bill Fields got the best travel assignment last week -- unless he decides to jump in a car and drive to Fresno, which is only a couple hours -- and a few decades -- away.
I know the PGA Tour moved its Tour Championship to mid September to get away from the meat of the college and pro football season, but this is sort of like playing a game of hide-and-seek with the fans. And the LPGA is rightly trying to cash in on the popularity of women's golf in Asia, but going to Korea, Thailand and Japan in consecutive weeks is a good way to make American fans forget that a really nice rivalry is building between Lorena Ochoa and Suzann Pettersen.
Actually, I think having an off-season is a good thing for golf. It was getting to a point where, with Silly Season events, one season ran right into the next. LPGA players and fans have 10 weeks to rebuild an appetite for competition, and the big names on the PGA Tour can watch a lot of football, basketball and hockey before the new season resumes at the Mercedes Championship.
The only problem is the pace of play in the World Series games is so dreadfully slow Game 4 between the Rockies and the Red Sox may not end before the Mercedes. Just curious: Anyone time those commercial breaks between half innings? Man, they are so long Ben Crane could hit a shot during them. I'm guessing Rory Sabbatini isn't watching much of the Series.
The golf season is still going on. I know it is. I just can't find it. The only place I am seeing Tiger Woods is on TV commercials. And Suzann Pettersen has won two weeks in a row half a world away and with precious little exposure. I find it all a little difficult to keep track of. What's next? The NFL playing in London?