News
Thorpe Wins, Roberts Takes Cup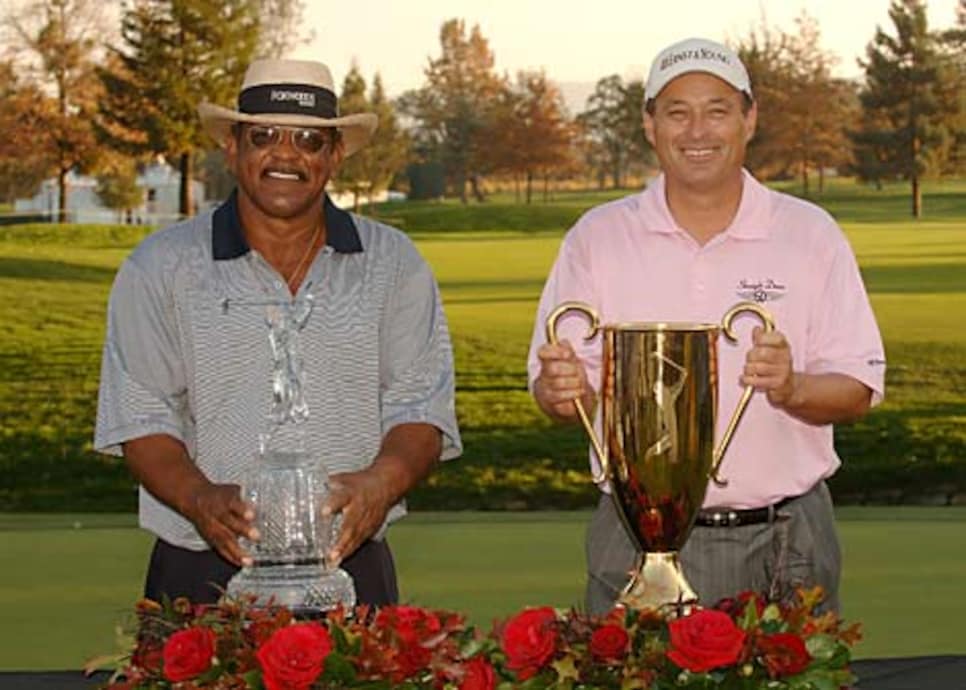 Championship winner Jim Thorpe (left) and Cup winner Loren Roberts.
SONOMA, Calif. (AP) -- Jim Thorpe got the crystal and a $442,000 check. Loren Roberts got the cup and a lot more money down the road.
Thorpe successfully defended his title in the Charles Schwab Championship, birdieing the final four holes Sunday to win the Champion Tour's season-ending event for the third time in five years.
Thorpe, who edged Tom Jenkins by $4,079 for the 30th and last spot in the field, shot a 6-under 66 to finish at 20-under 268, three strokes ahead of Denis Watson and Fred Funk. It was Thorpe's 13th tour victory and first since the 2006 event.
"Coming in this week I knew my game was showing sparks," Thorpe said. "Normally at the end of the year my game starts to peak a little bit. I really didn't putt well until the last five or six holes this week but this is probably my best ball-striking week ever. I hit my irons unbelievably good."
Roberts, meanwhile, held on to win the season-long Charles Schwab Cup competition for a $1 million annuity, shooting a 66 to tie for 13th at 11 under.
Roberts, who lost the points title to Jay Haas in 2006 after missing a short putt on the final hole of the season-ending tournament, was in jeopardy of losing to Haas again after three sub-par rounds, but did just enough Sunday to win.
He tied for 13th, while Haas (73) -- needing to finish ninth or better to win the points race -- tied for 20th at 6 under.
"This is the culmination of a long year for me and it's so, so sweet after last year," Roberts said. "It was great that Jay won it, Jay's a great guy, but for me to get on the last hole and to have a chance to do it and have probably the best club in my bag kind of fail me, that's something I lived with all offseason and a good part of this year. It was very satisfying to come down and finish it off this year."
Roberts had to sweat it out, however. Scores on the leaderboard at the 18th hole were delayed, so Roberts had to duck into a nearby tent to get updates on a computer.
It wasn't any easier for the players trailing Thorpe, either.
Watson, the leader heading into the final round, struggled with his tee shots for the second straight day, finishing with a 70. Funk matched Thorpe with a 66, but couldn't overcome an opening-round 70 that dropped him six strokes behind the leaders.
Five of the last six players on the course were within two shots of one another with four holes to go before Thorpe took over.
He made a 17-foot putt for birdie on No. 15 to reach 17 under, and added a 6-footer for birdie on No. 16. Thorpe's tee shot on the 142-yard, par-3 17th stopped 5 feet from the cup, setting up another birdie.
A day after carding a double bogey on the 18th when he tried to play it cautiously, Thorpe took an aggressive approach and landed his approach 6 feet above the pin. He made it easily for birdie, his seventh of the afternoon, as the crowd cheered.
"I talked to my wife yesterday and she tried to give me a putting lesson over the phone," Thorpe said. "Here's a woman who doesn't even play golf. She said, 'You need to square up a little bit more on your putts. I see you're a little bit too open.' So you know what? Let me give my credit to her. Yeah, I took her advice."
Brad Bryant, who could have moved past Roberts for the points championship had he won the final tournament, was within one shot of the leaders at the turn, but had four bogeys on the back nine to drop out of the hunt. His 73 left him at 13 under.