News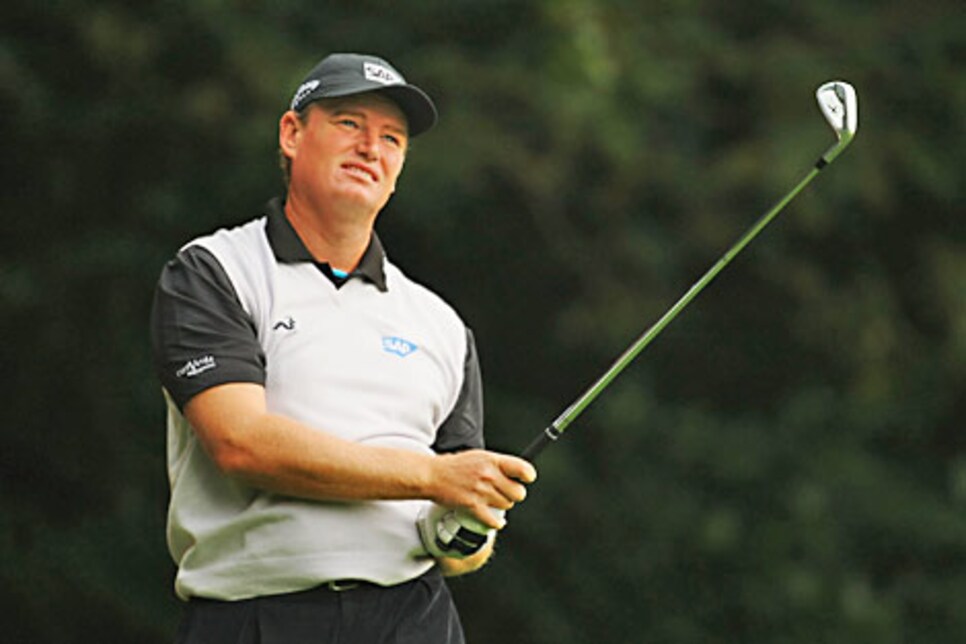 Ernie Els takes a solid 3 and 2 semi-final victory into his championship match on Sunday.
VIRGINIA WATER, England (AP) -- U.S. Open champion Angel Cabrera will play Ernie Els in the final of the World Match Play Championship on Sunday.
Six-time champion Els didn't lead until the 25th hole Saturday against Henrik Stenson of Sweden, but the South African then rolled to a 3-and-2 victory at Wentworth. Cabrera never trailed Hunter Mahan, but faced a fight from the American before winning 2 and 1.
Stenson, who won the Accenture Match Play Championship in Arizona in February, won the second hole of the morning when Els three-putted from 25 feet. Then they halved the next 10 as neither player could get going on the greens. Els got back to level three times on the back nine.
Els lost the 18th, but won the first in the afternoon and five holes later they were still even.
Then Els had a winning par at the 25th, followed by birdies at the next two holes to move three ahead.
He wrapped it up on the 34th.
"That was really tough, I had to dig deep," Els said.
He had seven one-putt greens in succession from the 26th, including one for par from 12 feet at the 33rd to go up three up with three to play.
Stenson said he was defeated by Els' improved putting.
"I gave some holes away in the morning and then he came out strong in the afternoon and putted great," Stenson said.
Cabrera halved the first two holes against Mahan and won the third when Mahan bogeyed.
Cabrera moved two ahead with a 15-foot birdie at the sixth, then made his only bogey of the day to lose the seventh. Cabrera quickly made that up with birdie putts of 15 and 30 feet to win the next two for a three-hole lead he held through the first 18.
Cabrera won three of the first four holes in the afternoon. Hunter then rallied from six down, winning four of the next six holes with good putting.
But Cabrera won the 29th and stayed in control the rest of the way.
"He was just a little better and I've had a great week," Mahan said.
Cabrera, the 2007 U.S. Open winner, is trying to follow in the footsteps of Michael Campbell. He won the 2005 U.S. Open and then added the Match Play title.
"When Hunter came back at me I just tried to stay focused," Cabrera said. "He started making putts and making birdies. But I knew I could win and I just managed to stay calm and I did it."