News
Tour Insider: Fun Is Always Better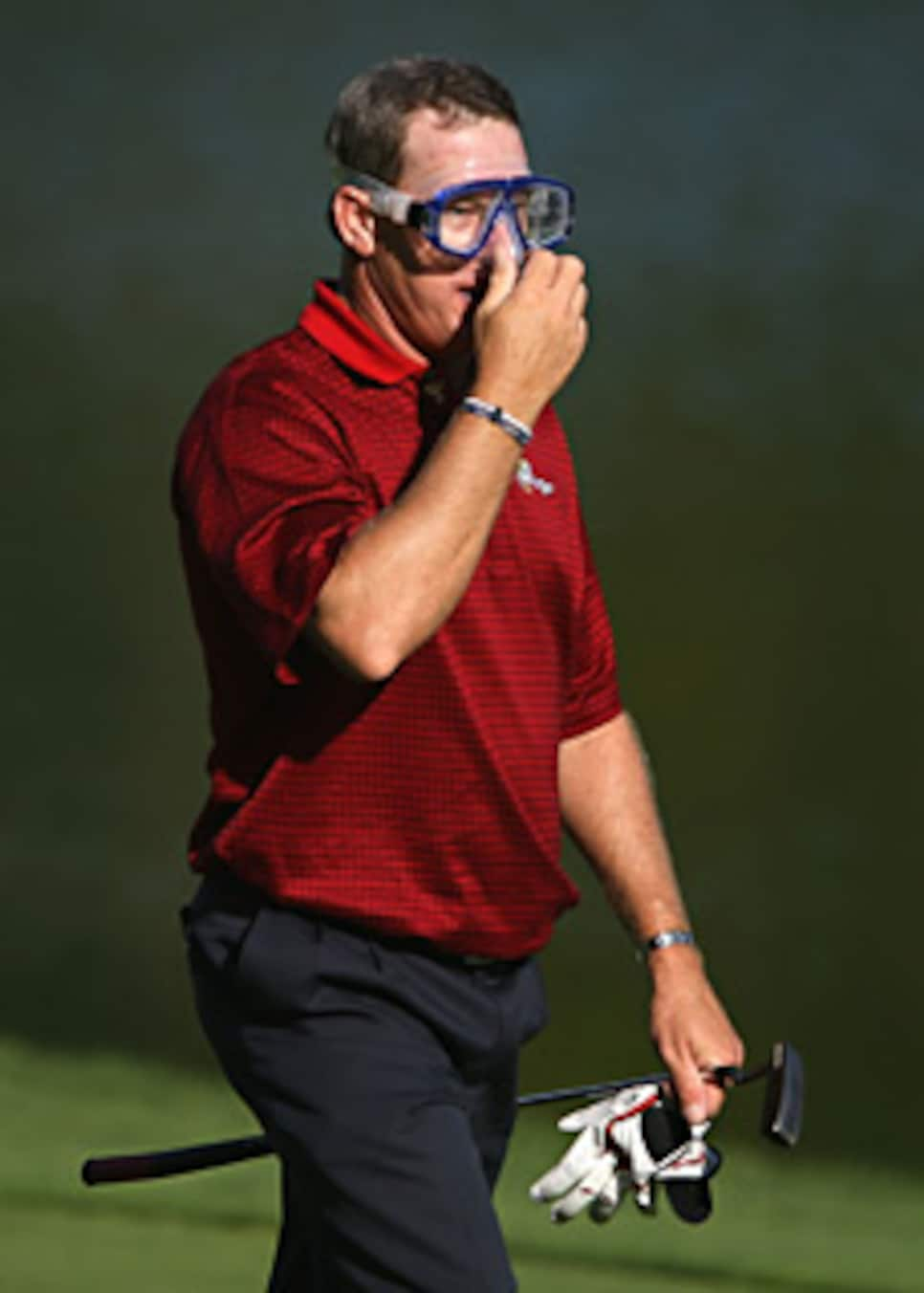 Woody Austin's ability to take a ribbing typified what made the Americans a team in Montreal.
After seeing the fun atmosphere at the Presidents Cup, Johnny Miller had an on-air revelation that Bill Murray ought to be the assistant captain of the Ryder Cup. It follows along the line of suggestions being made to the PGA of America in how to improve their product after the last two American blowouts. In spite of all the goodwill efforts by the PGA of America, the Ryder Cup continues to be an edgy competition that doesn't bring out the best in the lads or inspire many of the same sort of scenes we witnessed last week at Royal Montreal.
Sunday I saw Tiger Woods and Vijay Singh, facing each other and laughing, riding out in a cart from the team rooms after both had lost their singles matches. And at what's supposed to be the tensest of times, I saw Phil Mickelson and Tiger exchange the friendliest handshake and share the biggest laugh before their opening tee balls. I saw Woody Austin losing a match but donning a snorkel mask. I saw Mickelson and Singh goof on each other in news conferences. ("Phil who?" asked Singh.) I saw Trevor Immelman concede David Toms a putt on the 18th green after a valiant comeback that someday might have made the South African's record look better, but in the grand scheme of things, all it meant was another half point in a blowout.
"I've known him for a long time, since I came out on tour, he was one of the guys who was real nice to me, very gentlemanly," Immelman said. "I also played against him [in the last Presidents Cup] and he was partners with me at the CVS Match Play this year. He's an older guy who has been top level for a long time and I look at him for tips every now and then, so we have a great relationship."
Great relationships, conceded putts, a feel-good attitude emanating from both teams: What's going on here? All I see at the Ryder Cup are a bunch of uptight guys who are afraid to lose because it matters too much. So what can we learn from this? We learned the Presidents Cup, as sort of a Ryder Cup Lite, is much more popular among the high-level American players, Tiger and Phil in particular. They wrapped their heads around a team competition for the first time, stepped up and became leaders, putting all their competitiveness aside for a week. This was Jack Nicklaus' team, but it was their team, too.
Nicklaus established the atmosphere by busting Charles Howell III in the first team meeting last month at the Deutsche Bank, telling the struggling young player he needed a lesson. Howell went with it. The team broke up. A tone was set. A family that needles each other loves each other. That's almost the Nicklaus motto.
And once Woody Austin did the face plant in the pond Friday afternoon, the hilarity was all Nicklaus, Mickelson, Woods and the rest of the guys needed to carry them for the week. Aquaman lived! That Austin birdied the last three of that match made his swim legendary. Even Barbara Nicklaus got into the act, asking Woody how the salmon tasted.
There was less time devoted to formal dinners and black-tie functions, which left more time to bond, and the vibe was palpable. "I think … we're a little bit looser this week," Jim Furyk said Sunday. "I think we have a little bit more fun and enjoy this week. Why that translates over into our play, I'm not sure. I go to Ryder Cups thinking that I'm going to loosen up and enjoy the week, but I'm always a little bit tighter … than I am at a Presidents Cup.
"You know, I've got no answer. The team we beat is one hell of a team, from top to bottom, 12 guys that are all very, very solid players. You all said that they look better on paper than we do, and you know, that's true.
"But I'll tell you, it seems like we pull together, we have a hell of a time, and we're looser at the Presidents Cup and we tend to gel more..."
Mickelson made hints that there was talk about applying some of this approach to future Ryder Cups, starting next year in Louisville. Bringing back Austin would help. And if I were Paul Azinger, I'd be calling on Nicklaus for some advice. He designed the course. He also designed a spirit.