News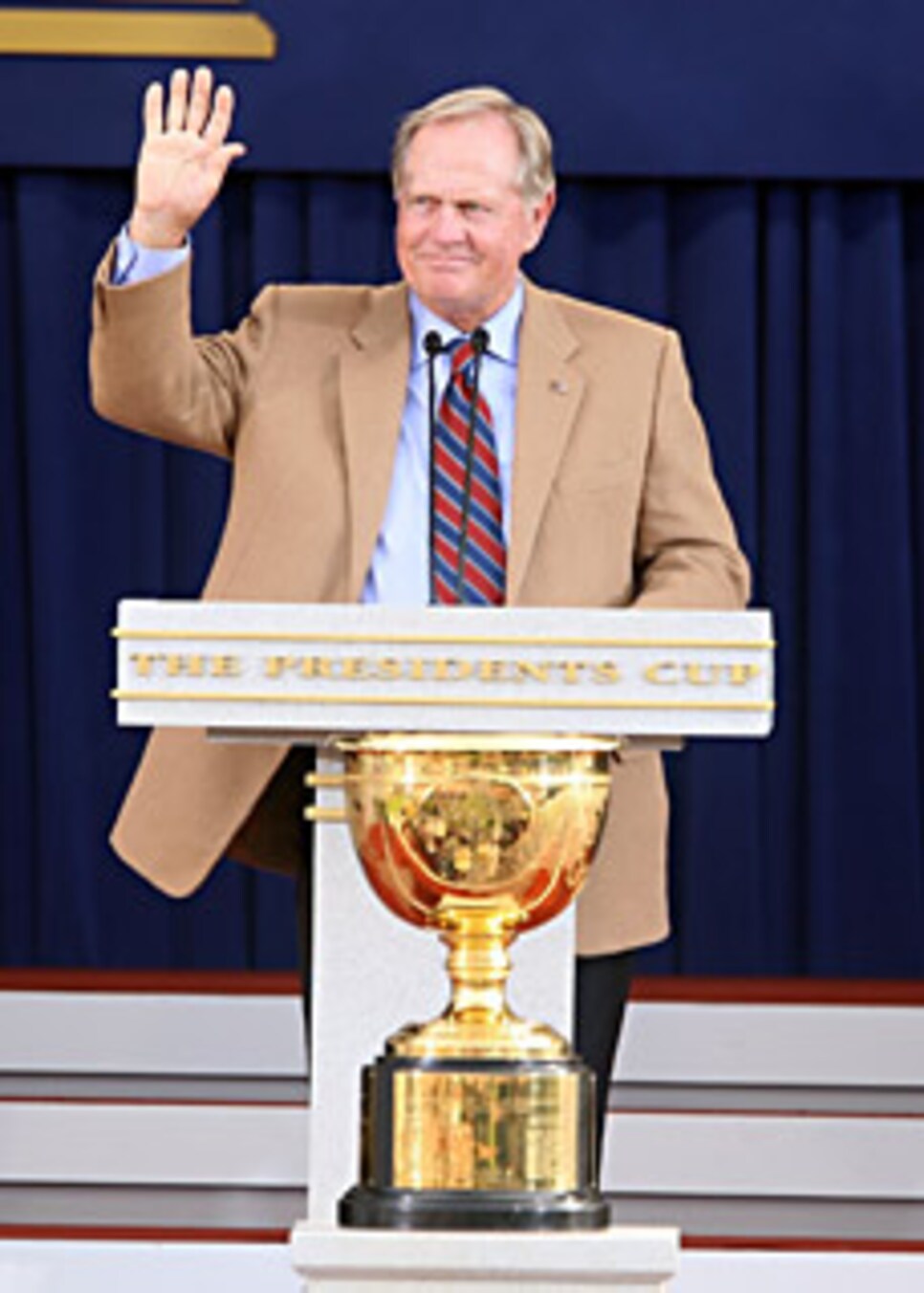 The value of Jack's leadership can't be measured.
MONTREAL, Canada (AP) -- Phil Mickelson let Scott Verplank do almost all the talking when they were asked about the United States' Presidents Cup success and Ryder Cup failures.
"We've talked about it, to be honest with you," Verplank said.
He recalled a late-night conversation last year after the 18-9 Ryder Cup loss to Europe in Ireland. The rout was the Americans' third straight loss and fifth in the last six matches, a sharp contrast to their 4-1-1 Presidents Cup mark.
"Jim Furyk and I were sitting in the hall of the hotel trying to figure it out and, of course, neither one of us knew what we were talking about," Verplank said Wednesday. "I can't put a finger on it and I don't know if Phil can or not."
Verplank then hit on a possibility when asked about the challenges of alternate-shot play, the format for Thursday's opening Presidents Cup matches at Royal Montreal.
That possibility: Jack Nicklaus.
"I think the thing that I've noticed between Ryder Cup and here is Jack is very much, 'Guys, do what you want to do. Have a great time. Tell me what you want to play with,'" Verplank said. "Ryder Cup has been captains a little bit more, coming up and saying, ' You're playing with him and he's playing with him.'
"I don't know if that makes any difference. I think most guys -- Phil, you could probably answer -- are comfortable with picking who they want to play with. Wouldn't you agree with that? I think that's helped in this event.
"Last time I played Presidents Cup, Justin Leonard and I knew we wanted to play together. We had been talking about it for 10 years and played pretty good. Jack says, ' Hey, if that's what you want to do, let's do it.' I had not particularly noticed that being that simple in the Ryder Cup. Does that sound right, Phil?"
Mickelson agreed, drawing laughter by diplomatically saying only "Yes."
The last time Verplank was at Royal Montreal, he won the 2001 Canadian Open for the fourth of his five PGA Tour victories. With the Blue Course playing to 6,859 yards six years ago, Verplank shot 70-63-66-67 for a 14-under 266 total and three-stroke victory. The renovated course now measures 7,153 yards.
"Obviously, I'm very happy to be back here," said Verplank, the Byron Nelson winner in April. "Last time we played here, it was a great experience for me. They have changed the greens, so there's some different subtleties about the greens. Some of them have little bit bigger slopes and some different areas around them.
"Other than 12 and 13, which they flip-flopped, basically, all they have done is just add some length. But the holes play very similar to what I remember. I think the golf course is a pretty neat golf course for this format and for this event."
The 43-year-old Texan was paired with Presidents Cup newcomer Lucas Glover against Stuart Appleby and Retief Goosen in the fifth of the six matches Thursday.
"We know each other pretty well and we've played a lot of golf together and we've talked about playing together in this deal," Verplank said. "We're very comfortable. I think that's a big part of it is getting comfortable with your partner and having fun."
Nicklaus put Tiger Woods and Charles Howell III together in the final group against K.J. Choi and Nick O'Hern, and Mickelson was paired with Woody Austin for the second match against Canadian Mike Weir and Vijay Singh.
"I think that Charles has probably played not as strong as some of the other guys through the last half of the year this year," Nicklaus said. "So, I felt like if somebody was going to pull Charles up, it would be Tiger. ... After that, my guess is it will be switched off, but I want to get Charles off to a good start if possible."
Instead of playing alongside Woods, Furyk ended up with David Toms in the fourth match against Ernie Els and U.S. Open champion Angel Cabrera.
Unlike the Ryder Cup where the captains submit the entire lineup each day, the Presidents Cup matches are determined one at a time.
After Nicklaus deferred on the first pick, International captain Gary Player put Australians Geoff Ogilvy and Adam Scott on the board and Nicklaus countered with Steve Stricker and Hunter Mahan. Nicklaus then went with Mickelson and Austin, and Player matched them up with Weir and Singh.
In the third match, Masters champion Zach Johnson and Stewart Cink drew South Africans Trevor Immelman and Rory Sabbatini.
Player ended up putting together a left-hander matchup between Mickelson and Weir, but was really thinking about Weir's record against Mickelson in Presidents Cup play and the International team's desire to put the Canadian in an early match.
"Never even thought of it. Never even came across my mind," Player said. "The little golf ball doesn't know whether you're a lefty or a righty."
Weir faced Mickelson five times in the 2000 and 2003 events, winning four matches, including a 4-and-3 singles victory in 2000.
"I've had some great success against Phil," Weir said. "In 2000 in singles, I just played great, shot 6 or 7 under. ... Obviously, whoever plays the best will win, but I think Vijay and I will be a good team."