News
The Annual Money List Dance Begins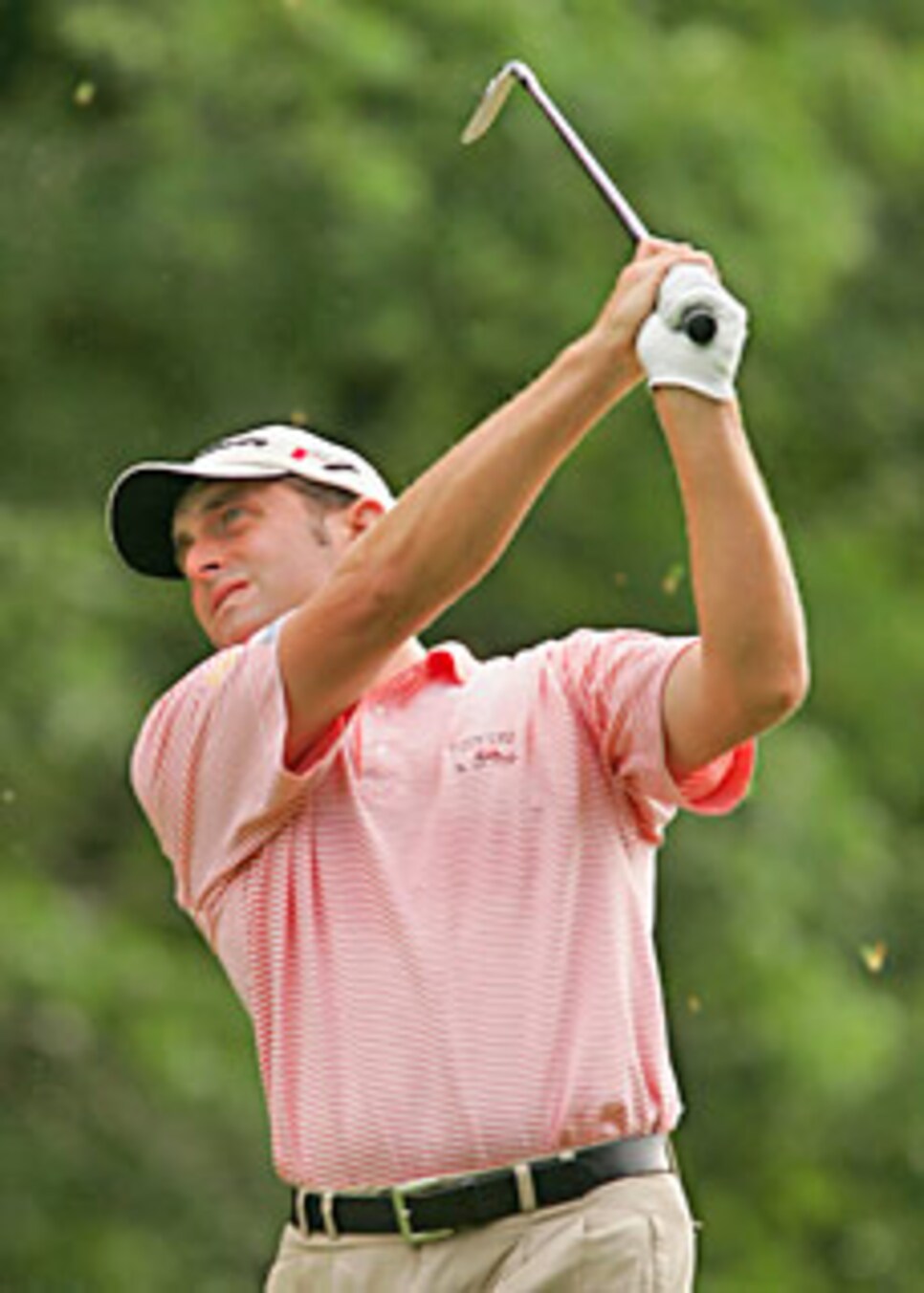 Gove ranked 152 on the money list, expects to improve his position.
VERONA, N.Y. (AP) -- Jeff Gove and Chad Campbell each shot a 7-under 65 on Thursday to tie for the first-round lead at the Turning Stone Resort Championship.
Gove and Campbell, who finished one stroke off the Atunyote Golf Club course record, were one shot ahead of Steve Flesch, John Senden, Matthew Goggin and Brendon de Jonge. Both Goggin and de Jonge bogeyed their final holes to drop from the lead.
John Rollins, who won the final B.C. Open here just over a year ago with a closing 64, shot 67 and was tied for seventh with John Mallinger, Robert Allenby, Matt Hendrix, and Tag Ridings.
Third-year pro David Branshaw, a native of nearby Oswego, was at 4-under 68, tied with Justin Leonard, Robert Gamez, Steven Lowery, Mark Hensby, Joey Sindelar, and five others.
John Daly, coughing and apparently ailing, withdrew after seven holes, complaining he was ill with the flu. Daly had opened with three straight pars, then followed with bogeys on three of the next four holes. At No. 7, he sat on his bag for several minutes with his head down waiting to play, then three-putted and walked off the course.
With conditions ideal on a warm, sunny day with a light breeze, Gove, ranked 152nd on the money list, used his stout iron play to quickly take advantage of the wide and soft fairways on the 7,482-yard course. Second to Tiger Woods on the PGA Tour in greens in regulation (70.13 percent), Gove hit 16 of 18 on the day and made birdie on four of his first five holes, with three of the putts 5 feet or closer.
After faltering with bogey at the par-4 ninth hole, Gove hit a putt that traveled 40 feet, going up and over an undulation in the green before dropping in the hole for birdie at the par-3 11th hole. He followed that by hitting a sand wedge to 5 feet at No. 12 for his final birdie and finished his best round of the year by holing a sand wedge from 100 yards for eagle at the 617-yard, par-5 No. 18.
"I think it's the first shot I've made from the fairway all year," said Gove, whose best result this season was a tie for sixth at the John Deere Classic, equaling his career high. "I'm pumped. I'm sad to see the day end. I was having fun. I was just definitely enjoying the walk."
So, too, was Flesch, at least on the front side. He made six birdies on the first eight holes before his tee shot at No. 9 landed in a bunker and his second shot never made it out of the sand, stopping in an unplayable lie.
"I didn't know what I was going to make," Flesch said. "I saw that ball sitting on the lip, and I'm like, 'Dear, God, what do I do?' I called for an official, an excavator, an architect, I didn't know what I was doing."
Flesch finally blasted out to the front edge of the green and two-putted from 34 feet for double bogey. He then made a pair of birdies on the back nine before closing with six straight pars.
"I played OK coming in, kind of played a messy back nine but didn't drop any more shots," said Flesch, who hit 17 of 18 greens in regulation. "I salvaged a really good round out of what could have been a great round."
Turning Stone, with a purse of $6 million, kicks off a new seven-tournament run called the PGA Fall Series that will decide the final money leaders list. The top 125 players retain fully exempt status to play on Tour in 2008, and the Fall Series determines Nos. 31 through 125. (The top 30 were already decided through the FedEx Cup playoffs.)
Among those on the bubble, Steve Allan, who began the day at No. 125 in earnings, carded six bogeys and finished at 4-over 76. Bill Haas, right behind Allan, had a 3-under 69, while Frank Lickliter II (No. 130) finished with a 70 and Alex Cejka (No. 128) a 71. All are within $52,000 of each other.
Picture-perfect weather was predicted to continue in upstate New York through the weekend, with temperatures in the low 80s under sunny skies, and players were expecting the winning total to be around 14 or 15 under, or better. Last year, Atunyote proved one of the easiest courses on the PGA Tour with an average score of 1.1 over par.
"I'd take 4-under four times." said Branshaw, who tied for fourth at the 2006 B.C. Open. "It's nice being home, being on the course. It feels good. I feel confident playing. What I look at when I'm looking off the tees into the greens, it just looks comfortable."
Divots:John Daly was joined on the withdrawal list by Brent Geiberger, who had six bogeys and a double bogey. He made birdie at the par-3 16th hole, then withdrew because of vertigo. Rich Beem also withdrew because of illness, and Paul Stankowski did not start because of a neck injury. ... Aussie Nick Flanagan, playing in his first PGA event, shot 72.