News
19-Under And One Hand On The Cup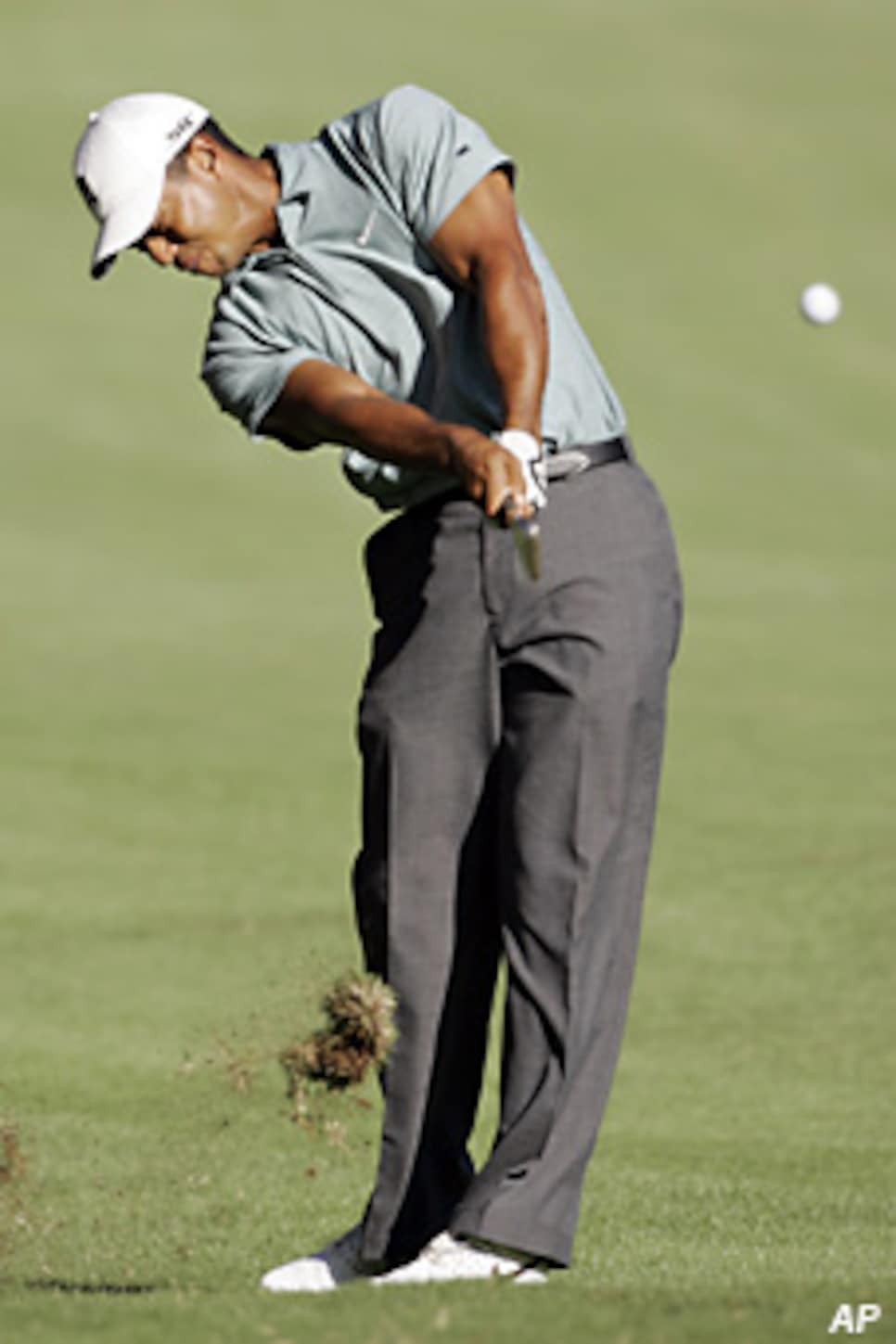 Zach Johnson's course record 60 couldn't stop Tiger on Saturday.
ATLANTA, Ga. (AP) -- PGA Tour commissioner Tim Finchem was lost in a sea of fans on the sixth hole, hearing cheers from every corner of East Lake without knowing for sure what they meant.
Once he was filled in on the details -- two quick birdies for Tiger Woods to stretch his lead to five shots at the Tour Championship -- he looked at a scoreboard in the distance and said, "We need this thing to tighten up."
The FedEx Cup? Not a chance.
Woods took care of the $10 million retirement deposit with a 6-under 64 on Saturday to retain a three-shot lead. The odds are stacked so great in his favor that even if Phil Mickelson were to birdie every hole in the final round, it still probably wouldn't be enough.
What matters to Woods now is the crystal trophy for winning the Tour Championship.
And even that 64 to give him the lowest 54-hole start of his PGA Tour wasn't enough to guarantee that. Not on a pushover like East Lake, where the greens are slow and soft and pins looking like something the players see in a pro-am. The perfect storm of scoring conditions were never more evident in a sunny afternoon at East Lake.
Zach Johnson came within a birdie on the 18th hole of a 59, instead hitting into a bunker and settling for a 60 that broke the East Lake record by two shots. Mark Calcavecchia shot a 63 and only gained one shot on the lead. Sergio Garcia shot a 64 and didn't make up any ground at all.
Woods has never played in the Bob Hope Classic. After a week like this, he doesn't have to.
"I can't remember too many golf courses that have been easier than this one," he said after missing a 7-foot birdie on the final hole to settle for a 19-under 191 and a three-shot lead over Calcavecchia.
Woods was watching and laughing from the par-5 15th fairway as Calcavecchia made eagle to join him atop the leaderboard, but that didn't last long. Woods birdied his next two holes to give himself a cushion for the final round.
"If I lose the tournament and win the FedEx Cup, I don't think I'm going to be too happy, really, that I've lost the tournament," he said.
Woods has never lost as pro when leading by more than one shot going into the final round. But on this golf course, he won't be able to protect his lead by making pars. That much was clear on Saturday.
"If you made a bunch of pars, you were going to get run over, so it was nice to make some birdies and get out there and still maintain the same size lead I had starting out the day," Woods said. "You see the rounds today -- 60, 62 -- and guys were taking it deep. I was hoping that I could make some birdies myself and basically shoot something in the mid-60s."
Calcavecchia missed the 16th fairway for his only bogey. He will play with Woods for the first time in the final pairing, although that must have felt like a victory in itself considering his play the last two weeks.
Calcavecchia, at 47 the oldest player in the 30-man field, has become so tired during this four-week stretch that he was in last place and teed off as a single in the final round of his last two events. When he finished at Cog Hill on Sunday, he assessed his chances at East Lake this way:
"Somebody is going to finish first and somebody is going to finish 30th, and I know who the favorite is for that."
Even playing in the final group doesn't change is outlook on the first part of that equation.
"If I play like I did today, I'll have a lot of fun, even if it's not enough," Calcavecchia said. "He'll probably keep me relaxed to some degree a little bit. But it's a round of golf with Tiger Woods. It's where you want to be. It's a good spot to be in."
The sliver of hope in his favor?
Woods is 40-3 on the PGA Tour when he has at least a share of the 54-hole lead, and two of those losses came at East Lake -- in 2000 when he was tied with Vijay Singh and was overtaken by Mickelson, and in 2004, when he was tied with Jay Haas and both were blown away by Retief Goosen.
But a three-shot advantage is daunting, especially the way Woods is playing. His average score is 65.7 in these playoffs.
"That's a pretty big hill to climb," Calcavecchia said. "If he was hitting a few foul balls, it might help. But every time I turned around, he was 40 yards ahead of Woody Austin in the fairway. So it's pretty hard to screw up with a pitching wedge into every par 4 and reaching every par 5 easily."
Austin's bark turned into a whimper.
He turned heads at the PGA Championship when he suggested he outplayed Woods the day the world's No. 1 player shot 63 and Austin shot a 70. Austin said Friday evening that Woods is "not hard to beat" as long as he doesn't have a big lead and the other guy is playing well.
Austin was within two shots after a tap-in birdie at No. 2, then hit his next approach to within 6 feet. Woods followed with a wedge that spun back to 6 inches for birdie, Austin missed his putt, and that was that.
Austin would up with a 69, a score not posted until Austin confirmed that when he stuck his putter behind his ball on the 15th hole, he did not attempt to hit it. He wound up eight shots out of the lead.
"I played like an idiot," Austin said. "I'm embarrassed. But I didn't do anything wrong on 15."
Woods' only bogey came with a wedge in his hand when he missed the seventh green to the right into a bunker. He picked up short birdies on the ninth and 11th, and when Calcavecchia challenged him, Woods answered with back-to-back birdies.