News
U.S. Leads Solheim Cup 4½-3½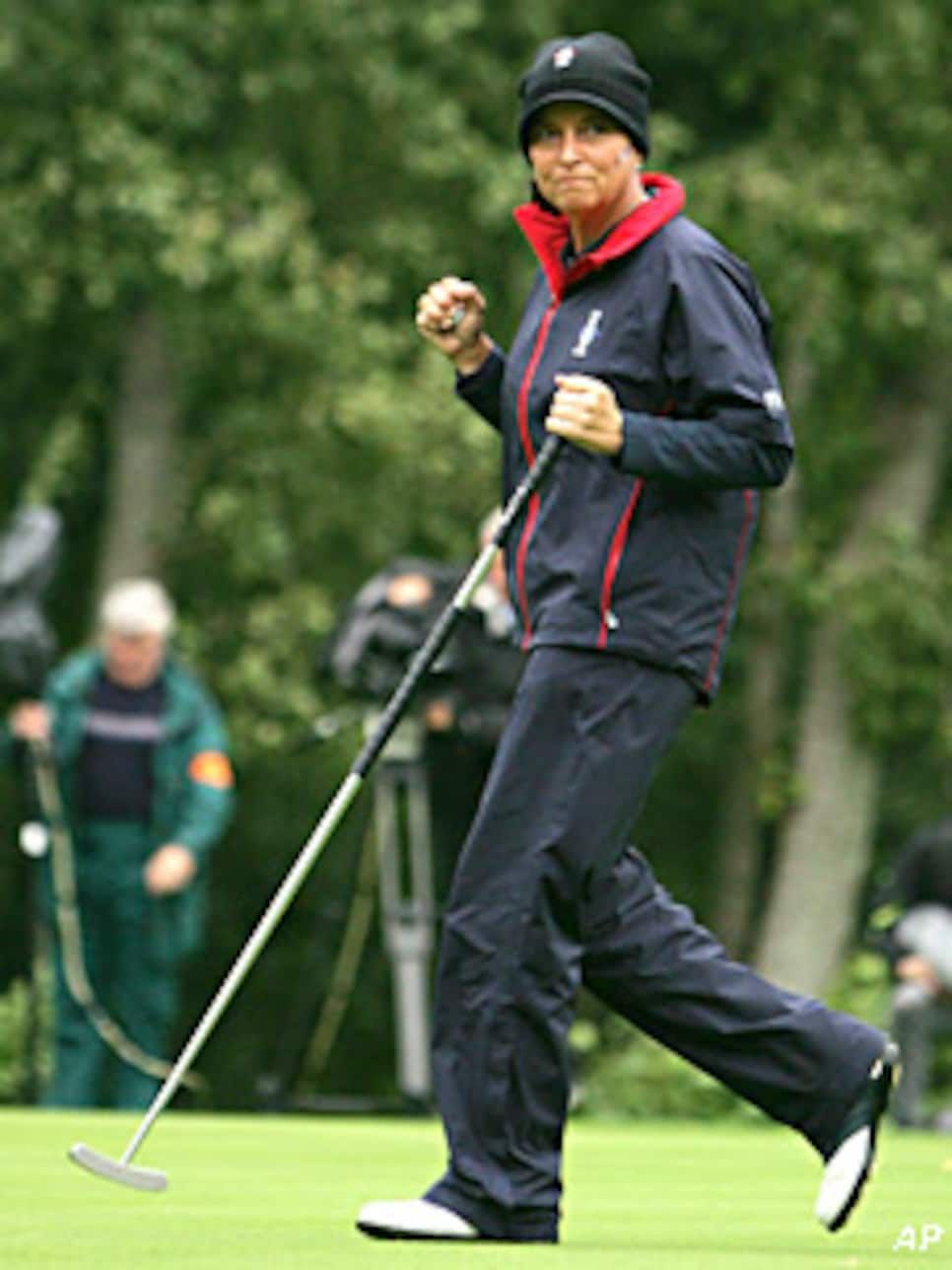 Clutch putting by Steinauer (above) & Diaz took down Sorenstam & Matthew in their morning match.
HALMSTAD, Sweden (AP) - Tromping through the bushes, Laura Davies looked as lost as she'd ever been on a golf course.
Then, she made two shots that will go down in Solheim Cup lore to win the hole, save her match and turn a rough opening day for the Europeans into something much better.
The United States led 4 1/2-3 1/2 after a windy, wet and frigid Friday in Sweden -- a good sign for a team that hasn't been ahead after the first day of this event since 1998.
But it was the Europeans who walked off the course with all the momentum. Davies was a big part of that.
Playing in the final fourball match of the day, she was the last player to hit on the tricky par-3 16th hole. She didn't learn a lesson by watching Americans Morgan Pressel and Paula Creamer and her own teammate, Trish Johnson, all hit to the wrong side of Backen -- the creek that runs in front of and down the right side of the green.
In fact, Davies hit the worst shot of the foursome.
So bad, that she found herself climbing through the shrubbery simply to get to her ball.
Once there, she took a wild swing and a gash of underbrush, blasting the ball out to the fringe on the opposite side of the green. Still away, she chipped in her next shot from 50 feet to win the hole and draw even in a match she and Johnson had trailed all day.
"Just a hack and hope," Davies called it. "Something a 36-handicapper might try. Just hit it and hope for the best."
Davies and Johnson played the last two holes to a draw. Creamer and Pressel both had decent looks at putts to win, but missed them and graciously conceded testy putts to their opponents to wind up with a tie that, in many ways, felt more like a win for the Europeans.
That, plus a rally by Annika Sorenstam and Maria Hjorth to salvage another half point, helped the Europeans split the afternoon matches after being behind in all four of them at one point about halfway through.
"Not a bad day, considering," Davies said.
In other afternoon matches, Catriona Matthew and Iben Tinning teamed up to defeat Pat Hurst and Brittany Lincicome 4 and 2, while Cristie Kerr got her second point of the day, teaming with Nicole Castrale for a 3-and-2 victory over Sophie Gustafson and Gwladys Nocera.
The Americans took 2 1/2 points in the morning rounds, led by some clutch putting from Sherri Steinhauer, who teamed with Laura Diaz to defeat Sorenstam and Matthew 4 and 2.
"I have a long time in my career, and it's been rejuvenated, and to be back, it's unbelievable," said Steinhauer, the 44-year-old who is back at the Solheim Cup for the first time since 2000.
Steinhauer missed a 3-foot putt on No. 10 to bring a match the Americans had led by two back to all-square.
But from there, she was simply terrific. After the Americans regained the lead on No. 11, Steinhauer saved par from 8 feet to halve No. 12, then hit her tee shot on the par-3 13th to near tap-in range to go 2 up.
On No. 14, Matthew hit her approach shot to 6 inches, putting herself and Sorenstam in line to trim the lead. That's when Steinhauer, who works with a long putter, knocked in a 20 footer to halve the hole and suck away whatever momentum the Europeans may have felt moments earlier.
In other morning matches, Creamer and Juli Inkster defeated Davies and Becky Brewerton 2 and 1, while Hjorth and Nocera defeated Pressel and Natalie Gulbis for Europe's lone victory.
Gustafson and Suzann Pettersen salvaged a tie for Europe against Kerr and Hurst -- also something of a European victory, really, considering they played most of their match from behind trees and in the rough.
It was a day of wild weather, one that started under cloud cover, but turned to wind and rain squalls, then alternated between sunshine and more squalls at the end.
"From start to finish, probably one of the worst I've ever seen," said Johnson, who is from England and is used to bad conditions.
She and Davies looked miserable through most of their match against two of America's up-and-coming stars.
But Creamer and Pressel, good as they were for parts of the match, did nothing to put it away. And when Pressel missed what was essentially a tap-in that would have put the Americans 2 up after 13 holes, it left things open for the kind of finish Davies fashioned.
Asked where it ranked on her list of all-time great par saves, Davies didn't hesitate.
"Probably the best given the circumstances," she said.