News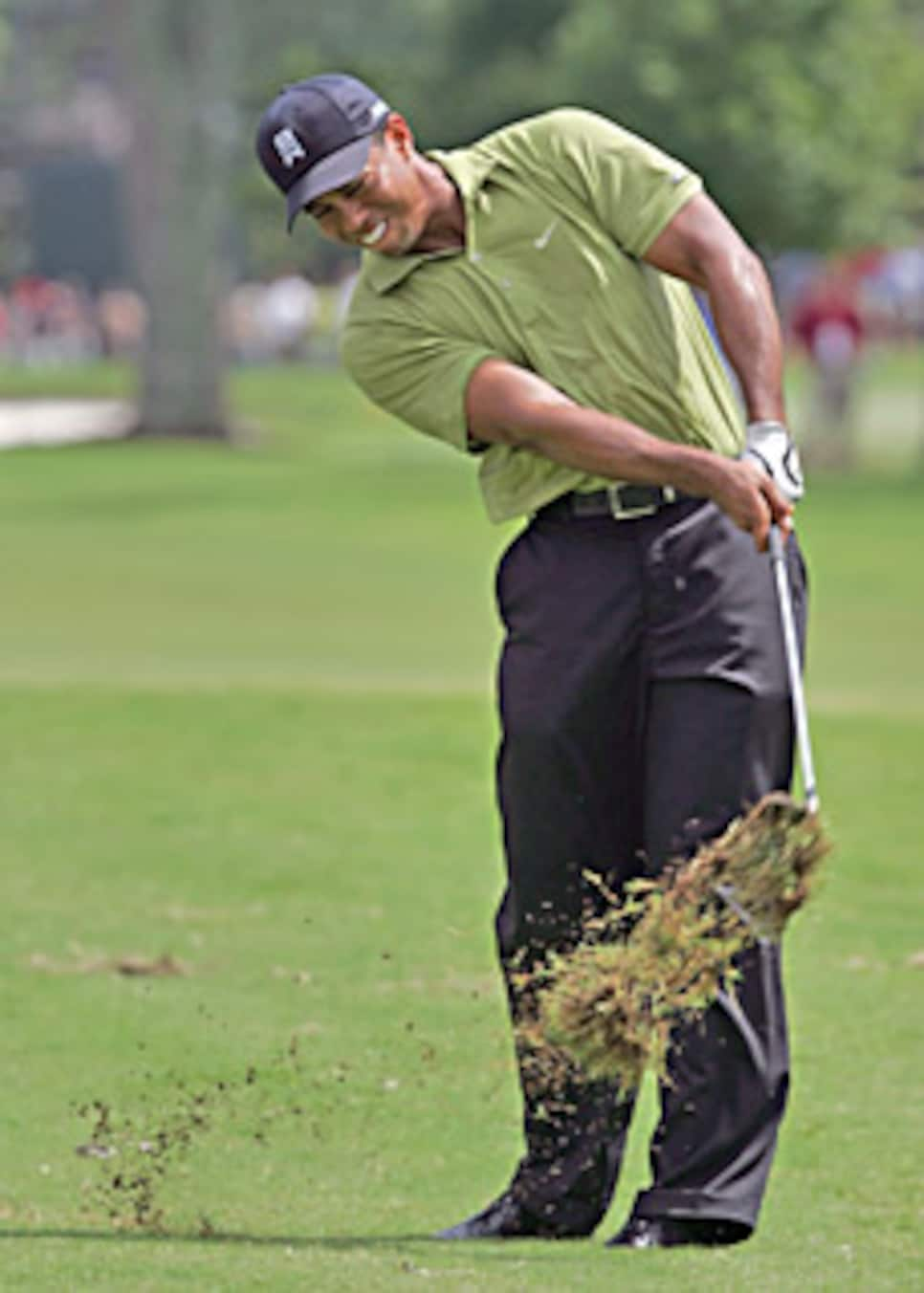 Have you ever seen power and finesse combined like it was on Friday?
ATLANTA, Ga. (AP) -- Tiger Woods wasn't even paying attention to his score. No one else could ignore it.
It was an incredible stretch of golf that lasted just over an hour under heavy clouds and the threat of storms, but those six holes Friday at the Tour Championship changed everything.
Woods ran off five straight birdies, including one he never saw go in from the bottom of a bunker. Then he rammed in a 70-foot eagle putt for a 28 on the front nine of defenseless East Lake, the lowest nine-hole score of his career.
It energized a lifeless gallery at East Lake with hopes of seeing a 59.
And it drained whatever drama was left in the FedEx Cup.
"I don't know if it's a zone or not," Woods said after settling for a 7-under 63 and a three-shot lead. "I just felt that the rhythm was good. The pace was good. The swing was good. I hit one bad putt that went in. I made a bomb. But I was hitting good shots through that stretch. It was nice."
Mark Calcavecchia was tied of the lead when he started hearing one huge roar after another on the other side of the course, and watched Woods start to separate himself on the leaderboard. He calculated a 28 on the front and tried to guess where Woods made par.
"First three? He got off to a bad start. He could be in a slump," Calcavecchia said with sarcasm as thick as the muggy air. "I noticed he made a bogey. I think he's losing it now."
Steve Stricker was along for the ride and more amazed than anyone.
"I was 2 under and I'm 5 down," he said. "You just start thinking, 'Jeepers, what just happened?' He's got a lot of offense, if you know what I mean. You're just waiting for that run of holes, and then he takes off."
The only charitable thing Woods did was keep it a contest.
Leading by as many as four shots at one point along the back nine, he went five holes without a birdie to kill off any thoughts of a 59, twice made bogey from the rough and had to settle for a three-shot margin over Woody Austin.
Woods was at 13-under 127, his best start since he was at 15-under 125 at Firestone in 2000, a tournament he won by 11.
At East Lake, he still has some competition.
Austin had a 65 for the second straight day to get into the final pairing with Woods on Saturday, thankful he is still within range. Six players were within five shots of the lead on an East Lake course that has never been easier.
"He's not hard to beat if you're playing as well and you're right there," Austin said. "But if you let him get in front of you, like I said, he's hard to catch."
As for the FedEx Cup, it might be time to start wiring that $10 million prize into Woods' retirement account.
Stricker is second behind Woods in the playoff standings, but was nine shots behind him going into the weekend at East Lake. Phil Mickelson needed a victory to have any chance of winning the cup -- and that was if Woods finished worse than second alone -- and he was seven shots behind through two rounds.
Not that Woods was paying attention to that, either.
"You just want to win the tournament," said Woods, who has won three of his last four. "Winning always takes care of everything. At the halfway point, I'm in good shape for that."
He can attribute that to a six-hole stretch that began with an approach into 10 feet for birdie at No. 4. Then came a poor tee shot and an approach into the bunker, which he had hoped to get within 15 feet of the hole to save par. He blasted out over the lip, and the ball bounced three times before rolling into the cup.
"By the crowd's reaction, I thought it came screaming in there and hit the flag and ricocheted off and I had a 1-foot putt or something," Woods said. "I got up there and it was gone. Nice surprise."
Then came three more birdies inside 12 feet, followed by the par-5 ninth, where he reached the 609-yard hole in two shots, his ball on the other side of the green. Woods hammered it up the hairy slope, watched it move like it was on a slalom course, then bang into the back of the cup for an eagle.
"Nothing surprises you anymore," Sticker said. "Every time you think he's out of a hole, he does something remarkable."
Stricker told caddie Tom Mitchell on the 10th tee that they might witness a 59, but it never entered Woods' mind. He wasn't aware he had even shot a 28 until he signed his card when it was over.
"You just play shot for shot," Woods said. "You place the golf ball and you don't worry about anything else."
Next up is a final pairing with Austin. He finished second to Woods at the PGA Championship, where he offered a peculiar assessment of their games. Austin said he outplayed Woods in the second round at Southern Hills, when Woods tied a major championship record with a 63 and Austin shot 70.
Woods looked amused when told Austin had said the world's No. 1 player was "not hard to beat when you're playing well" and Woods doesn't have a big lead.
"Say that again?" Woods said.
The quote was repeated and Woods smiled again before adding, "I don't know how you answer that one."
Woods is playing some of the best golf of the year, a staggering 65 under par in 18 rounds since the British Open. He is 29-6 on the PGA Tour when he has at least a share of the 36-hole lead, and he hasn't spit up a lead on the weekend in three years.
Austin figured the three-shot deficit would have be worse. Woods was hopeful of that, more aware of the size of his lead on the back nine than any number he could have posted.
The half-dozen players within five shots included Tim Clark, who followed his record-tying 62 at East Lake with a 69 and was in the group at 9-under 131 that included defending champion Adam Scott (66) and Calcavecchia (66).
"Luckily for all of us, he kind of slowed down a little bit and kept a tournament of it," Scott said.