News
Clark Leads With Course Record 62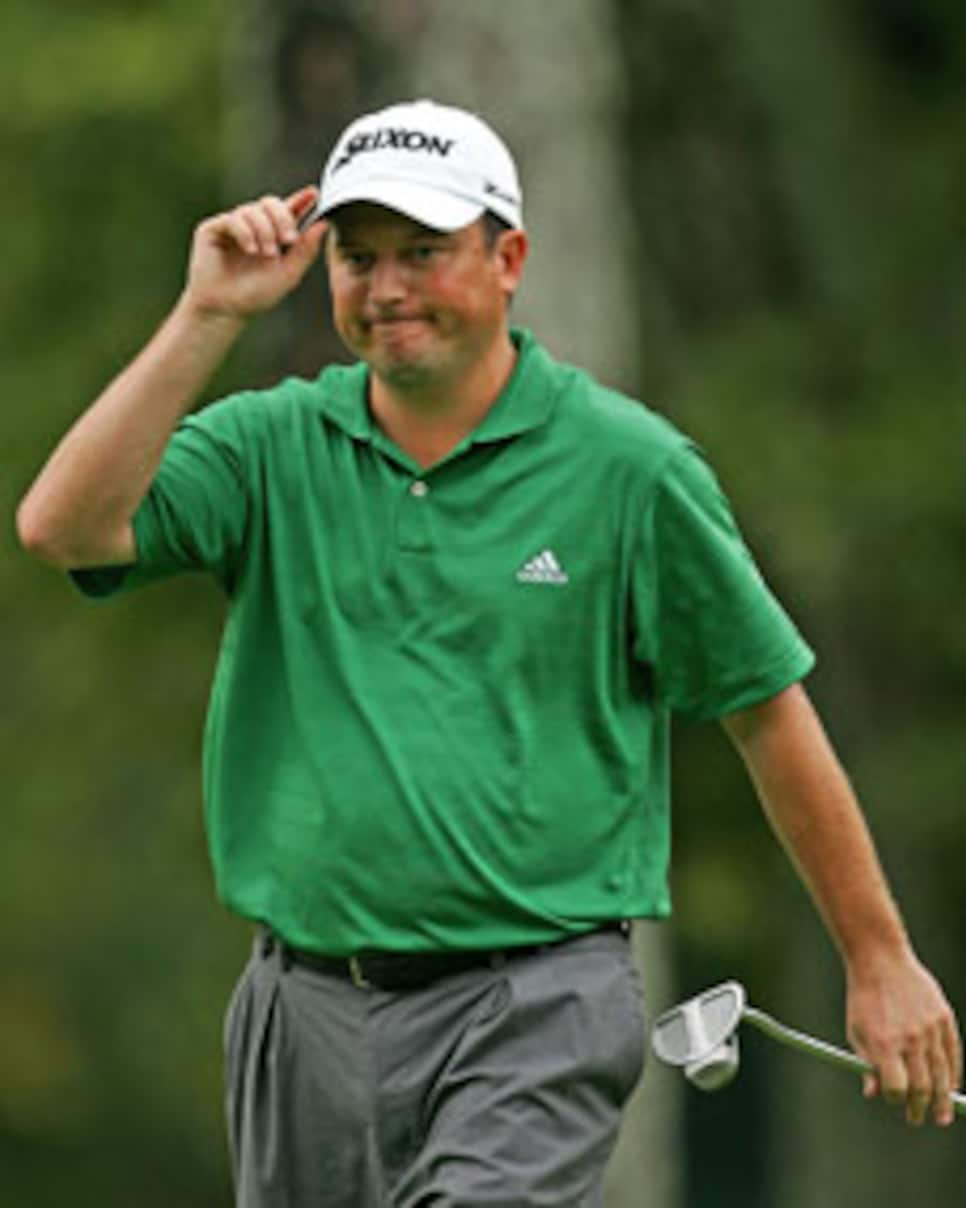 A deadly putter gave Tim Clark the East Lake course record.
ATLANTA, GA (AP) -- Tim Clark tied the course record at East Lake with an 8-under 62 and hardly anyone was surprised Thursday at the Tour Championship, the final playoff event that felt more like preseason with such easy conditions.
The greens, already soft as officials tried to nurture them back to life from a heat wave, turned into sponges after a three-hour storm delay and the top 30 players in the FedEx Cup took aim at every flag.
No one did it better than Clark, at least among those who finished.
Only 10 players completed the first round, and there was no guarantee his 62 would hold up.
Tiger Woods, who can win the FedEx Cup with a victory at the Tour Championship, birdied his first three holes and was at 4 under with seven holes still remaining and conditions not expected to become any tougher Friday.
Clark wouldn't even be at East Lake if not for a 67-67 weekend at the BMW Championship, where he tied for fifth and barely cracked the top 30 to qualify for the Tour Championship. He kept right on rolling, or at least slogging, through rain-softened conditions.
"Having a good Sunday round last week, I had a bit of confidence," Clark said.
His 62 tied the record set by Bart Bryant in the first round of the 2005 Tour Championship.
Padraig Harrington, in the first group off when the greens were at their smoothest, birdied his last four holes for a 63, while John Rollins rode a 3-iron into 20 feet for eagle on the 15th hole for a 64.
Steve Stricker and Phil Mickelson, who are chasing Woods in the FedEx Cup, probably need to find another gear. Stricker was at 1 over through 11 holes, one of only five players over par, while Mickelson was 3 over through his first five holes until he birdied the last three holes of the front nine to get back to even, then picked up a birdie at No. 12 to reach 1 under when play was stopped by darkness.
The first round will resume at 8 a.m. Friday.
Woods managed to get off two shots -- a 3-wood to the fairway and a wedge to 8 feet -- when the sirens sounded to stop play, rain deluged East Lake and play was stopped until 5:20 p.m.
He returned to make the birdie putt, made another from about 12 feet on the par-3 second, then knocked it a third straight birdie from 30 feet on the third hole, after barely getting onto the green from the rough.
Woods held out both arms when it wobbled into the cup, unsure how it got there.
"That putt was bouncing all over the place," he said. "It bounced to the right. I thought I missed it. Then it bounced left. I thought I was going to miss it left. And then somehow, it wiggled back to the right up the hill and it went in."
He nearly picked up an ace on the sixth when his tee shot plopped behind the hole and grazed the cup rolling back.
The greens were almost dead three weeks ago because of record heat and no rain in the Atlanta area. Tour officials, with help from superintendents of neighboring golf clubs, did a noble job getting them ready for the FedEx Cup finale. They sodded some areas of the greens, tried to fill in barren patches with green sand and let the grass grow as much as possible.
They were running considerably slower than most PGA Tour events, and players were predicting low scores even before the rain.
It didn't take long for them to be proven right.
Clark was 3 under after four holes, made a 20-foot par save on the par-5 ninth, then allowed a 59 to enter his thinking when he holed a chip for eagle on the 15th that put him at 8 under with three holes remaining.
"Unfortunately, they're not birdie holes," Clark said. "I was certainly trying, but I hit a few loose shots coming in. Overall, I knew if I parred the last few holes I was going to be pretty happy with the round."
Usually, a few shots under par at East Lake is cause for celebration.
Not on this course, or on this day.
"With these conditions, the greens are like a dart board," Rollins said.
Harrington felt as if he was at home -- Ireland in the spring, when the grass is just starting to grow and the greens are still hairy and slow, when a sledge hammer works as well as a putter.
"You've got soft greens, the greens are at a pace that you can really be aggressive on them and run the ball at the hole," he said. "So yeah, I would think it's a good week for scoring."
Perhaps it was no surprise that the best two scores came from the first two groups, when there were no footprints on the greens. And that might be an advantage for Woods when he returns Friday morning.
Woods is coming off a victory last week at Cog Hill, where he set the tournament record at 22-under 262. He prefers the tougher conditions when par is at a premium, but that doesn't look to be the case at the tour's version of a "Super Bowl."
A defensive struggle, it's not.