News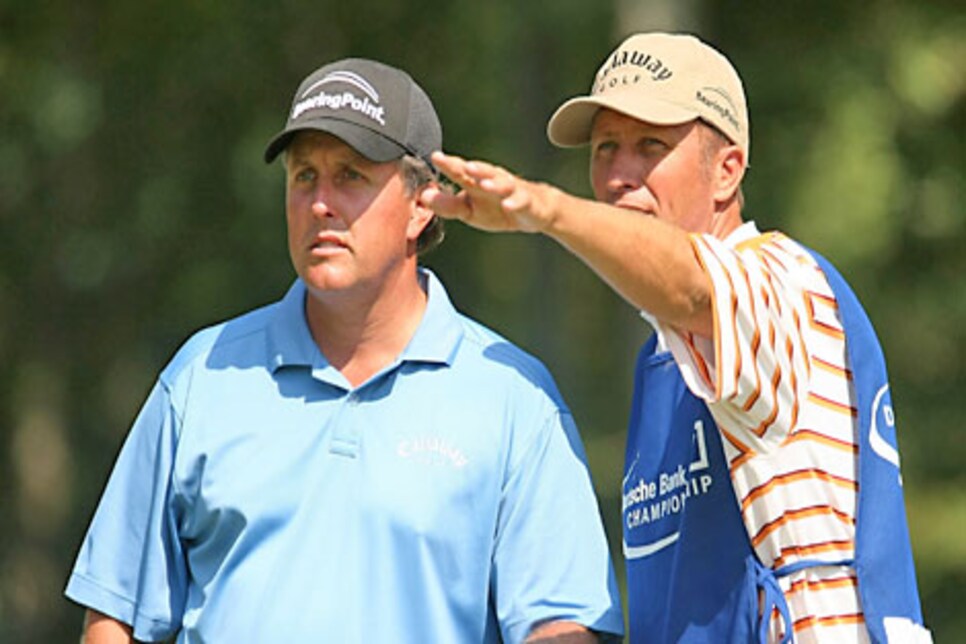 Phil and Bones were a team that couldn't be beat in Boston.
NORTON, Mass. (AP) -- Phil Mickelson is back on his game, and it was good enough to take down Tiger Woods.
Going head-to-head with Woods for the first time in 18 months, Mickelson buried the world's No. 1 player on the front nine and held him off down the stretch Monday to close with a 5-under 66 and win the Deutsche Bank Championship by two shots.
It was the first victory for Mickelson since The Players Championship in May, when he looked ready to make another run at Woods. Then came a wrist injury that cost him his summer, and only recently has Mickelson been able to swing without flinching.
The pain on this Labor Day belonged to Woods.
He couldn't make a putt on the front nine, and couldn't make enough when he was trying to make up ground. Woods had four putts for eagle on the TPC Boston, and picked up only three shots. He wound up with a 67 -- despite taking 32 putts -- and tied for second with Arron Oberholser (69) and Brett Wetterich (70), who were afterthoughts while playing in the final group.
The buzz outside Beantown was clearly on the two biggest names in golf, and Mickelson relished this victory.
"For 10 years I've struggled against Tiger," Mickelson said. "This sure feels great to go head-to-head ... and over the last five or six holes when he's making a run, it was fun to match him with birdies."
Mickelson finished at 16-under 268 and earned $1.26 million, moving him atop the standings in the PGA Tour Playoffs.
But after dispatching of Woods, Mickelson picked his next battle with PGA Tour commissioner Tim Finchem. He said he might not play next week outside Chicago at the BMW Championship, saying he owed it to the tour but that Finchem had not fulfilled some requests that Mickelson has made. He did not elaborate.
If Mickelson were to play at Cog Hill, he again would be paired with Woods the first two days. That might be incentive enough the way he handled Woods at the TPC Boston, staying ahead of him the first two rounds and playing his best when it mattered.
Mickelson, who moved back to No. 2 in the world with his 32nd career victory, took only 23 putts in the final round and built a five-shot lead after 10 holes. Woods had ample opportunity to close the gap, especially when Mickelson took double bogey on the 12th hole, but he never got closer than two shots.
Mickelson matched his birdie on the 16th to stay two ahead, Woods missed from 10 feet on the 17th, and Lefty effectively locked up the victory with his chip from behind the 18th green to 4 feet for his final birdie.
"Unfortunately, I just didn't make enough putts to really push him," Woods said.
Wetterich started the final round with a one-shot lead and didn't make a birdie until the 16th hole. His birdie on the last hole gave him enough points to move up 29 spots to No. 22, giving him an excellent shot at making the Tour Championship.
Oberholser was within one shot of Mickelson most of the back nine, but he needed an eagle on the final hole to force a playoff, then missed a 10-foot birdie putt when the tournament was sealed. He moved up to No. 29 in the playoff standings; had he made the birdie putt, he would have gone to No. 20 and clinched a spot at East Lake for the Tour Championship.
John Mallinger and Bo Van Pelt moved into the top 70 to advance to the third round next week in Chicago.
Woods and Mickelson played together for the third time this week, but the final round put an end to the chatter, and seemed to double the size of the gallery that had followed them around the first two days of the tournament.
Woods twice was in position to apply some pressure on Lefty and both times failed, a sign of things to come. Woods had a 15-foot eagle putt on the par-5 second hole that he left short, and a 65-foot eagle putt on the 298-yard fourth hole that he three-putted for par.
Mickelson, who matched Woods' birdie at No. 2 with a nifty pitch, hit his bunker shot on No. 4 just onto the fringe about 15 feet away and made that for birdie. Mickelson stretched his margin over Woods to three shot with an approach on No. 5 into about 4 feet.
Woods had another advantage on the par-5 seventh, his third putt for eagle on the front nine. He two-putted for birdie, but Mickelson matched him again with a long bunker shot to 6 feet.
The difference in their games was largely on the greens. Mickelson took only 11 putts on the front nine, including a 12-foot par save on the sixth when he flew the green. Woods had 17 putts, the longest he made was 4 feet for par on the third hole.
Woods fell five shots behind at the turn, and even when Mickelson gave him a slight opening, the world's No. 1 player stumbled trying to bust through the door.
Despite holding a three-shot lead over Oberholser -- and still five over Woods -- Mickelson went at the flag on No. 12 and came up short into the hazard. Mickelson chipped up to 5 feet and missed to make double bogey. Woods had a prime chance to make it a three-shot swing, but his 15-foot birdie was well off line.
And this came one hole after Woods missed an 8-foot birdie, as Lefty made from 6 feet for par.
Woods tried to keep it interesting with a 40-foot birdie on the 14th hole to get within two shots, but that was as close as Mickelson allowed him to get. The key shot came on the par-3 16th, after Woods hit 8-iron into 10 feet. Mickelson followed with an 8-iron that never left the flag and stopped 6 feet below the hole.